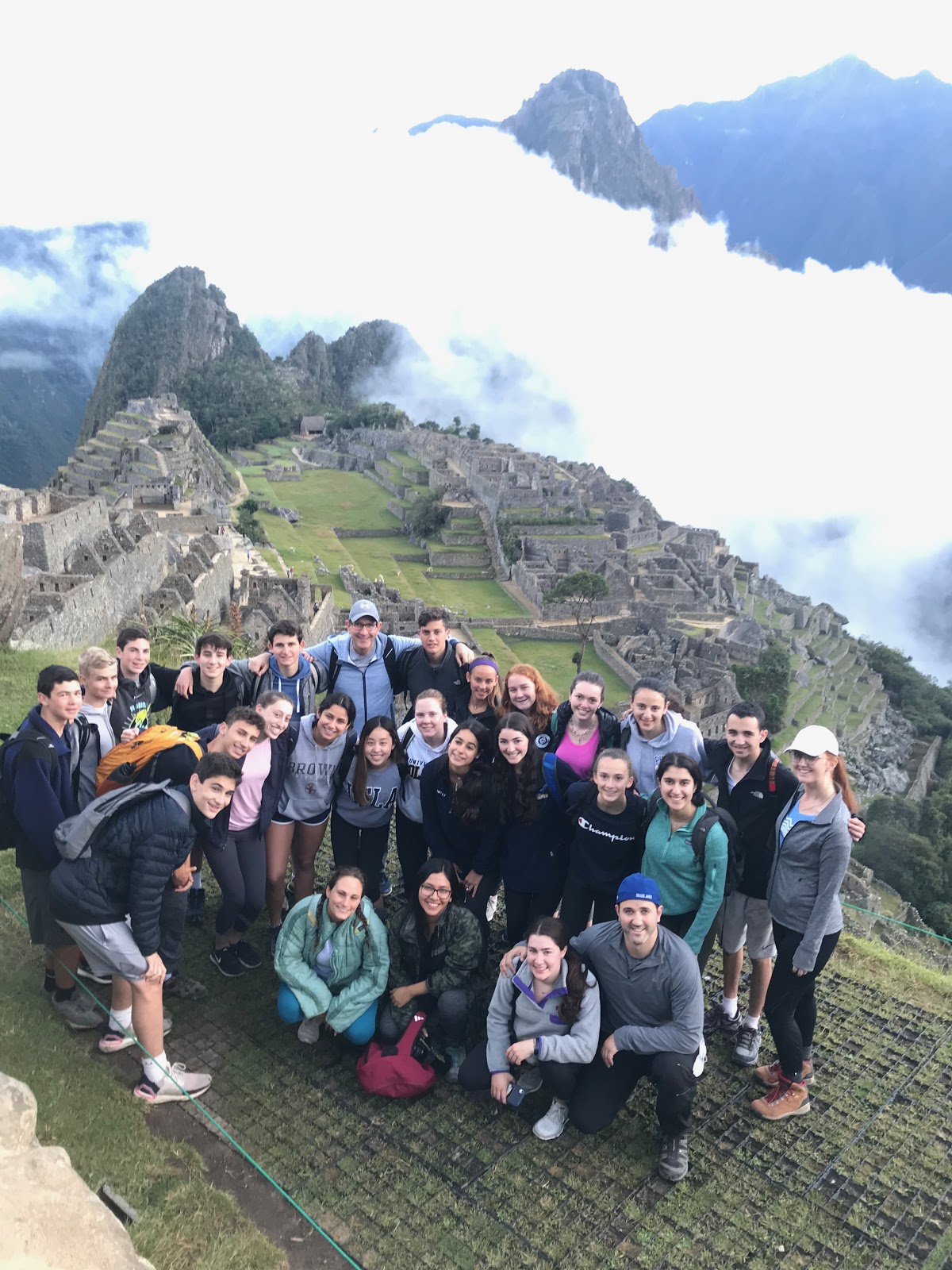 Our Peruvian expedition continues in Ollantaytambo! After a beautiful countryside drive, we met up with our good friend Rolando, and he led us in a community service project. Trip Members spent the morning making bricks by stomping on mud and packing it into brick molds! When dry, these bricks will be used to build a schoolhouse for Peruvian children. Talking about this community project, Trip Member Maggie said "It's awesome to know that we have made an impact on this place." Our trip contributed almost 100 bricks! 
After our morning of giving back, we began our journey to Machu Picchu! A scenic train ride took us through the mountains to our next destination: Aguas Calientes. Thousands of people pass through this town each day on their way to Machu Picchu. We were thrilled to join a community of people who have seen one of the greatest man-made wonders of the world. 
We woke up early the next day, ready to see the sun rise at the ancient city. A hike up to the Sun Gate at daybreak brought us stunning views of Machu Picchu. When we reached the end of our hike, the fog cleared and we were able to stand atop the Sun Gate with clear views of Machu Picchu. We ended our trip to Machu Picchu with a historic tour of the city's original and reconstructed buildings. It was truly a once in a lifetime experience. Next stop: Cusco! 
By the time we arrived in Cusco, it was time for a very special dinner. Great food and a show made for one of the best nights of our trip so far. Pervuian musicians and dancers in traditional clothing performed as we ate. The atmosphere was so lively, it led to a dance party in front of the stage. Everyone made their way to the dance floor to move to the Peruvian flutes and guitars. Trip Member Aden even got on stage! He played the bongos and the guitar with the Peruvian band as we chanted his name.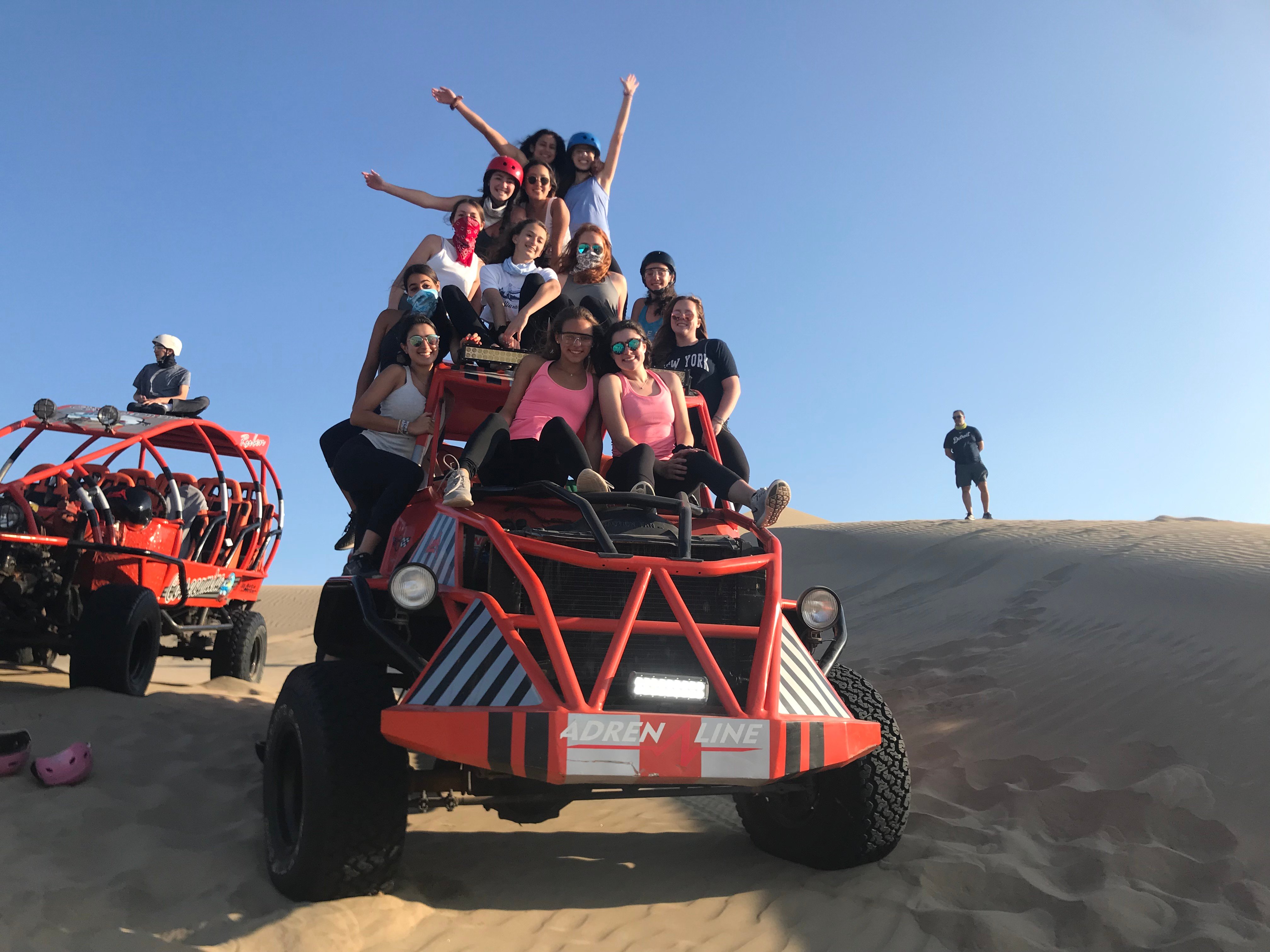 The next day started with a tour of Cusco through the cobblestone streets and the historic square. We got to visit the Sun Temple, a renowned Incan site in the heart of Cusco, dedicated to worshiping the sun. Spanish conquistadors eventually overran this temple, creating a unique blend of Incan and colonial structures at the site. In the afternoon, we rode horseback through Cusco's mountains. It was such a picturesque ride! 
Our last night in Cusco was another exciting one. Peru was in the semi-finals of the Copa America fútbal tournament, playing against their rivals, Chile. We watched the match through dinner and dessert, ending with a victory for Peru! From outside the restaurant, we could hear cheers in Cusco's main square. We rushed to the square to join the festivities, jumping and cheering with Peruvian's celebrating their victory. It was amazing to feel that energy throughout the city! 
Our final destination in Peru is Huacachina, a popular destination for travelers looking to hike and slide down the sand dunes. After a day by the pool, we walked to the grand sand dunes of Huacachina. Reaching great heights, these sand dunes change and move nightly, giving travelers a new experience with each visit. We loaded onto dune buggies in groups and rode nature's best roller coaster through the desert. When we reached the top of the dunes, with the sun setting in the background, we went sliding down on sandboards. This venture combined majesty with action in what is truly a desert oasis, unlike any place we had visited before. 
We're nearing the end of our time in Peru. The friendships and memories this group has formed will last a lifetime. From feeding alpacas to climbing Machu Picchu, Peru has treated us well. 
The Westcoast Blogger
Do you want to experience all that Peru has to offer? Learn more about our 23-day Peru, Ecuador & the Galapagos Adventure! To browse all of our programs, click here.