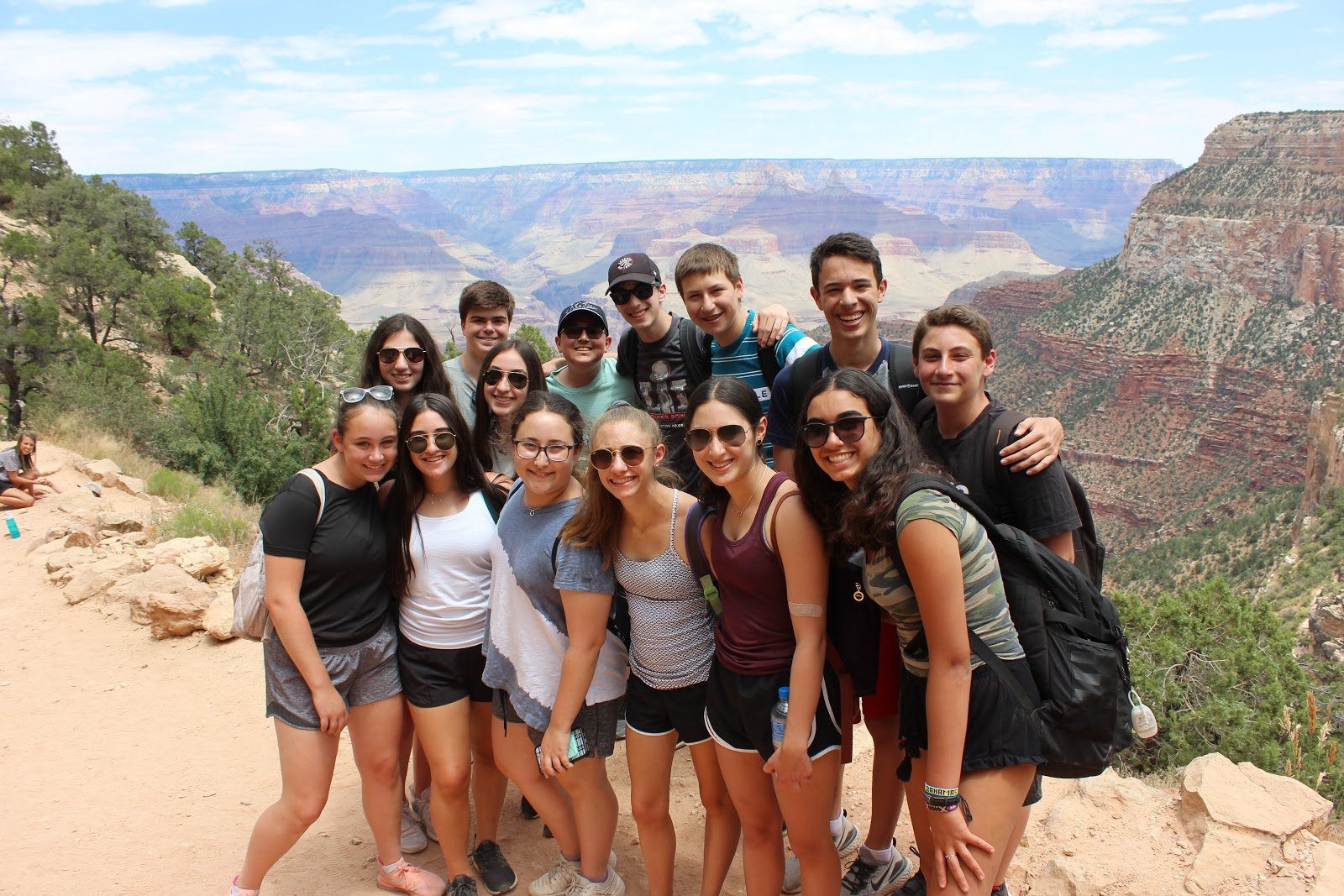 Hello family and friends. We hope you enjoyed our blog posts and are ready for the final farewell. We have done so much since we last wrote to you as we were leaving California. The next destination was Las Vegas, where we had an exciting two nights to spend at the Luxor Hotel. Upon arrival, everyone was ready to go out and explore right away. We immediately went upstairs to drop our bags off in our hotel rooms and get ready for our first meal together in Vegas. We all walked together as a group to the hotel restaurant where everyone enjoyed their meal, which included foods from all over the world. Following dinner, we all walked the strip together, stopping at fun places such as the dancing fountains at the Bellagio, the Venetian for gelato, and more cool spots to take some photos. After our walk, we got back to the hotel and went straight to bed. 
Our second day in Las Vegas started with a trip to the Stratosphere! All trip members and even staff traveled to the top of the Stratosphere and received a ticket to choose one ride to participate in. These rides are super thrilling, and almost all trip members decided to ride at least one. It was truly amazing how fearless they were. Looking at the photos post-ride was the best part as we all got to laugh at our hilarious reactions. Once we were all done at the Stratosphere, we headed to Caesars Palace for some free time for lunch. There are so many restaurants to choose from! We had a post-lunch hangout back at the hotel where we got to use the pool! It was so sunny and everyone got to spend some fun time together in the water. That evening, we headed to "New York New York" where we got to split off into groups and pick where we wanted to eat for dinner. This hotel is also famous for having the NYNY roller coaster which we all got tickets to ride. What a great way to end our last day in Vegas.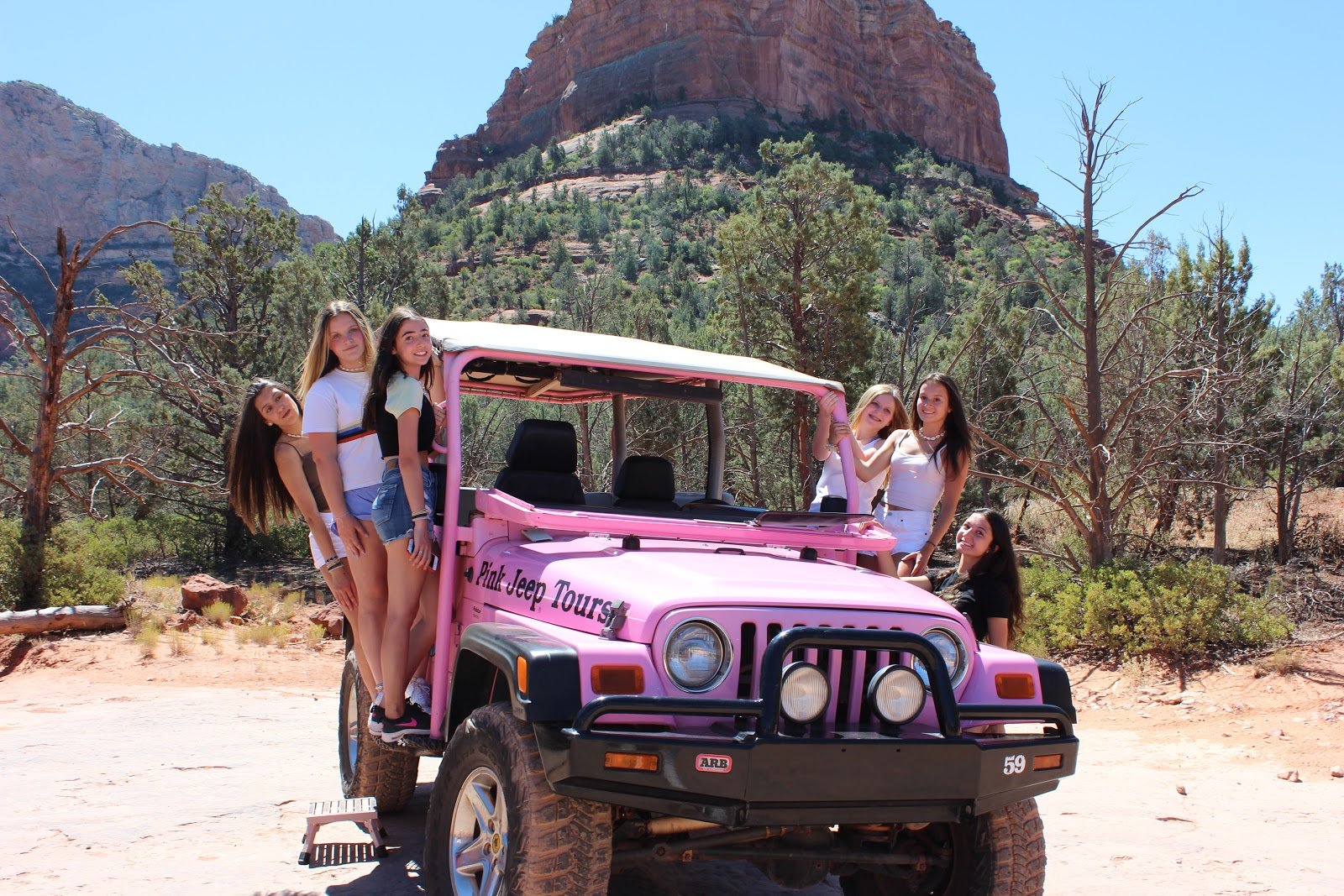 The next morning, we woke up bright and early to head to our next destination which was Kanab, Utah. We stopped at Zion National Park on the way where we all grabbed lunch and participated in a beautiful nature walk. This walk had the most stunning views and there were even small waterfalls dripping onto us as we walked, which was actually very refreshing. We got to take some pictures, sing some songs and take in all the nature. We enjoyed a nice dinner in Kanab followed by line dancing lessons, which was very entertaining. The trip members picked it up really quick and even decided to use props and dress up. 
We woke up the next morning in Kanab and headed straight for Bryce Canyon National Park. We thought the first park was amazing but this one was just as beautiful if not more. The path was a little longer and a little more challenging which made it a very rewarding experience. The trip members were awesome throughout the walk and really appreciated the view. Not only did we visit Zion and Bryce, but the next morning we visited the Grand Canyon. This view was breathtaking! We all walked down the canyon together and then back up. Everyone agreed that this was an incredible experience.
After this exciting day, we headed to our final stop, Scottsdale. On the way, we stopped in sunny Sedona for the famous Pink Jeep Tours. Arriving in Sedona, everyone was so excited to participate in these jeep tours. We all split up into groups and were paired with a tour guide for an awesome two-hour jeep ride. We stopped a couple of times along the way to take some pictures of the breathtaking view and even learn some history lessons about the trails provided by the tour guides. We all enjoyed some time to have a nice lunch at the great selection of restaurants right across the street. After lunch, we hopped on the bus to Scottsdale and arrived at our final hotel. We had a great time at the pool before enjoying a great dinner and arcade games. 
Tomorrow, we are spending time at the hotel to pack up in the morning, followed by some time at the mall for lunch and to visit some shops. We have our banquet on our last night to end the trip in the best way possible and reminisce on all the amazing memories made. 
Thank you for keeping up with our adventures throughout the past three weeks. We really hope you enjoyed it as much as we did. We will see you very soon!
The Westcoast Blogger
Do you want to explore sunny Los Angeles? Check out our 21-day Ultimate California teen tour! To browse our full list of programs, click here