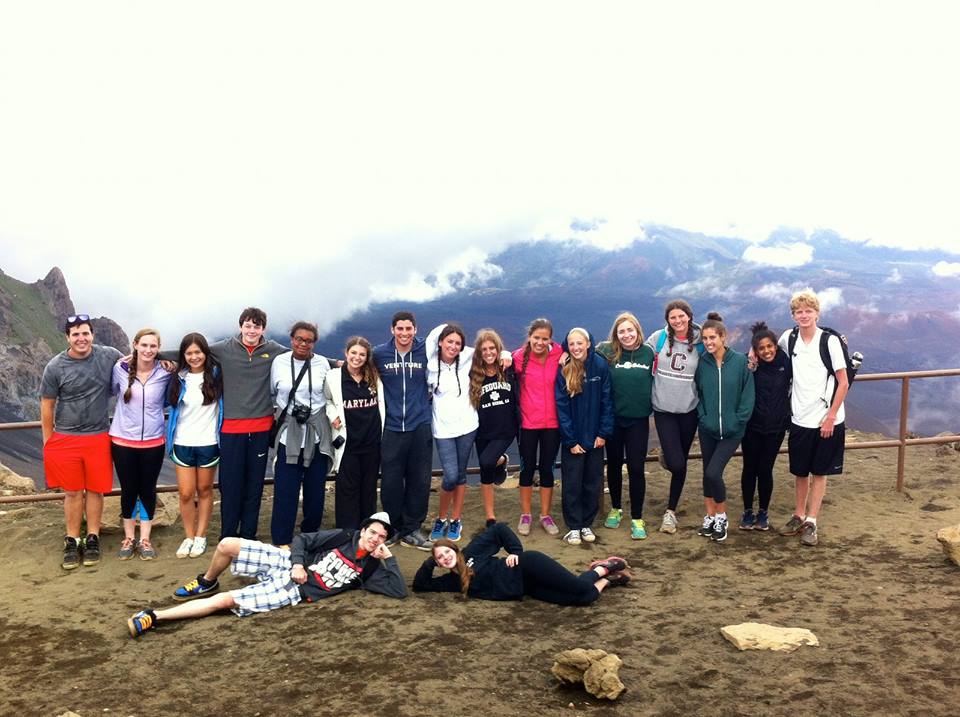 Aloha!
Our week flew by before our eyes and now we are approaching the last moments of our trip! Some of our super awesome superhero trip members this week have been Samantha, Stephanie, Ariel, Taya, and Tara. This past week in Maui has been filled with new experiences, life lessons, and lots of fun – here is a recap for you all:
Sunday morning we boarded the Pacific Whale Foundation's boat and headed out for a day at sea and snorkeling. Much to our surprise, about thirty minutes into our day cruise we saw two dolphins swimming parallel to our boat! Soon after that we arrived at our first snorkel spot and started hopping, or more appropriately sliding, into the water. At lunchtime, Veronica and Ashley both enjoyed their lunches in the shade with the captain. Post-lunch we hopped back in the water where Aisling, Tulani, and Tara took many underwater selfies. During this time Juliana was practicing her diving skills and surprised everyone by reaching the bottom of the reef.
Post snorkeling, our group cooled off with some specially flavored Hawaiian ice cream and then enjoyed a relaxing night at the hotel. Monday began our first day of community service in Maui. We headed over to Boys and Girls Club of Central Maui and upon arrival our trip members immediately started interacting with the children. Aisling, Chris, Tracy, Andrew S., Emily, Holden, and Juliana created a huge game of "spoons" while Mike and Andrew C. played ping – pong, pool, and bumper pool. In the afternoon, Samantha and Amanda played Jenga while Aisling and Tara helped in drawing ninja-turtles. After leaving Boys and Girls Club we headed to Lahaina for dinner where we ate and watched the sunset.
Tuesday, we enjoyed another fun – filled day at the Boys and Girls Club and at night we had our first Westcoast Wedding! In honor of trip member Stephanie's birthday, we threw her a wedding in which she married "Channing Tatum" (played by Andrew S.). Emily was the maid of honor, Michael the best man, and trip members Taya and Ariel co-officiated the wedding. We also had Juliana as the flower girl and trip members Veronica and Chris as Channing Tatum's parents. Andrew C. graciously offered to be the "wedding photographer." Wedding "guests" were ushered to their seats and then enjoyed the wedding overlooking the water at our hotel. Afterwards we went out to dinner to celebrate. Post-dinner, we kept the wedding/birthday celebration going with cake at the hotel.
Wednesday, we enjoyed our last day at the B&G Club. In the morning, Ashley, Holden, and Sam helped with one of the club members' projects and posed for pictures. The group then headed outside with the kids to the football field and played an intense game of "Fleetball." Things got quite intense when trip members Michael and Amanda kept trying to steal Tracy and Chris' ball but the two defended their area well.
In the afternoon, Holden, Veronica, Taya, Samantha, and Juliana taught some of the children about dominoes and helped them create a table long domino structure, domino hearts, and tall towers. The designs were so good the children almost didn't want to knock them down!
Thursday morning was our last community service project of the trip with Eco Maui. Nature Jay and Nature Ray met us at our hotel in the morning and held a morning meeting overlooking the ocean at our hotel. Nature Ray explained the Hawaiian culture to us while using some of the plants we were going to see on our day hike as examples. As we were gathering to head into our "canoes", we had a surprise from one of the fellow hotel guests. "Uncle Saunoa" asked what our group was doing in Maui and when he found out it was community service, he donated $200 to our cause. Our group was extremely touched when we found out; he truly showed us what the meaning of "Aloha" is.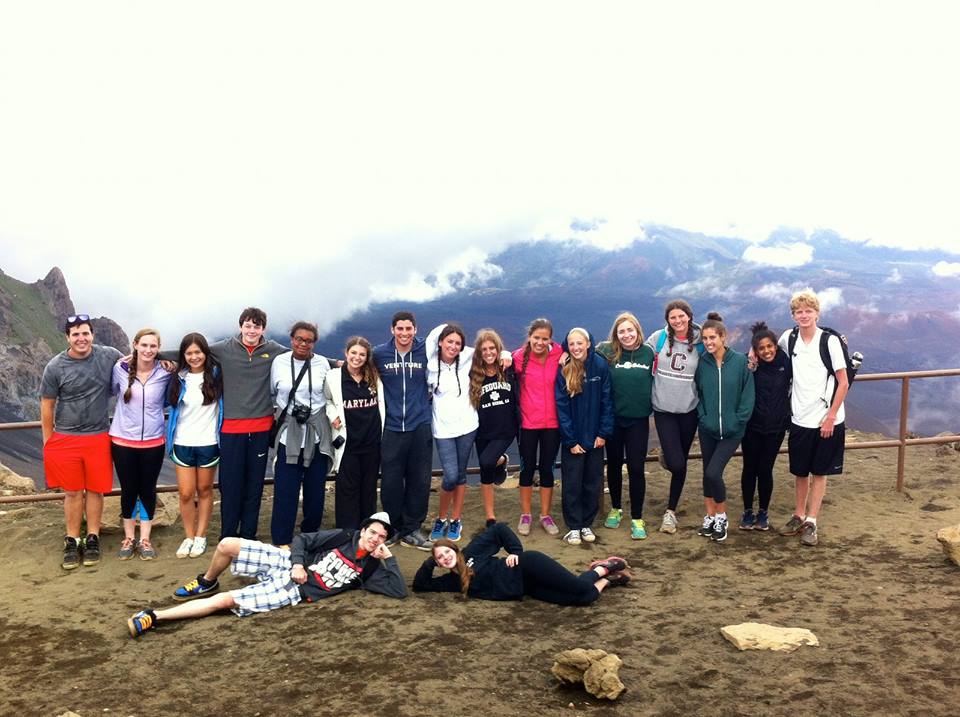 In the spirit of giving back, our group is using the money to buy new games and supplies for the Boys and Girls Club of Central Maui. The rest of the day was spent hiking and learning about the Iao Valley. We also visited a Polynesian culture center and ended our day on the sunny beach. Friday we spent our Eco Maui day at a local farm that is the home to many locally grown fruits and vegetables as well as 5 beautiful waterfalls. The farm allows locals and travelers to enter the property for free and explore the grounds. In the morning, trip members helped in clearing out the farm's weeds and creating mulch to enrich the soil. Emily, Ashley, Taya, and Ariel got down and dirty clearing out weeds while Andrew C. and Ashley worked together to rake away bamboo leaves on the farm's nature path. While working, Michael discovered a wild ginger plant that, according to Nature Ray, had delicious edible flowers. The group then took a quick break and hiked down to our first waterfall of the day where we splashed and enjoyed fresh pineapple, bananas, and passion fruit courtesy of the farm.
In the afternoon we worked some more then headed to a second "twin" waterfall. Trip members also enjoyed a bracelet-making demo from Nature Ray. Using "tea leaves", Aisling and Ashley followed Nature Ray's instructions and then demoed for the rest of the group how to make the bracelets! We ended our day with Nature Ray at Hookipala beach where he took us to a sea turtle "resting" spot. We enjoyed looking at the turtles nestled on the beach and swimming in the water. Juliana and Ariel even had a turtle swim up next to them! Our time on Maui has been enriching learning about the Hawaiian culture and exploring the natural beauty of the island.
The Westcoast Blogger