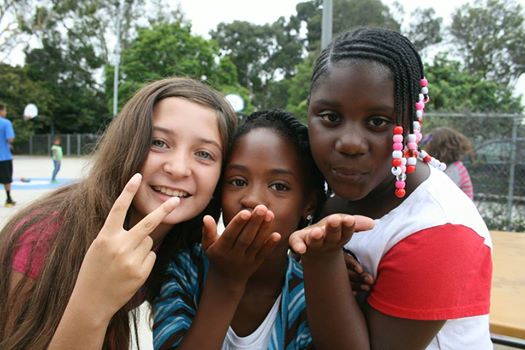 We have had a very busy few days here!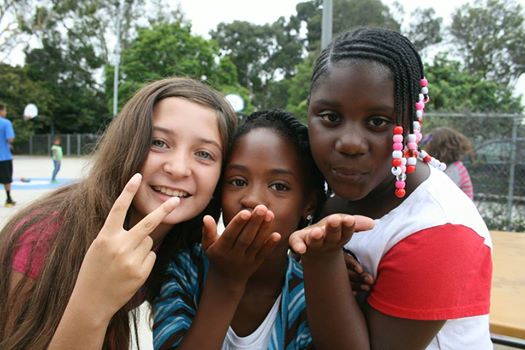 On Sunday, we had a very relaxing day at Venice Beach. We were able to walk around and check out the interesting characters on the boardwalk. Jacob, Sam, Liz, Meghan, Kelly, and Julia watched the exciting World Cup final between Germany and Argentina at a beachside restaurant. Jordi, Ally, Mariella, Hayley, Lexi, and Sabrina soaked up some sunshine on the beach. It was a great way to decompress and rest before we returned to the Boys and Girls Club on Monday!
Thankfully we had regained some of our energy – the children at the Long Beach Boys and Girls Club were ready and waiting for our return! Lexi, Hayley, Ally, and Jacob played tether ball with a group of kids. Sam loved the basketball games that he got to play with them. Sabrina, Hayley, Mariella, Ally, Jordi, and Julia entertained the kids with a game of Simon Says. We had a bittersweet last day at the Boys and Girls Club. During our time there, we organized two large storage closets, painted two hallways, helped prepare snack, and most enjoyably, supervised and played with the children. While we had an amazing time playing with the fun children there, it was sad to say goodbye, but Hayley said that the goodbye warmed her heart because of the close bond they were able to form in such a short amount of time.
On the way home, the group took a little detour to check out the house from The Fresh Prince of Bel-Air. We were all very impressed with the houses in the neighborhood!
The group then participated in the Westcoast Olympics, competing in teams of four in five different challenges to take home the top prize. Teams had to build the tallest tower they could out of their shoes, answer trip trivia questions, complete a photo scavenger hunt, and show off their song knowledge. The Teenage Witches of Sabrina, Mariella, Hayley, and Ally were victorious, doing especially well in the music categories.
At our last day of Habitat, we restocked couches, neatened up the appearance of the store, and rearranged pallettes of tiles. It was great to learn more about what Habitat for Humanity does beyond building houses!
We were lucky enough during our stop at The Grove to catch E! News taping a segment! Jacob got his picture taken with on air personality George Kotsiopoulos. Our own staff member, Jeremy, got interviewed on camera for a Who Wore It Best? segment! Be sure to watch E! News on Thursday night!
We took a post-dinner trip to Westwood Village where we indulged in ice cream and cookie treats from the famous Diddy Riese. While it was a tough decision, we all managed to come up with delicious cookie/ice cream combinations!
Tomorrow is our last full day as a group. Where did the time go? We are headed to Universal Studioes for a back lot tour and rides! We still have some more memories to make before we head home to see you all!
The Westcoast Blogger