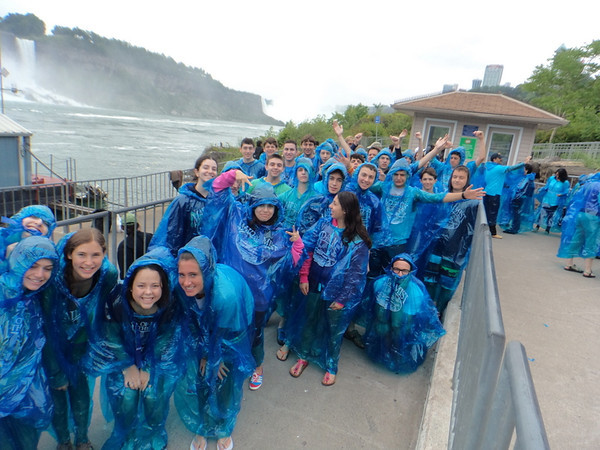 Fourth of July was celebrated in style! As we wore red, white and blue we arrive at Cedar Point Amusement Park. James, our camp site manager, joined us for the rides – we were so happy!  Samantha, Tom, Julia, Adam, Jess(M), Maxine, Laurel, Emma (C), and Sam, Jess(F), and James lined up to ride the Millennium coaster with fear! Nearly all of us really challenged ourselves by starting off the day with that adventure! Reid walked away a winner with a Rastafarian banana and Austin won a giant puppy. US Explorer now has a family dog! 
We had an awesome Fourth of July celebration that came to an end with beautiful fireworks. 
July 5th we arrived in Ann Arbor.  Upon arrival we ate lunch and had a chance to buy some souvenirs at the University of Michigan store. The university campus is beautiful! In the evening we played Whirlyball which is a game played in bumper cars with a lacrosse stick to catch the ball and the goal is to shoot it into the basketball net, making the light shine up and putting a goal on the screen. Nadav, Ian, Mathias got the swing of it within minutes. Who knew Whirlyball would be so much fun!
July 6th we canoed and surprisingly, saw a turtle! In the evening Griffen challenged himself and showed us that if you set your mind to something you can do it. We all put on our ice skates and skated in circles. Dan was also testing out his skills on the ice and was a trooper. Any time he fell down he came right back up and pushed to make his skating experience the most memorable. 
July 7th Jacob turned 16!! Happy Birthday Jacob! Coming into Chicago, the view was beautiful. Checking in to the Omni hotel felt like we have arrived in heaven. Fingers crossed that Oprah will pay a visit! At dinner, Jacob's seat was decorated with balloons and the entire trip signed his birthday card! Afterwards we laughed at the Blue Man group performance. Jared A got a picture with all of the cast!  Back at the hotel Reed, Matt Ber, and some of the other boys played a round of volleyball. It was a great first day in Chicago! 
We'll be in touch with you soon!
-The Westcoast Blogger