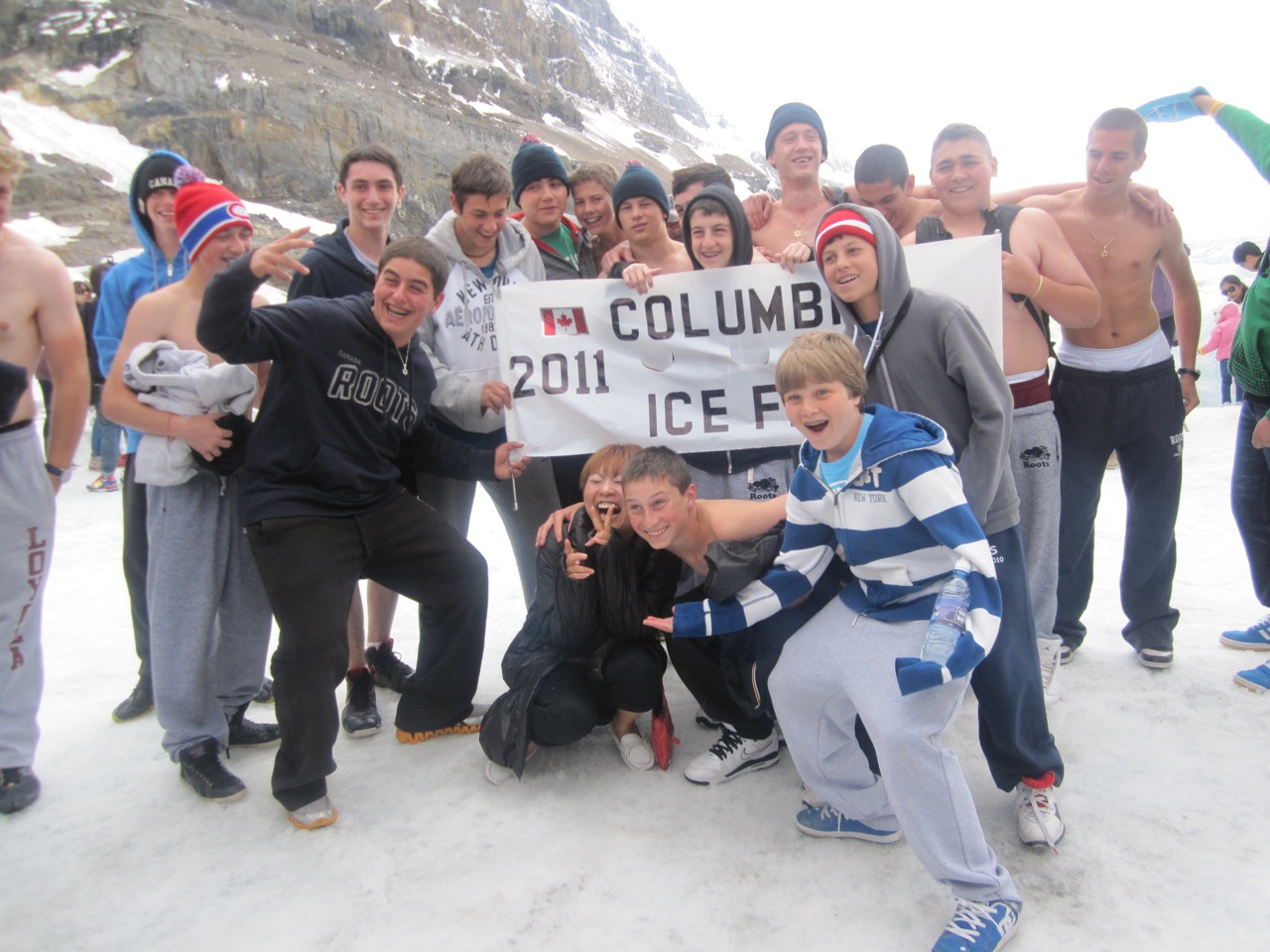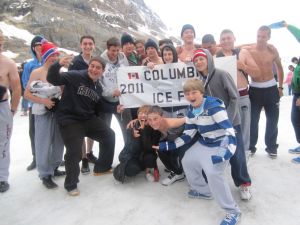 Hello again from the Adventurer! 
Wow, what an amazing few days it's been since we last spoke! The Columbian Icefields in Alberta are amazing. They are one of the largest accumulations of ice and snow south of the Arctic Circle and feed eight major glaciers. The view is extraordinary and the glacier water was some of the tastiest we've ever drank in our lives! We go on the steepest incline of any wheeled vehicle on these giant snowmobiles and are so glad to have experienced such a wondrous place! Adam S., Jonathan A., Ben B., Matt F., Austin R. and Mark B really enjoyed the Icefields and even took off their t-shirts and had a great backdrop for their pictures. As we were leaving the Icefields we even spotted a black bear on the side of the highway- What a great way to end our glacier experience!
As we come across each campsite, our trip members are becoming more and more skilled at putting up our tents. We're sure that by the end of our trip they'll be ready to pitch them in your backyards at home! In addition to pitching tents – we have some skilled cooks in the kitchen! Morgan B. and friends love helping out our site managers and were a great asset on barbecue night! We're sure they'll be cooking up a storm back home too!
While in Banff we all had a great time at our campsite which was located in some of the most beautiful natural surroundings! In Banff village we played the "trade up" game where we were divided into groups and all given a red pen. All the groups were instructed to trade their pens amongst the Banff shopkeepers, trying to find something better without spending any money! The winners were those who traded for the best things! Max R.'s group fared very well and got a life sized poster of a Nascar driver! Even though only one of our groups was deemed the winning team, everyone came back with hilarious stories and had a great time, especially Harley M., Noah H. and Alec S.
The majestic Banff Springs Hotel was another great stop along the way. As we toured through this elegant, yet haunted-like hotel, our trip members and staff were fascinated by the grandeur and beauty of this resort which was styled after a Scottish Baronial Castle. It is so famous that it is even considered a National Historical Site and part of UNESCO World Heritage Site!
 The next day we were off to Lake Louise- wow, what an incredible view! The trip members were paired up with each other as well as the staff to canoe across the lake and Austin S., Jonas S., and Lawrence S. really enjoyed taking in the fresh mountain air. The reflection of the snowy mountain peaks was seen in the lake's water as the canoes made their way to the other side. The paddling stopped on many occasions to capture the beauty of what was seen! After canoeing we went on a hike up to the tea house on the mountain beside Lake Louise. The scenery was spectacular! 
The next day we traveled to Penticton, British Columbia where we had a relaxing day doing laundry and playing sports! That night we went bowling and Gilly T. was the winner! She scored the highest, bowling a 140! After Penticton, we were off to the University of British Columbia in Vancouver. Our first activity was tandem bicycling in Stanley Park where we all had the time of our lives biking around this gorgeous park! We spent the afternoon touring along Robson Street in Downtown Vancouver. Everyone had a great time!
After a visit to the Granville Island Public Market to sample the local fresh fruits and a delicious lunch we were off to Whistler, Host Mountain of the 2010 Winter Olympic Games. We'll tell you in our next scribe all about Whistler Village and our horseback riding adventure!
Until then, we will continue making new memories and laughing each day!
Eric, Brandon, Nathan, Maggy, Jackie and Allie
 The Westcoast Blogger