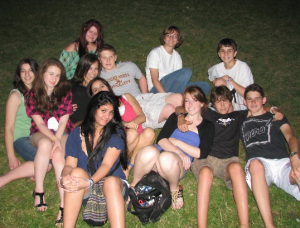 The French Excursion Invades France!!!
The Westcoast Blogger
First stop: Paris
Upon touch down at the Charles de Gaule Airport the trip was an instantaneous hit as everyone was full of excitement. The bus ride into Paris was full of games and laughter as the tour members got to know their staff and one another. Upon arrival at the hotel, we were greeted by two other tour members, Kelsey and Tommy. As a group we walked to a restaurant for lunch where we each enjoyed pizza, pasta, et bien sur les deserts!!! The afternoon was a time to check in, rest, shower, and unpack while we prepared for the night ahead. Off to the Indiana Café where we enjoyed our first metro ride together, then the tour members were surprised with an unexpected trip to Trocadero, the fountains just at the base of the Eiffel Tower.
Nothing could have prepared us for the beauty of the Tour Eiffel at night with all of its pretty lights. The whole group sat on the grass until they could resist it no longer and dipped their feet into the cold, yet refreshing waters of the fountain. An early night was had by all as we needed to rest up for school the next day.
Ecole France Langue split our students into two learning groups. Jared showed off his knowledge of the French language by volunteering to answer questions in front of the class. Everyone did their best as they listened to the teacher and her Parisian French accent. After school we headed to lunch at a cute Boulangerie where everyone had some authentic French cuisine. Dominika, Casey, and Diana had crepes au chocolat for the first time; it looked like they were in heaven.
That afternoon we toured Paris by bike and sat at the park outside of the Louvre where ice cream was had by all. That night we all enjoyed dinner at the St. Regis in order to gain strength to climb the Eiffel Tower. All climbed to the first floor and then tired out from the day the elevator was accessed by some while others continued to climb even higher. The view was exquisite and flashes from cameras continued non stop.
Tuesday was another full day of school, climbing the L'arc de Triomphe and shopping on one of the most expensive streets in the world, the Champs Elysees. The evening included a relaxing yet memorable ride on the Bateaux Mouches sur La Seine. Wednesday started with French class where Django, Tara, and Evans certainly made some progress as they began to create sentences in French. At the Louvre we had a fully guided tour which included some historic works of art like the Mona Lisa, The Venus De Milo, and other famous artists such as Delacroix and Gericault. We enjoyed our evening at the Café Rive Droite dining on another authentic meal and singing the night away at Karaoke.
Caen. here we come!
Au prochain …