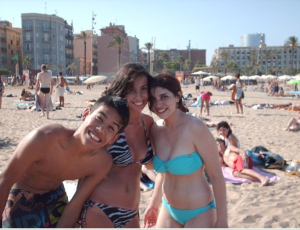 PCE Barcelona sends an update before their last week of classes.
The Westcoast Blogger
Que semana! What a week we've had here in Barcelona! It's hard to believe that next week will be our last week of classes at International House before we escape to the beach for our final relaxing weekend in Sitges. We are really starting to feel like Barcelona is home, and yet we'll be packing our bags in no time!
 
Monday we spent the afternoon at Park Guell, one of Barcelona's most famous outdoor spaces, designed by Gaudi. We enjoyed exploring the many architectural wonders of this enormous green space. We were surrounded by amazing scenery, history and culture – definitely one of the highlights of the city thus far. After exhausting ourselves exploring the nooks and crannies of Park Guell, we arrived home for dinner and enjoyed a leisurely evening strolling around the neighbourhood by the residence and snacking on late night helado (ice cream).
Tuesday, the Spanish culture class went for a stroll down to Barcelonea beach to check out some of the various sculptures by the waterfront. We were familiar with the beach boardwalk because we had cycled through it on the bike tour a few weeks prior. Sinead and Evelyn, a few of our teachers from International House, lead us through the Barrio Gottic (Gothic Quarter) and wove us through the long narrow streets of the local beachside residences. It was of course incredibly hot and sunny, so we took shelter in shady spots to stop and talk about each artwork we observed.
 
Since we were already down by the beach and effortlessly working on our tans, a few of us decided to park ourselves amongst the crowds and stay put for the afternoon. Ellie, Justin, Amanda, Emma, Alana, Matt, Justin, Deni and Ben took turns cooling off in the gorgeous Mediterranean while Jess, one of our tour leaders, held down the fort fending off the dozens of locals offering cold drinks for sale up and down the shore. ¨Agua, Fanta, Coca Cola! Agua, Fanta, Coca Cola!¨
Wednesday morning, our Spanish classes came together for an exciting scavenger hunt planned by the International House language teachers: Maria, Christian and Jaume. We had to read clues and follow directions in Spanish past the Music Museum, through the Gothic Quarter, past the Cathedral, across Las Ramblas, and finally to the famous Boqueria (Marketplace) in downtown Barcelona. We were fascinated by the hundreds of stands and dove right in, practicing our Spanish to ask local vendors about the products they sold. Congrats to Jen, from the beginner´s class, who won the challenge of asking the most questions to shop owners! Harrison, Carly, Jared and Cale enjoyed some tasting local products from the market, and everyone vowed to return one day for lunch to try all the different goodies another time.  
 
Wednesday night we stayed out later than usual to wander to a local cafe Natasha had discovered for a few midnight snacks as a group. Rosie, Stacy, Sara and Steph enjoyed sitting outdoors in the warm night time breeze with authentic Spanish fruit ice drinks and delicious yogurt desserts.
 
Thursday after school we used our maps to navigate ourselves, without Loren´s excellent navigation skills, to the Picasso Museum, located on a tiny cobblestone street in the Barrio Gottic. We explored Picasso's works for an hour or so before heading back to the residence in time to grab dinner before heading back out to catch an outdoor movie playing on a big screen in our neighborhood.
Lisa was crowned ¨La Reina del dia¨ for engaging and appreciating our visit to the Picasso museum yesterday.
This morning the Spanish classes engaged in a mini-exchange program with Spanish students learning English here at International House this summer. The students asked each other questions about their favourite things, and learned a lot about the differences between their adolescent cultures in Spain versus the United States. What an amazing experience for both groups of students!
 
This weekend will be our final weekend to spend in Barcelona and we'll be incredibly busy with activities every minute! Tonight we're heading down to Barceloneta, the local beach area, for a nice group dinner. We're really looking forward to exploring more of the downtown core at night – when the city of Barcelona really comes alive! Tomorrow we're off to Parc Aventura, an amusement park about an hour outside the city, and Sunday we'll be hiking at Montserrat, then back to Barcelona to catch a bull fight! Lots to do, and little time remaining to accomplish everything we want here to in this amazing city.
We´ll have lots to tell after our fun filled weekend … Hasta Lunes!