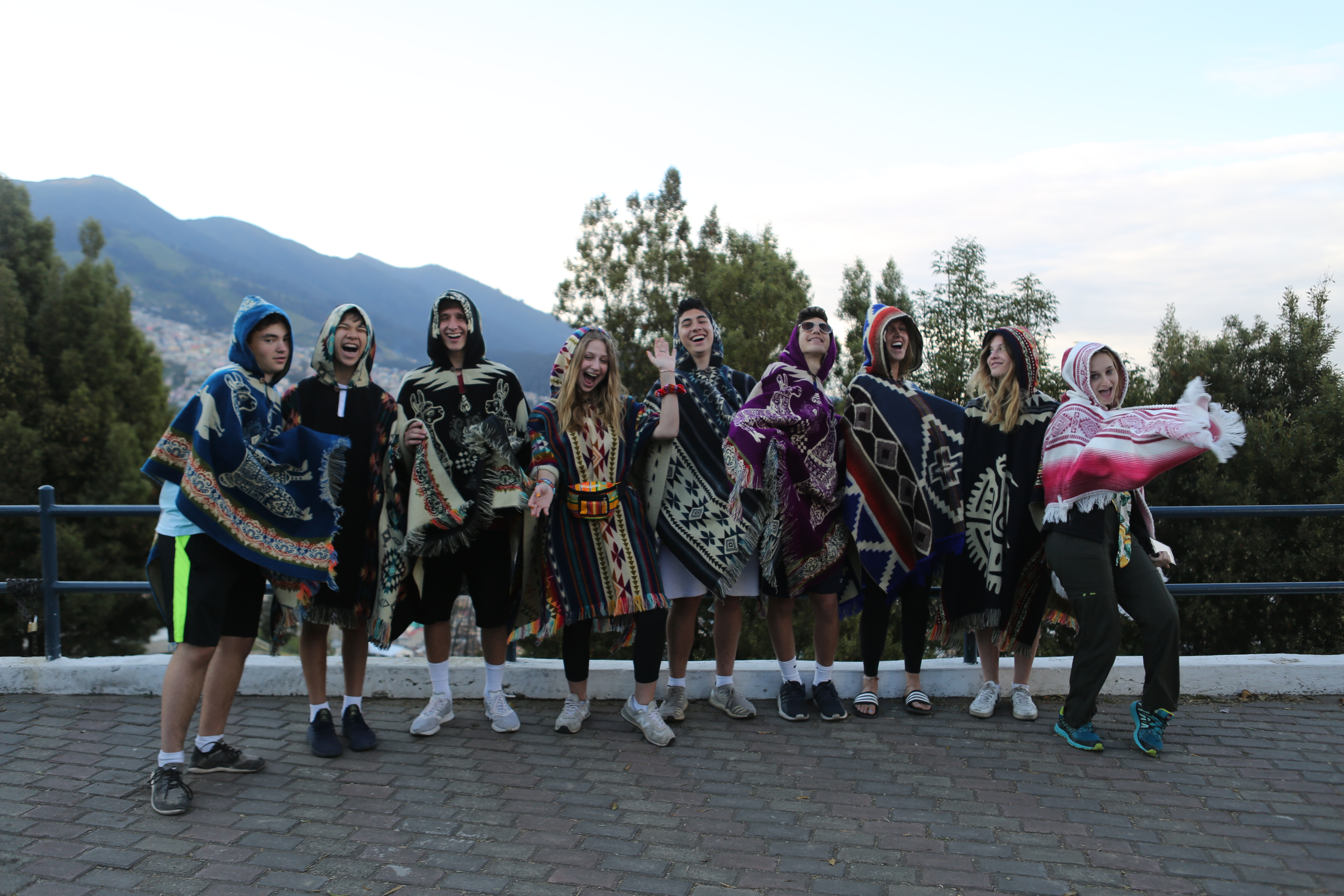 Other than its beauty, Ecuador provides a unique opportunity to experience a very special phenomenon, due to its location on the Ecuatorial line. After arriving in this beautiful country, our familia had the chance to explore the incredible capital city, Quito.
Starting at El Mitad del Mundo, the center of the world, we learned about the latitude 0,0,0 and the strange phenomenon that exists there. We also learned that we all actually weighed slightly lower there! Our group took part in experiments that demonstrated the Coriolis effect, in which liquids will rotate depending on the hemisphere location. We also took on the challenge of balancing a raw egg on a nail. Finally, we all had fun taking some fun photos directly between the Northern and Southern Hemisphere! 
Following our visit to the center of the world, our group learned about the history of Quito. We took in some of its most significant landmarks and listened to stories about a few of the country's legends. During our city tour, many trip members bought traditional ponchos, which called for a poncho party! Needless to say, those that wore them enjoyed the ability to have a blanket with them, wherever they went.
Our next day started off with zipping through the trees in the Mindo Cloud Forest. Home to many indigenous animals, the cloud forest provides the most amazing scenery. As we flew through the trees, we admired our beautiful surroundings. 
Following our zip line excursion, we floated in the river on tubes down very exciting rapids. 
Our familia then had the opportunity to tour a small chocolate factory, exploring the entire process from the cocoa fruits to the final bars. We even got to sample the chocolate every step of the way! 
Next, we were off to the capital of the Galapagos, San Cristóbal. As soon as we arrived, we headed to the beach. The beaches in San Cristóbal are surrounded by unique wildlife, including marine iguanas and playful sea lions!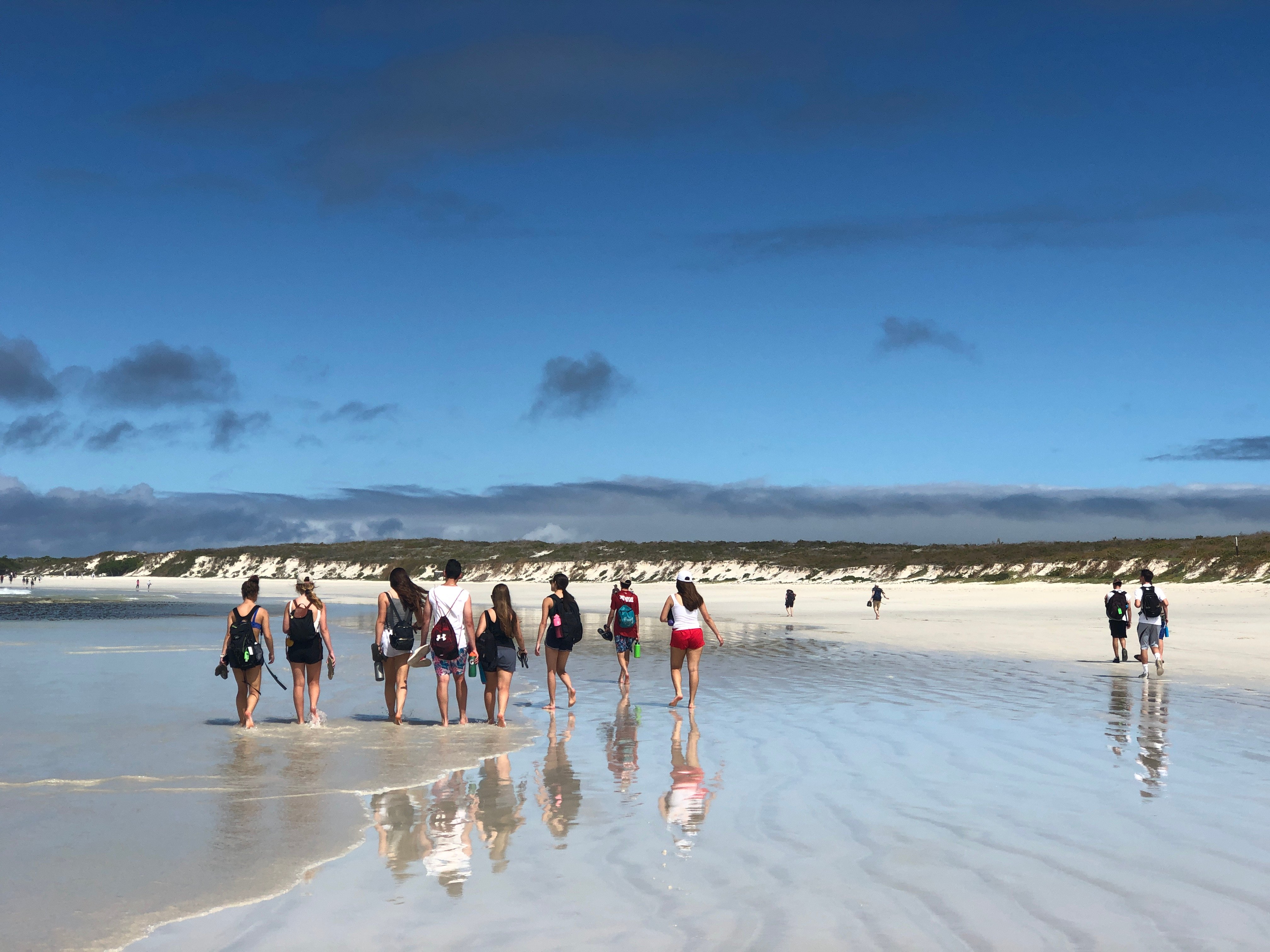 We had the opportunity to visit Kickers Rock, also known as León Dormido, where we saw exotic fish, vibrant coral, sea lions, turtles, and even some blue-footed boobies. Everyone got the chance to snorkel through Kickers Rock as well. We then got to cruise around, enjoy the beautiful sunshine and jam out to some of our favorite tunes. That evening, we watched one of the most incredible sunsets we'd ever seen. 
The next day, our group got the chance to snorkel again, but this time at Loberia and Tijeretas. It was cool to see all of the fish and sea lions here, but it was even more exciting to see giant sea turtles swimming alongside us! 
After an adventurous boat ride, we made our way to Santa Cruz. We explored the incredible town and had a blast visiting Tortuga Bay, where we enjoyed the beautiful beach and kayaked.
We visited the Charles Darwin Center where learned about Charles Darwin's discoveries and saw a mummified version of Lonesome George, a 120-year-old tortoise who is the last of his species. We also explored the twin craters and crawled through the Lava Tunnels. Next, we arrived at Rancho Primicias, home to Giant Galapagos Tortoises, who greeted us when we arrived! Here, trip members had the unique opportunity to leave their own mark on the Galápagos Islands by planting trees in honor of some of their loved ones.
After a delicious dinner, we went back to our hotel where we watched a slide show of our trip and reflected on how much we appreciated our time together. 
While our time in Ecuador has come to an end, our adventures have taught us so much and we are taking what we have learned and our new friendships home with us. 
Adios Amigos!
The Westcoast Blogger
Do you want to explore Ecuador and the Galapagos? Click here to learn more about our summer adventure program. To browse our full list of programs, click here.