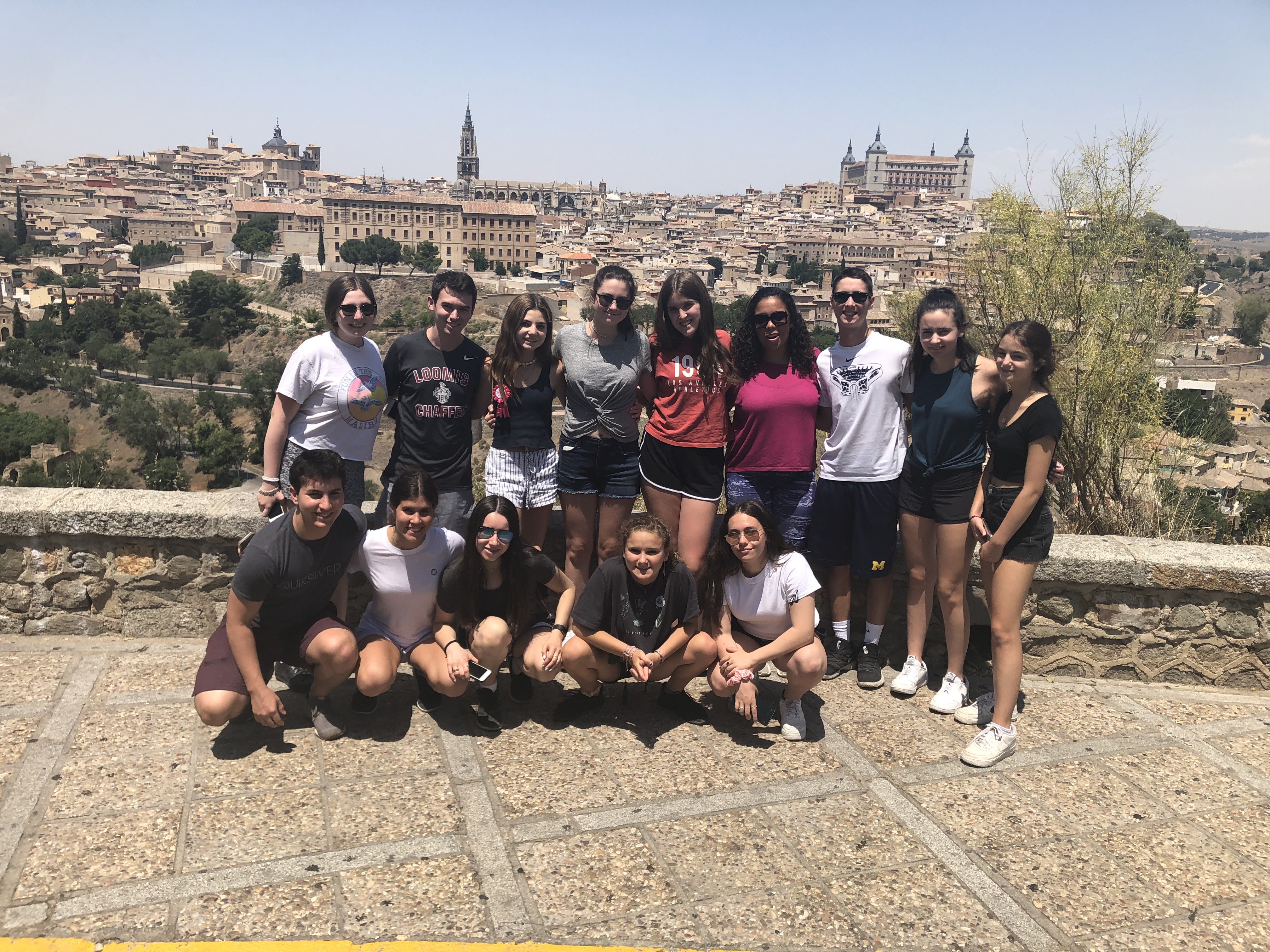 This blog marks part 2 of our blogger series that documents the highlights of our Spain and Portugal adventure. After beginning our trip in Madrid, we moved onto Salamanca where we spent several nights in a hotel that overlooked an ancient, scenic, and golden landmark – the Plaza Mayor. There is a special period of time every day when the sun hits the golden-plated Plaza Mayor and the effect of which is the golden-plates illuminate through the entire plaza. The trip members love taking pictures together, especially during the "golden hour". 
We also used the plaza's open atrium for a fun and active game of "Huckle Buckle" where two teammates ran from opposite sides of the plaza into the middle and had to perform the action called-out by the game leader. It was a great time, filled with smiles and laughter!
In Salamanca, we also had an opportunity to tour the historic University of Salamanca, which is the third-oldest university in the world, founded nearly 900 years ago. With many of our teenaged trip members already thinking about college and university back in North America, it was interesting for them to get a sense of what post-secondary education looks like in Europe. 
We then drove from Spain to Portugal where we spent several days hanging out by the port in Porto. Most of us were very excited to taste the new cuisines that came with leaving Spain and entering Portugal. However, it was an authentic Italian restaurant with a perfect view of the port which stole our hearts. It was so good that a large group of us went back a second time for pizza, pasta and gelato. Our amazing Italian dining experience should not discredit some of the tastes that Portugal has offered us. We were introduced to Pastel de nata, a dessert that Portugal is known for, and we absolutely loved it! 
Some of our other highlights in Porto include: spending time on a boat that travelled along the Douro River where we got to hang out with friends, listen to music and peacefully take in the scenery that port has to offer, and visiting the "Livraria Lello" bookstore that inspired JK Rowlings while she wrote Harry Potter!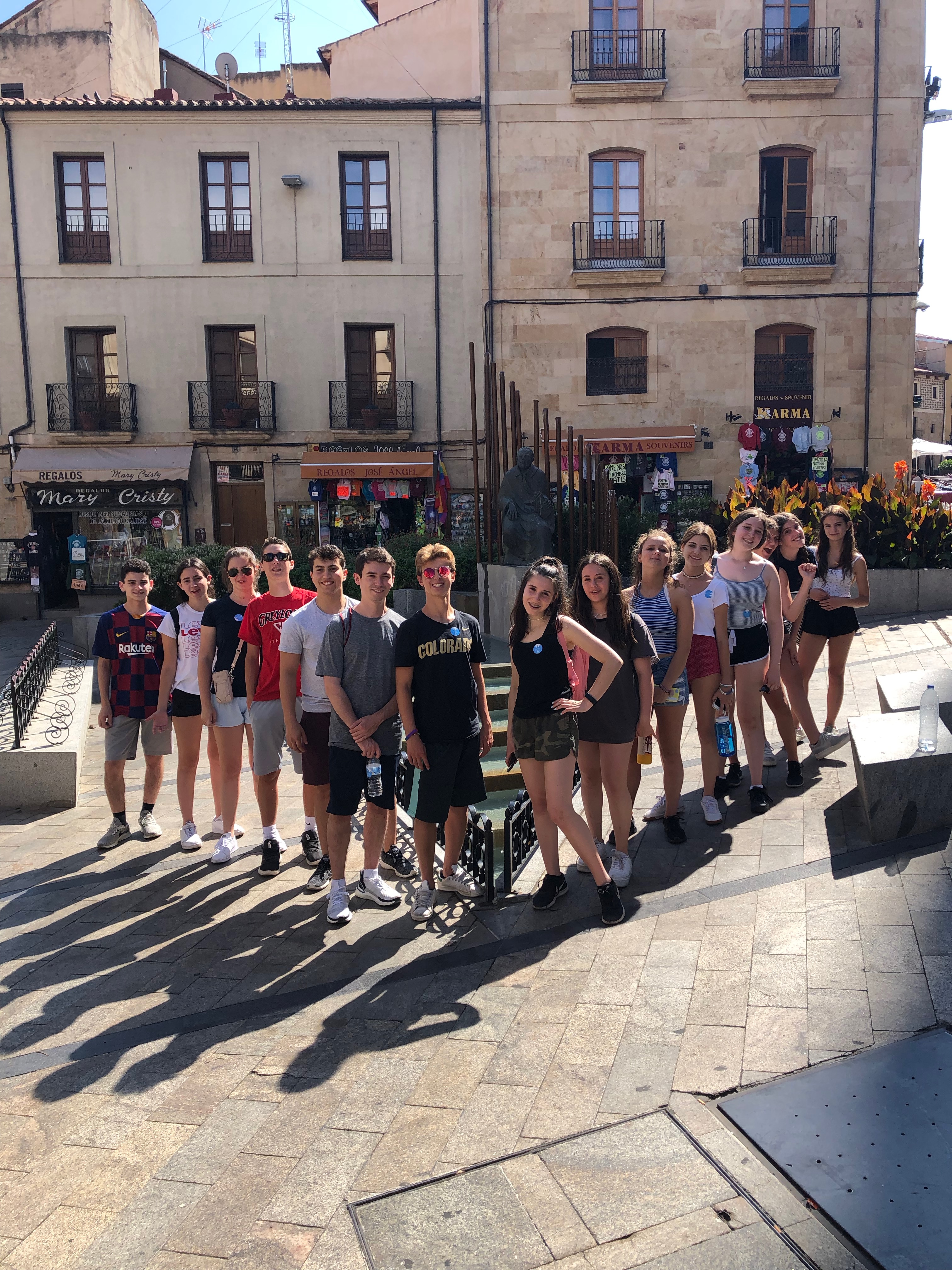 Also, while in Porto, we took a day trip to the canyons in the Peneda-Gerês National Park. The trip members unanimously agreed that our day of canyoning, which included several zip-line courses, was the most exciting day of the trip. With the support of their friends, every trip member completed the entire canyon tour and the whole group left feeling very accomplished. We definitely become a stronger group as a result of our day at the national park! 
We have recently left Porto and have journeyed to the Capital of Portugal – Lisbon. We have also kicked-off an ongoing team competition, which will proceed until the winning team is determined by a final competition near the trip's end.  The group has been divided into two teams, representing the two countries we have visited: Team Spain and Team Portugal. Both teams were asked to creatively write a "shmerel" poem that represents their country team, proudly. The "shmerel" poems were recited on the bus in front of the entire group, and the staff team that judged which "shmerel" poem was best and would be awarded the point for that competition. 
For your viewing pleasure, below are the "shmerels" that the trip members created collaboratively within their teams: 
TEAM PORTUGAL
Shmerel, shmerel on the wall, 
what is the best country of them all? 
It is no doubt that Portugal has the best views. 
I am sure this is not news, 
our country is the best, 
and we don't have to put that to the test.
Portugal, Portugal, what have you done? 
Stealing our hearts since day one. 
The Douro River served us well on the boat, 
I guess you could say our country is the GOAT (Greatest Of All Time).
Everyone knows Spain's food was bad, 
but Portugal saves the day with food that is rad. 
Wait, wait I am not stopping there, 
cause Hayden said 4 rhymes is the bare… minimum 
Spain was over 100 degrees, 
But, here in Portugal, there is a nice breeze. 
Walking around Porto's cobblestone hills, 
all 14 of us were up for those fun thrills. 
During canyoning, we were all so scared, 
but we helped each other out because we really cared. 
We are all having a ball,
And we are talking about team PORTUGAL.
TEAM SPAIN
Shmerel, shmerel on the wall, 
what is the best country of them all?
This place definitely falls on top,
although the food was a little flop.
The views were definitely a sight to be seen,
And to travel the country each member was absolutely keen.
Porto, Portugal is great and all,
but this country is always the right call.
Row boating in the sun was super cool,
and we all really wanted to jump straight into a pool.
Every night in the Salamanca plaza was fun,
And we are sad that making random plaza friends is done.
Although we had to take a 7-hour plane,
This country was worth it and its name is SPAIN.
The trip members are all very close and everyone is travelling in great spirits! Every moment we have spent in Portugal has deepened our appreciation for this beautiful country.  
Until next time! Adóis por ahora (bye for now)!
The Westcoast Blogger
Do you want to have fun in the sun in Spain? Learn more about our 18-day and 28-day Spain & Portugal trips! To browse all of our programs, click here.