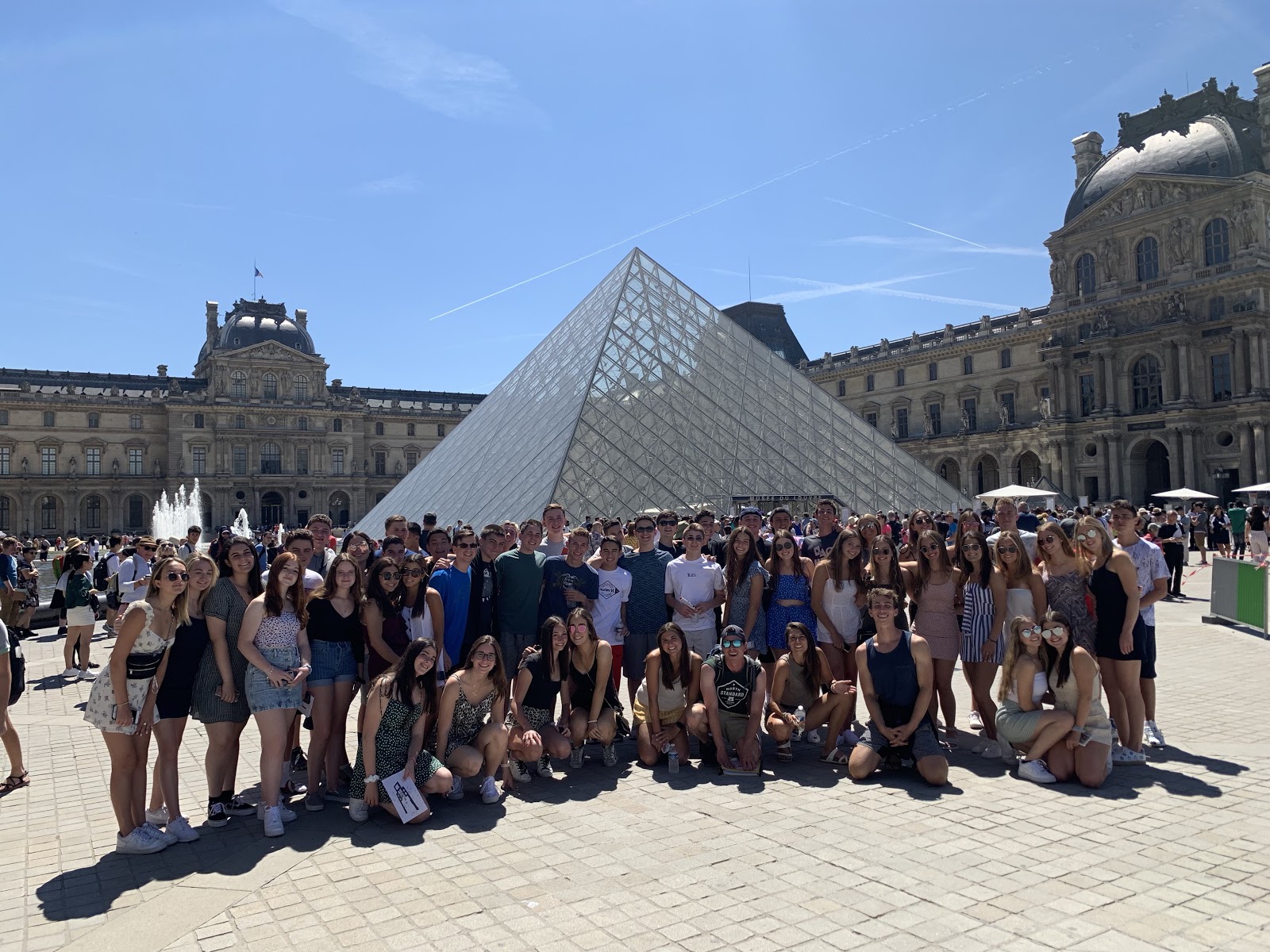 What better way to start our Tour de France then with a sunset boat cruise on Bateau Mouche. All we can say is WOW. The parisien architecture was stunning as we got to view Notre Dame, le Musée d'Orsay and of course, la Tour Eiffel while cruising on la Rivière Seine. It's a memory our trip members will never forget as this magical experience brought us closer as a westcoast family. 
Jour deux à Paris started with the Louvre, the biggest museum in the world, which was once a royal palace. This is the home of so many famous art pieces such as the Mona Lisa, Venus de Milo and our groups personal favourite, the Winged Victory of Samothrace. Fun fact, Nike (yes, like the clothing company) is the Greek word for victory! And Nike's swoosh check mark logo was actually inspired by the wings of the Winged Victory of Samothrace! Once our minds were full of knowledge, our trip members insisted we go outside to take some photos with the iconic pyramids that stand outside the Louvre's entrance. Let me tell you that taking pictures in the summer sun of France can sure build up an appetite! We decided to hit up the Arc de Triomphe and le Champ d'Élysée for a light lunch and some shopping. Shortly after we made our way to the Notre Dame Cathedral, it was so impressive!
The following day we headed to the most iconic tower in Paris (I'm sure you can guess!), under which we played a game of 'Ride The Pony'. We had so much fun! After a combination of climbing up the stairs and taking the elevator up the Eiffel Tower, we were rewarded with a gorgeous view of the sun setting over Paris. Many photos were taken from the 28th tallest tower in the world.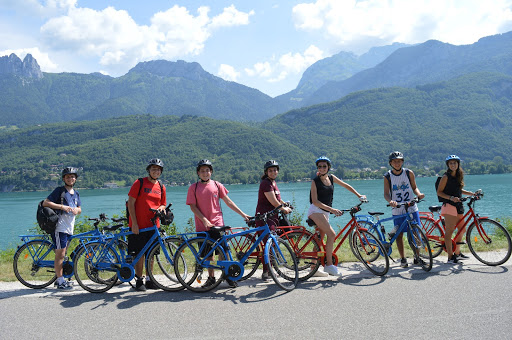 Good morning and welcome to the Rodin Museum, home of the famous sculpture 'The Thinker', crafted by Auguste Rodin. They say that the true sign of intelligence is not knowledge but imagination. This thought couldn't be more true as we entered the city of Versailles, where we imagined eating and living like kings and queens. Before entering the magical gardens and the gorgeous palace that once belonged to King Louis, we stopped by the markets for some small town shopping and lunch where a lot of our members and staff shared delicious French pastries such as tartes, éclairs and macarons. Like a freshwater spring in the middle of the Sahara, a nearby sprinkler kept us cool with our campers and staff making runs through the glorious elixir. We spent time in the Versailles garden before heading into the palace for our guided tour, in which we learned about France's royal history. 
Our last night in Paris was one for the books! We had a nice family dinner at River dîne and our members had the opportunity to sing their hearts out during karaoke. Let me tell you that we have a very talented group of teens! The members also got to experience french song choices as locals got up on stage to belt out their tunes. Our karaoke session was short lived as we headed back to the hotel in order to get ready for Annecy, but this did not stop our members because the only thing better than singing is more singing! Our karaoke continued on the bus ride back as all trip members sang at the top of their lungs. The energy was high and excitement filled the air, we wouldn't have wanted it any other way.
Goodbye big city and hello small town! We took a bus ride to Annecy and what a magical place it turned out to be. Truly heaven on earth, and an ultimate paradise filled with gorgeous mountains, a bright blue lake, a river that runs through the town and murals galore. Bike riding, paddle boarding, sunbathing on the beach, volleyball games and picnicking are just a few of the activities that this magnificent town has to offer, but the best part of all was getting to explore the small street of Annecy and eating at restaurants that overlooked the adorable river. Our members really got acquainted with French cuisine by trying new dishes like escargot, tartiflette (scalloped potatoes) with lots of cheese and raclette. We could not finish all our plates but what happened next was a moment of pure selflessness and a true act of kindness. Our members asked our waiters to pack everything up in boxes and as we walked the streets and handed the food out to those less fortunate. This was an incredible moment to share as we realized how truly blessed we are!
The Westcoast Blogger 
Do you want to explore all of London's amazing sites? Check out our 22-day European Discovery teen tour! To browse all of our programs, click here.