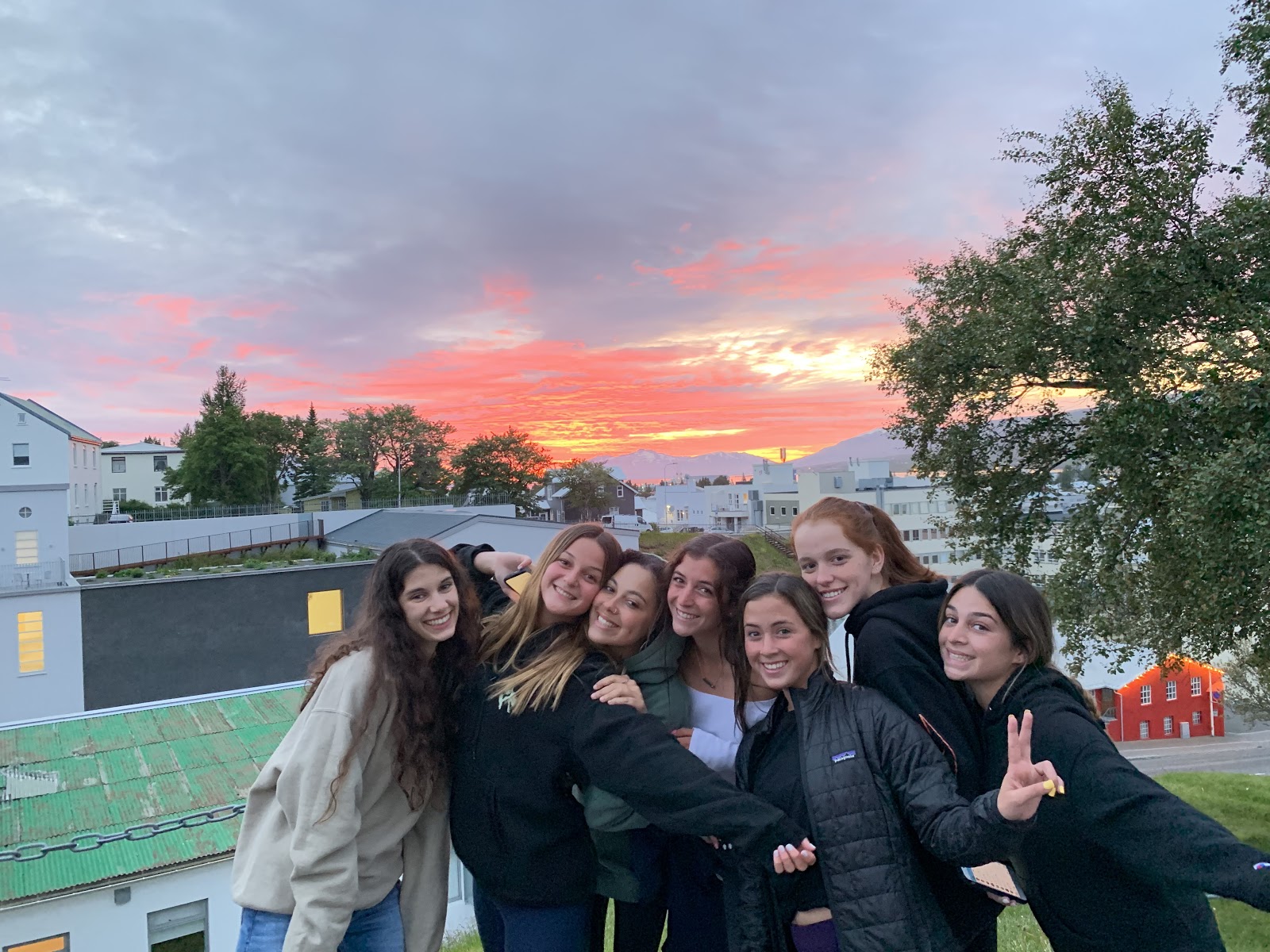 Our final stop in beautiful Iceland took us North to Akureyri, the Capital of Northern Iceland. Although it is a city, Akureyri definitely has more of a small town feel, with a great pedestrian street filled with eclectic shops, children playing in a small square, and plenty of quaint cafes and restaurants. The most striking feature of Akureyri is the Akureyri Church, which is a Lutheran church that sits atop a large hill overlooking the small city. It was from there that we were able to view a beautiful Icelandic sunset with snow capped mountains in the background. 
Our first activity in Akureyri was whale watching and a sea angling tour in Dalvik. There, decked out in our bright red overalls, we boarded our boat and hit the open sea, eagerly searching for whales. We were very lucky to have multiple sightings of humpback whales and white beaked dolphins. It was incredible seeing these beautiful sea creatures in their natural environment. Once the whale watching portion of the trip was over, the fishing rods came out and many of us were given the opportunity to go deep sea fishing. We even caught a few! The fish were then cleaned and filleted right on the boat and, once we got back to land, were grilled and anyone who wanted to try a piece was given the opportunity to do so. It was delicious! From there, we went to a fish factory where we saw how a few of Iceland's most famous dishes are made, including salt fish and fermented shark!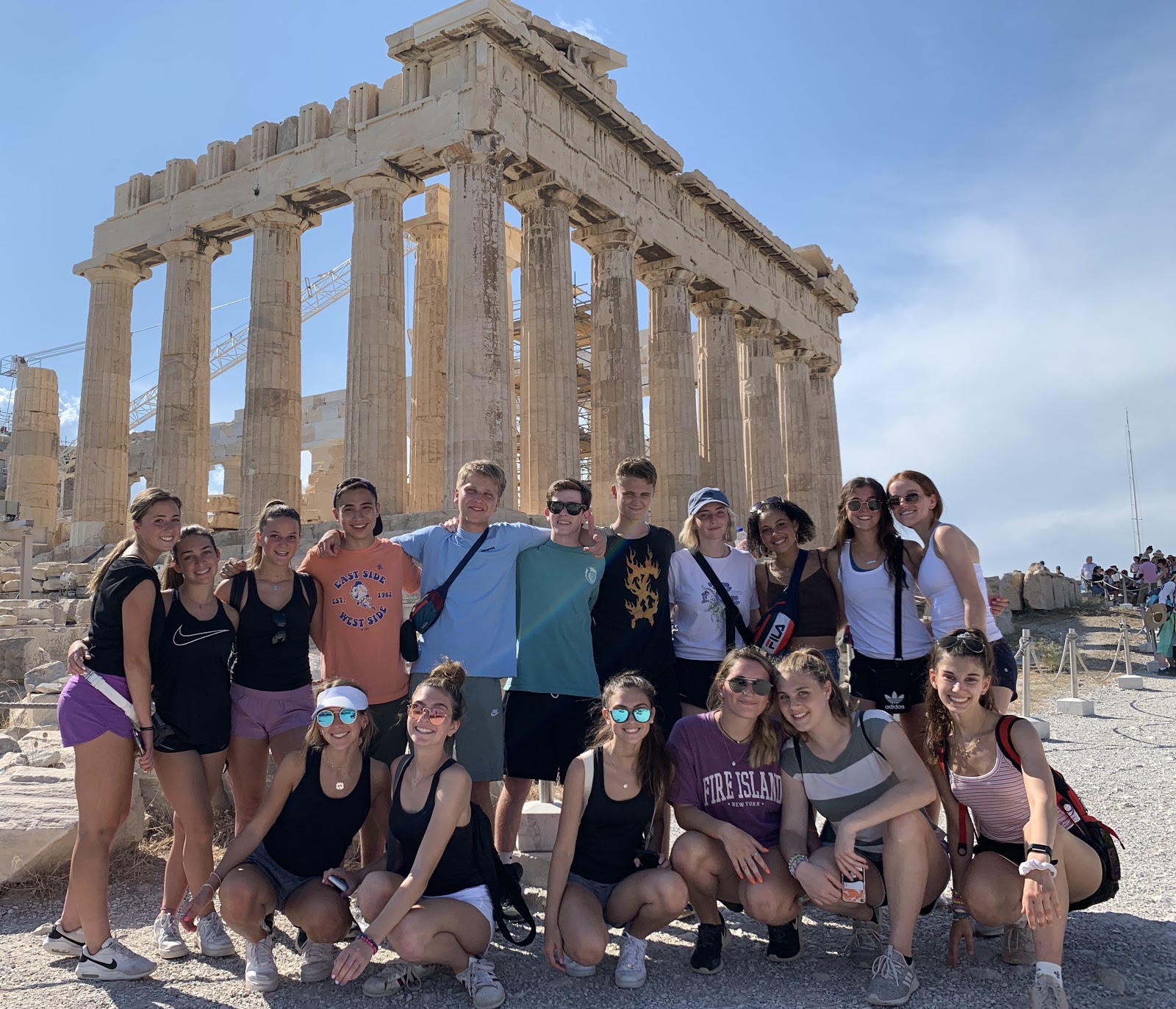 The last activity before leaving Iceland was highly anticipated for most of us, visiting the Blue Lagoon. The Blue Lagoon is a geothermal hot springs located in the middle of a lava field, and serves as a pool and spa to its visitors. It is also Iceland's most frequently visited tourist attraction. It's no wonder too, because we all loved wading in its comfortably warm waters. The water also comes packed with tons of minerals which are supposed to be very beneficial to the skin. Many of us even got to enjoy the complimentary silica face mask! After our visit at the blue lagoon, we were a bit sad to head to the airport and leave Iceland, but excited about the second half of our trip to Greece.
Upon our arrival in beautiful, warm Athens we immediately headed for the Plaka district of Athens for lunch and shopping. We enjoyed incredible Greek dishes like gyros, Greek salads, and tzatziki, and loved wandering the tiny streets. From there, we hiked up to the Acropolis and were able to see the Parthenon in all its natural glory. Despite seeing it many times in textbooks, many of us commented on how incredible it was seeing it right before our eyes. Our tour guide was very thorough and gave us a ton of fascinating information. After our tour, we went back to the Plaka district, ate another incredible Greek meal, shouted Opa! as we broke ceramic plates and ended our night with gelato!  
The Westcoast Blogger
Does an Icelandic adventure interest you? Check out our 16-day or 24-day Iceland Global Adventures. To browse all of our programs, click here.