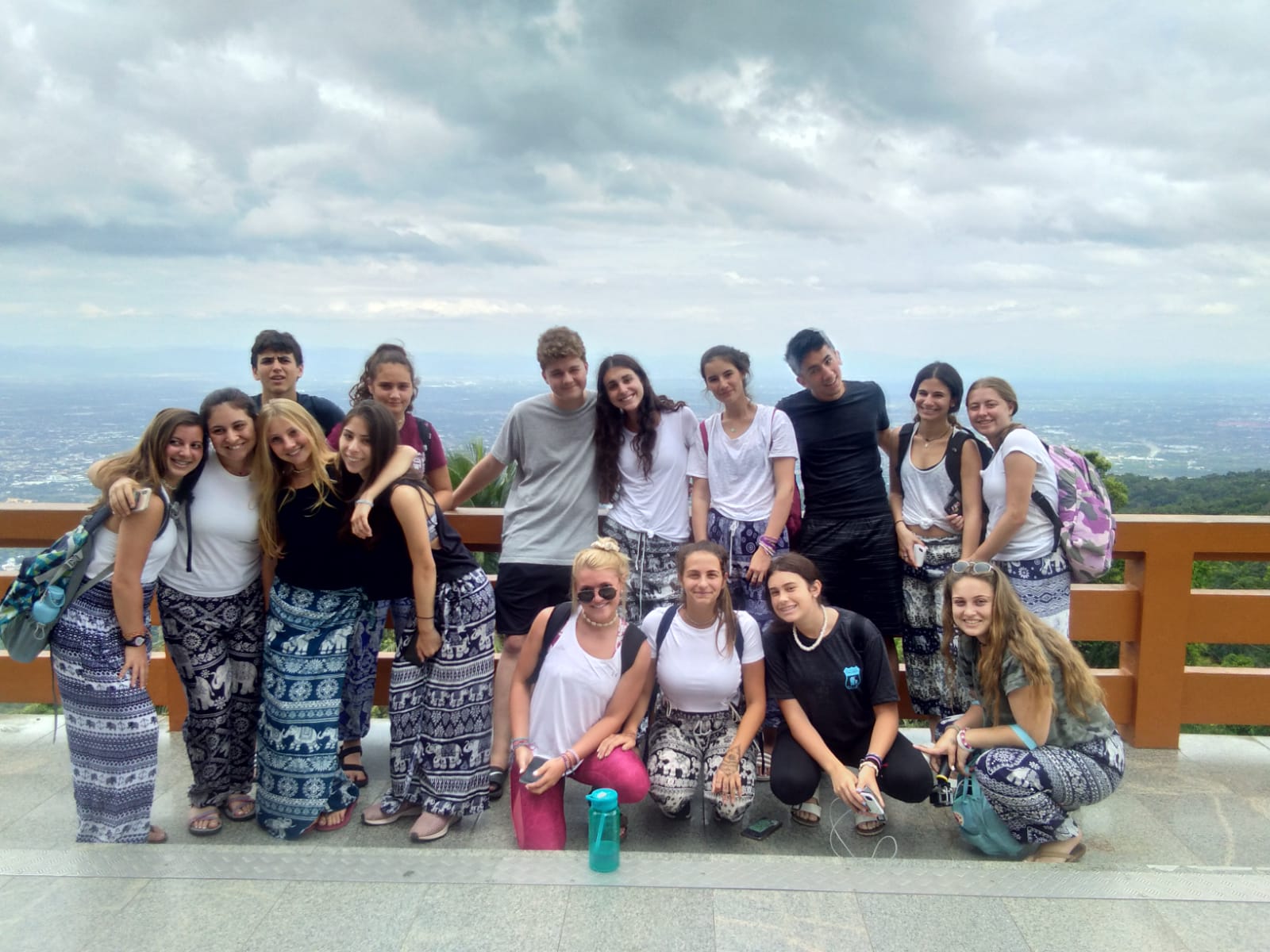 Welcome back to our adventures in Thailand! After our try at the Muay Thai Bootcamp, the group made its way back to the Krabi Tipa Resort where we enjoyed the hotel facilities and relaxed after a good workout. That evening, we made our way to the bustling Chiang Mai night market where our group practiced their bartering skills for the first time. The market was full of clothing, nicknacks, and goods that our trip members picked up as souvenirs. 
The next day, we were off to Mearam Mountain, located on the outskirts of Chiang Mai to start our zipline adventure. We would be ziplining, climbing, and scaling our way across 30 different features. Some of us strapped GoPros on and we were officially ready to start our journey down the mountain. Platform to platform, we laughed and shouted as we had a great time swinging through the jungle. At the end of the activity, we were met with a Thai buffet lunch and some delicious local ice cream.
After a great sleep, we were ready for the crown jewel of our stay in Chiang Mai – Patara Elephant Farm. This day was a magical experience for all. Our group were met immediately by two adorable baby elephants who were just as excited to see us as the trip members. Patara Elephant Farm is known for their rehabilitation of injured and abused elephants and helps to give them a fulfilling life conservation education. Trip members were paired with elephants and learned how to properly clean, feed and bathe these beautiful creatures. After the first elephant encounter, our group had lunch by the river while wearing our mahout outfits. We trekked through the jungle and took some beautiful pictures with our new friends. The day was full of heartfelt moments and photoshoots and no one will ever forget the experience we shared.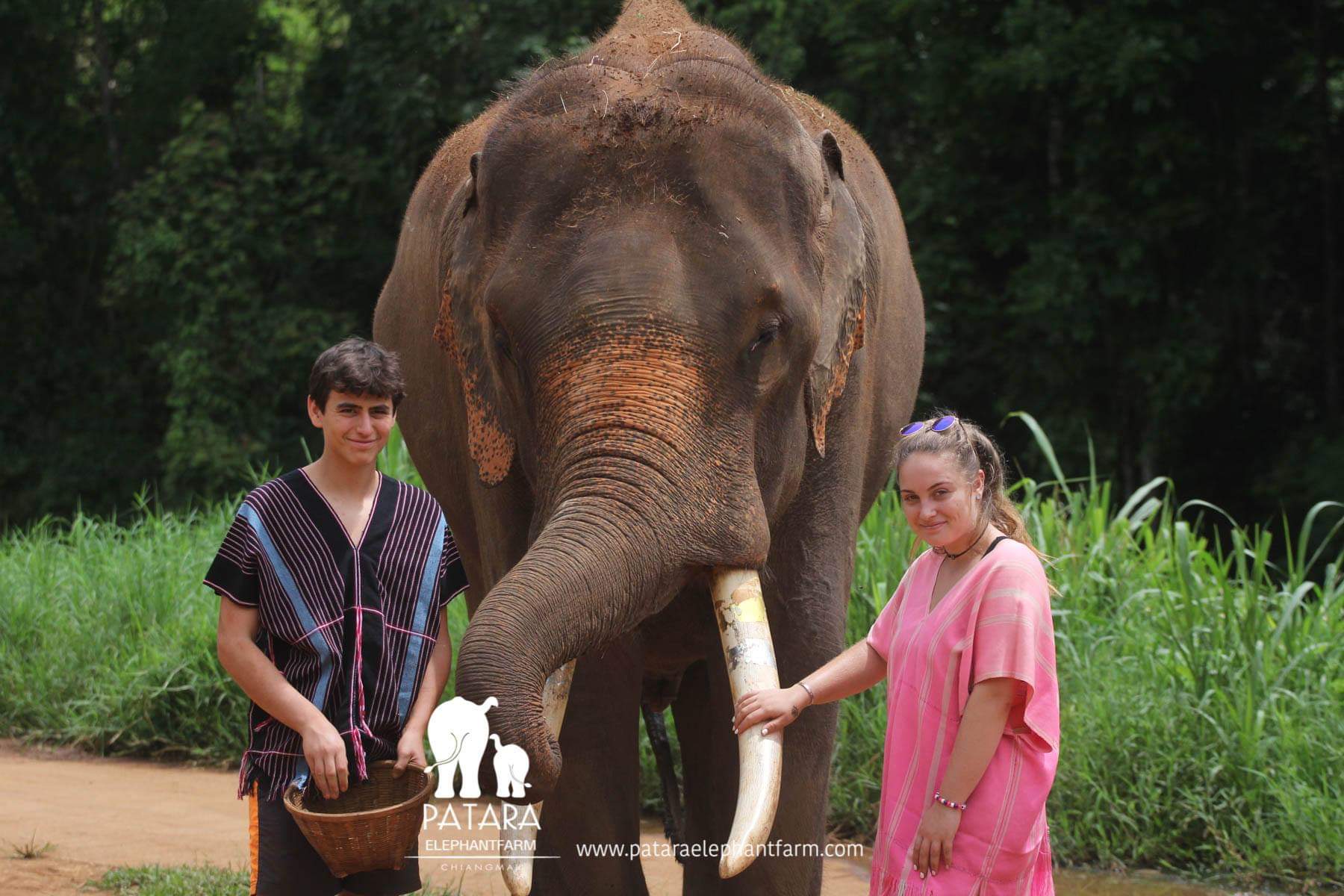 For our last day in Chiang Mai we had a cultural exchange day organized. Our group got their hands dirty as they tried rice farming using traditional Thai techniques that have been passed down generation to generation. We even saw the water buffaloes that help to plow the land where the rice seeds are planted. After some hard work, we enjoyed a feast that was prepared by the locals and chowed down right next to where we had been farming. It was definitely rewarding to see exactly the effort that is put into planting for just one bowl of rice! We then washed up and made our way to Wat Phrathat Doi Suthep Temple which is home to many cherished symbols of the Chiang Mai region. This beautiful golden temple overlooks Chiang Mai and bolsters a beautiful view of the city. Our Trip Members were able to pay their respects to the culture and religion of Chiang Mai before making their way back to the hotel to start packing for beach time in Krabi.
We headed to the airport and boarded a plane destined for the beauty and sun of Krabi Province and Ao Bang beach. Making our way to the hotel we quickly realized we were far from the business of Bangkok and the mountains and greenery of Chiang Mai. We were surrounded by limestone cliffs, fresh fruit and seafood, and of course beautiful crystal blue beaches. After a night of sleep at the Krabi Tipa Resort, we are headed to the open waters for a boat tour!
Talk soon,
The Westcoast Blogger
Looking for your own adventure in Southeast Asia? Check out our 27-day Thailand and Vietnam Adventure program. To browse our full list of programs, click here.