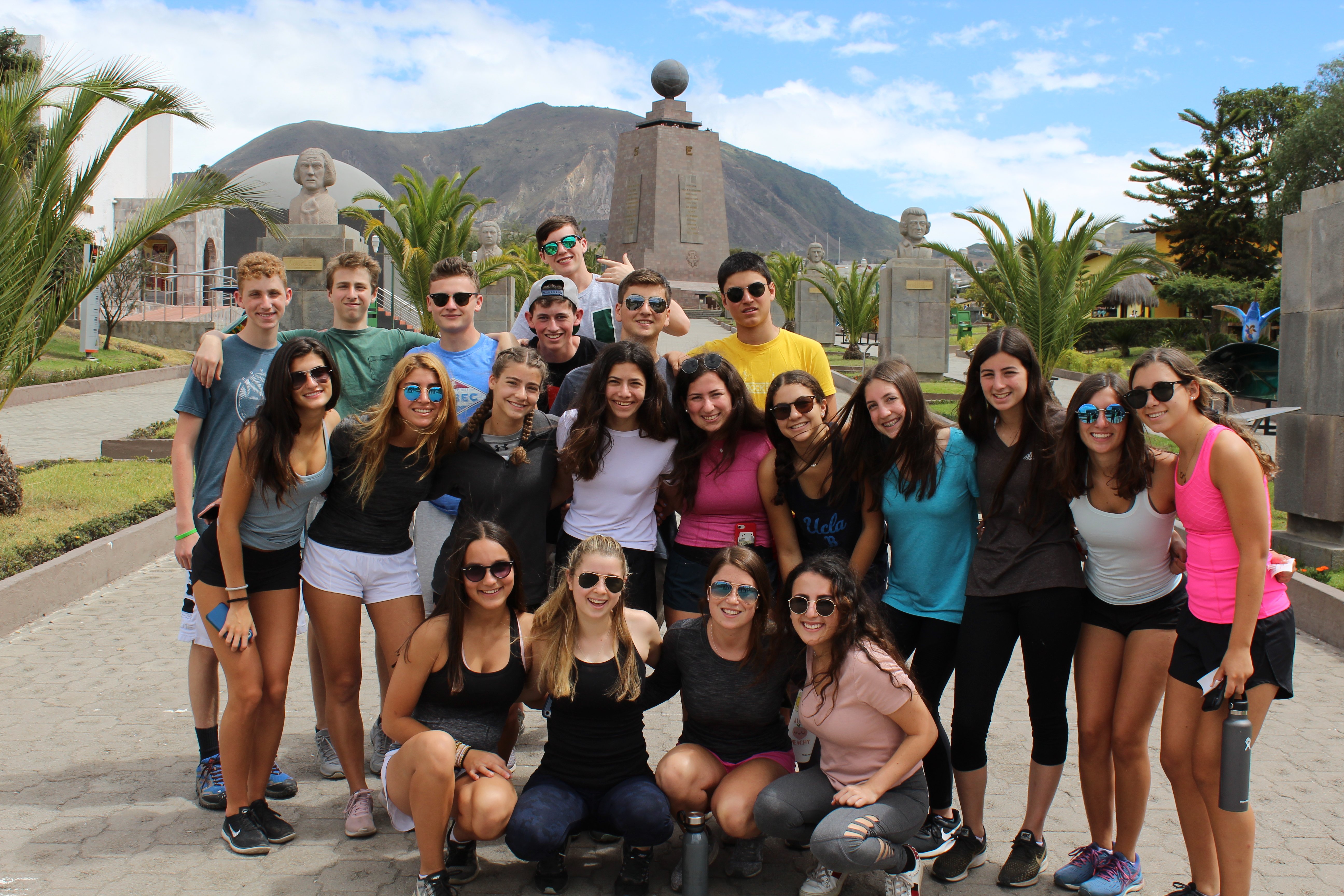 Saludos Desde Quito, Ecuador! Our first few days have flown by. We began our day by zip lining through the cloud forest of Mindo, located in the Andes Mountains in Northern Ecuador. We were incredibly excited when we reached the longest cable where we were able to zip down in groups of 2. The Trip Members cheered for each pair as they quite literally flew through the trees. Afterward, we headed out for our first Ecuadorian meal. The majority ordered Churrasco, which consists of grilled steak, fried eggs, rice, and French fries. As expected, the Trip Members absolutely loved the dish. With smiles and full bellies we grabbed river tubes and enjoyed a refreshing ride down a nearby river. This experience was unique because the tubes were tied together to form hexagons. Our tour guides expertly navigated our tubes safely through the rapids while ensuring we were soaked in the process! As we arrived at the river bank many in the group were exclaiming how much they enjoyed the experience and wanted to go again! 
The next day, the Trip Members eagerly walked to a local elementary school where Ecuadorian children greeted them. Despite the language barrier, we were able to meet in the middle and use Spanglish to interact. Many of us were surprised by how many phrases and words the children knew in English. We got creative and used hand signals to supplement our Spanglish. After the children's recreational time ended, we got down to business and beautified their schoolyard. Some of the Trip Members painted tires that would be used as flower pots, others painted field lines and the rest of the group painted a beautiful mural on the wall. The entire group proved to be extremely hardworking and dedicated. Our afternoon activity led us 15,700 feet above sea level! We rode the teleferico up the Pichincha Volcano. At the top, we got to see the most incredible view of Quito. The Trip Members favorite part was the Columbia en las nubes, the swing in the clouds, where they were able to take gorgeous photos with clouds and Quito in the background.  Our evening ended with a hysterical game where got to share many laughs.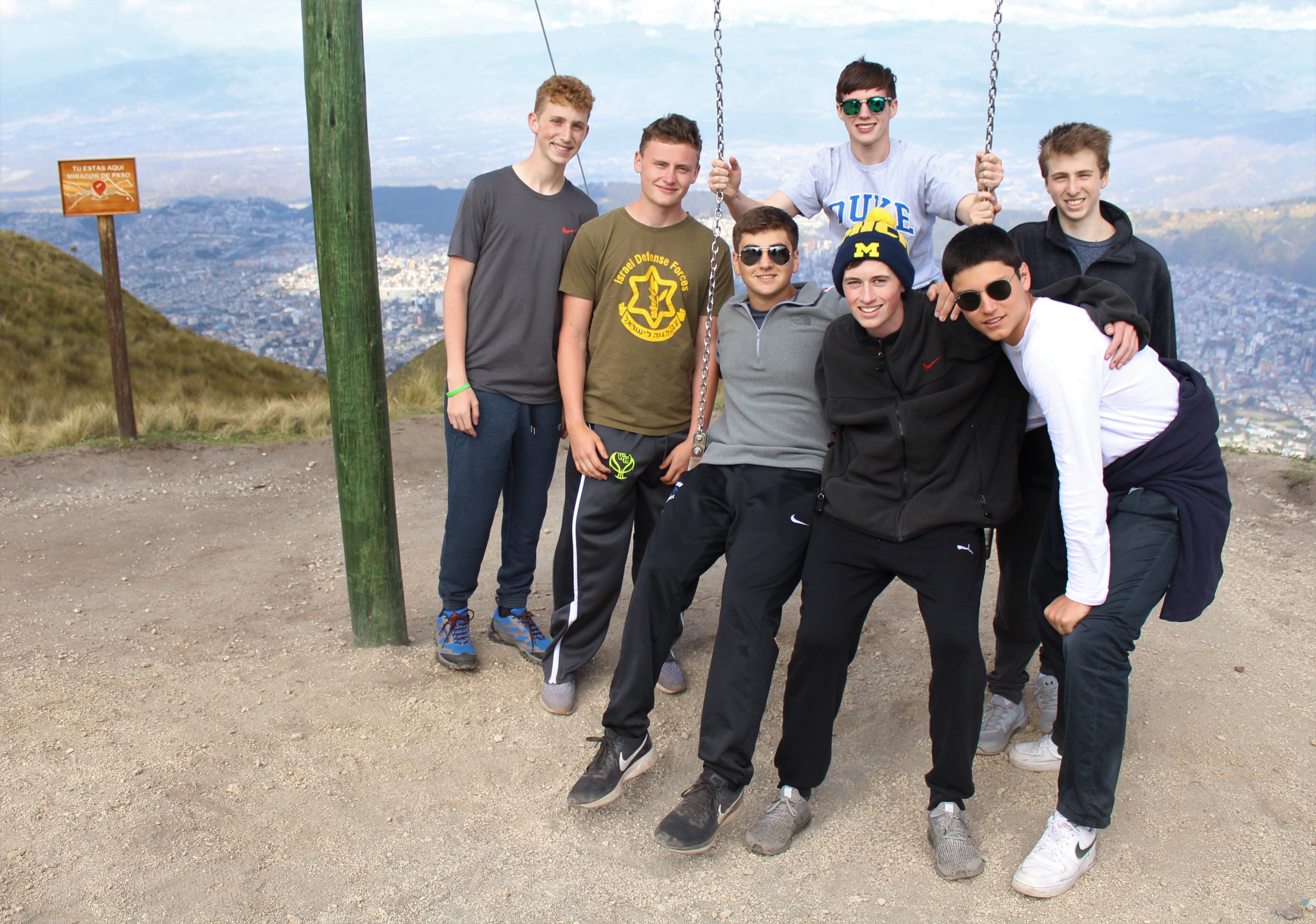 Our fourth day was another service day, we were able to work at two different stations. One group started their morning at a public senior center. Elderly Ecuadorians come to the center Monday through Friday for a variety of activities. This morning, they happened to be coloring and we joined in and assisted them. Jake M. partnered with a blind man, Manuel, and helped him create a barn scene. Manuel would request a color and Jake M., would place his hand over Manuel's with the correct color and guide his hand to stay within the lines. Marni helped an older woman who had Alzheimer's put plastic rings in size order. The other group went to El Centro Infantile and helped feed babies. Lizzy made a very special connection with one particular child who would not leave her lap after she fed him. Our evening concluded with a trip to the mall. While waiting for our bowling reservation we had an impromptu scavenger hunt through the mall. Some of the requirements included obtaining a job application, finding a large stuffed animal and posing as mannequins. We bowled in teams of 3 – Red, White & Blue. The White team won!
We kicked off our first weekend in Ecuador with an early morning adventure to the middle of the world – the Equator! We spent a couple hours in a very interactive outdoor museum, where we tested the impact of gravity on the equator line. One of the tests included balancing an egg on the head of a nail. After minutes of intense concentration we are proud to announce that we have not one but three egg masters – Hallie B, Ben and Dan. We also learned a bit of Ecuadorian history and geography. Our next stop was a beautiful Gothic church, the Basilica, where we were fortunate enough to be able to climb up to the tower for another panoramic view of the city. As we exited, a wedding commenced and we caught a glimpse of the bride and groom being showered with love. After a short city tour, we ended at Yumbos – a chocolate shop that makes organic chocolate. We were able to try the cacao fruit, which was surprisingly fleshy and tart. We then had a variety of chocolates and a delightful brownie. Some of the groups' favorites included the chocolates infused with coffee and spicy peppers. Many even bought chocolate BBQ sauce to bring home. Our night ended with a fun trivia game. More about our adventures in Toacaso and Riobamba next time! Hablamos pronto!
The Westcoast Blogger
Does helping out a community in Ecuador interest you? Check out our 18-day and 25-day community service programs! To browse all of our programs, click here.