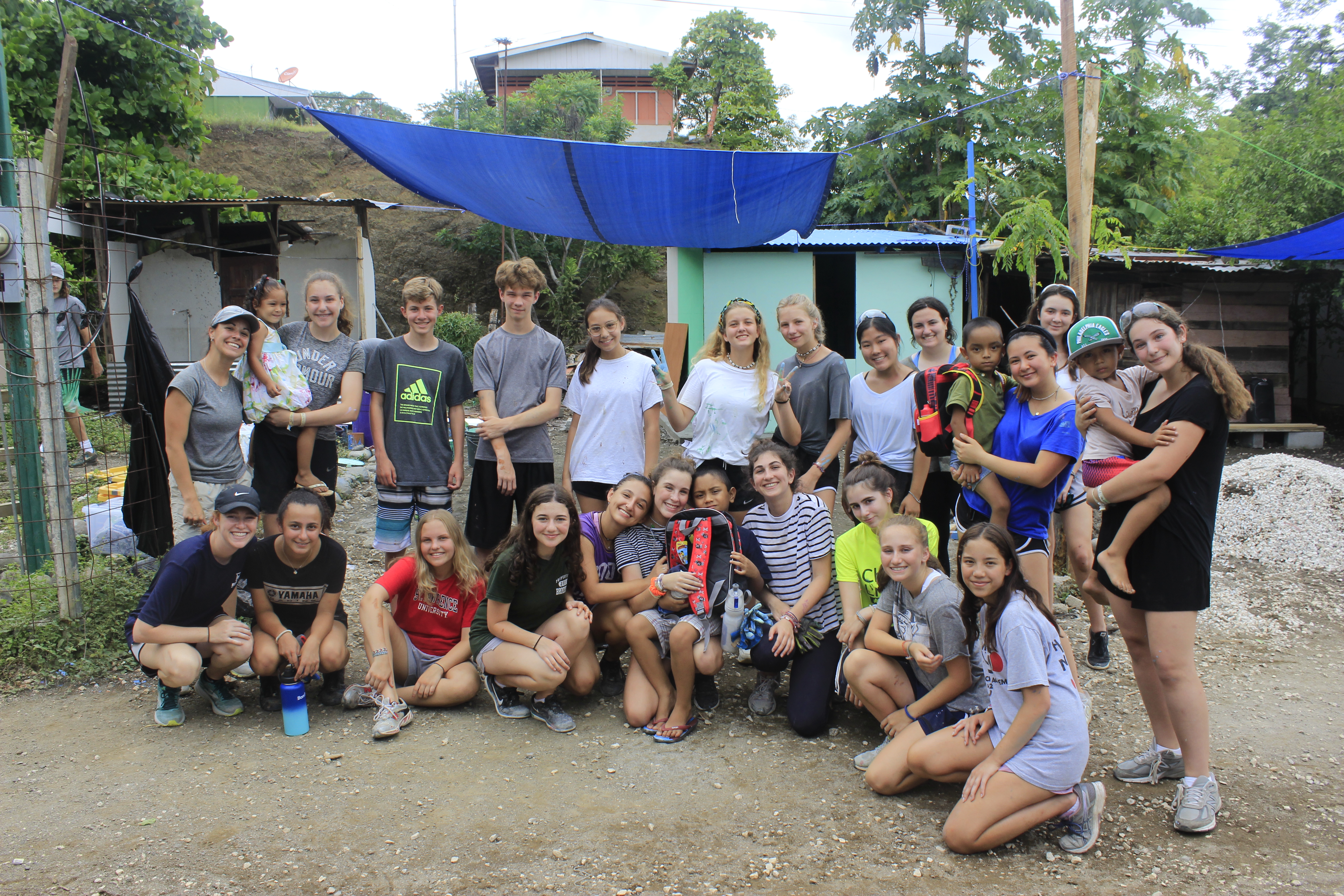 Since our last check in, we have experienced so many new things here in Costa Rica that have challenged us in countless ways! From an impactful completion with our first service project, to numerous adventure activities, our time here is flying by. In the past week, we have been beyond lucky with the weather, making the most of our sunshine, and even getting many animal sightings!
The conclusion of our first service project with Urbarium left us feeling very accomplished and motivated for our new work to come. On our final day of painting, there was a local Zumba class being held on the sports court. As we could not continue with our work until their class was over, we made the most of the moment and every one of us joined in for a morning sweat! We were able to finish the mural on the sports court in its entirety and get to admire it with all the vibrant colors. Urbarium held a humble ceremony for us and graciously awarded everyone with a personalized certificate recognizing the contributions we made in the community. The vibrancy we've had the opportunity to bring to this community will be seen not only on the sports court, but on the faces of all who use the area.  
Leaving San Jose with full hearts, we hopped on the bus to embark on our journey to our next destination! Arenal offered so many incredible views from our new cabin lodging, and we could see the volcano from our windows! The next day was our time to unwind, so we started our time in Arenal with a very fun game! Program members had the task of creating a 'rock band' group and rewriting the words to a popular song to reflect our trip! Well folks, you should have heard these tunes! After sharing many laughs, we were able to kick back and relax at the Baldi Hot Springs. This place blew our minds! Many program members flew down the waterslides and into the pools, while others relaxed in the natural sauna. Ending our night with a massive feast of traditional Costa Rican foods, we were moving as slow as sloths back to our cozy hotel beds. 
Our next adventure was Pure Trek Canyoning, which is an incredible experience of waterfall rappelling! This was when we really got to see our Familia come together and support one another. We got geared up in our harnesses and helmets and hiked out through the spectacular views to our first big waterfall. Program members showed their compassion towards one another as we held hands right up to the top! After our relaxing time off, we were ready to travel to our seaside paradise destination, Flamingo, and learn about our next service partner. We spent our first few hours there exploring our new surroundings, including the beach that is within walking distance of our new hotel!
On our first day of service in Flamingo, we got right back into the swing of things and reminded ourselves of the reason we are all here. Siempre Amigos was founded in 2011 by three Costa Rican teenagers who wanted to emphasize support and service in Costa Rica's most underprivileged communities. One of the teens that began this organization was our first guide, Martin! Our program members were so fortunate to be able to know Martin and his story personally, to build more of an affinity to the project that we were tasked with. Our team travelled to a local village to help a crew with the reconstruction of a family's home. When we arrived, our program members were moved to see the way that this family had been living, and it made us very mindful of everything we have to be grateful for. The crew divided us up into smaller teams and we began mixing concrete and painting metal sheets for the roof of their home. This was such a great feeling for all of us as we were able to take some time to get to know the family that we were constructing the home for. That night, we headed to the beach to look at the stars and enjoy a bonfire. We reflected on the impact that we had on the site and the ways that our service experience was influencing us, all while building each other up and recognizing one another's solid efforts that were put in. Martin came to visit us one last time, to tell us how moved he is by our dedication to this program and how grateful he feels to have had the opportunity to work with our very special group. 
This was all the motivation we needed to get back to the site on Day 2. Before we headed back to the site, we had a special celebration at breakfast because it was Gil's birthday! Everyone sang him Happy Birthday and he even got to enjoy a delicious cupcake! Upon returning to the site, we mixed concrete like pros, and were able to finish the floor on the inside of the home! It's safe to say that we earned a well-deserved afternoon on the beach! We headed to Tamarindo to catch some waves, and many of our program members looked like pros on the water! With sandy feet and salty hair, we headed back to the hotel for a competitive game of Family Feud! Our competitive sides came out as we battled in our families against one another to answer some very hilarious survey questions! A highlight from the game show was when asked 'Name something that is sticky?' in unison, our Canadian program members shouted, "Maple Syrup!".
On our final day of service with Siempre Amigos, we were able to really connect with the family of the home that we finished. We painted a beautiful pattern on the outside walls and finished the final details on the inside. Saying "Adios" to the family, we left them with many donations that the program members packaged specially for each individual we met. During our debrief that evening, program members expressed they felt very lucky to have the opportunity to help a less fortunate family and are grateful to have their personal necessities easily accessible. Speaking from outsiders looking into the less fortunate lives here in Costa Rica, we truly believe that people live the Pura Vida lifestyle, and have so much love and appreciation for life overall. 
Bye for now,
The Westcoast Blogger
Does exploring Costa Rica through community service and adventure activities sound like fun? Read more about our various service opportunities in Costa Rica here! To browse all of our programs, click here.