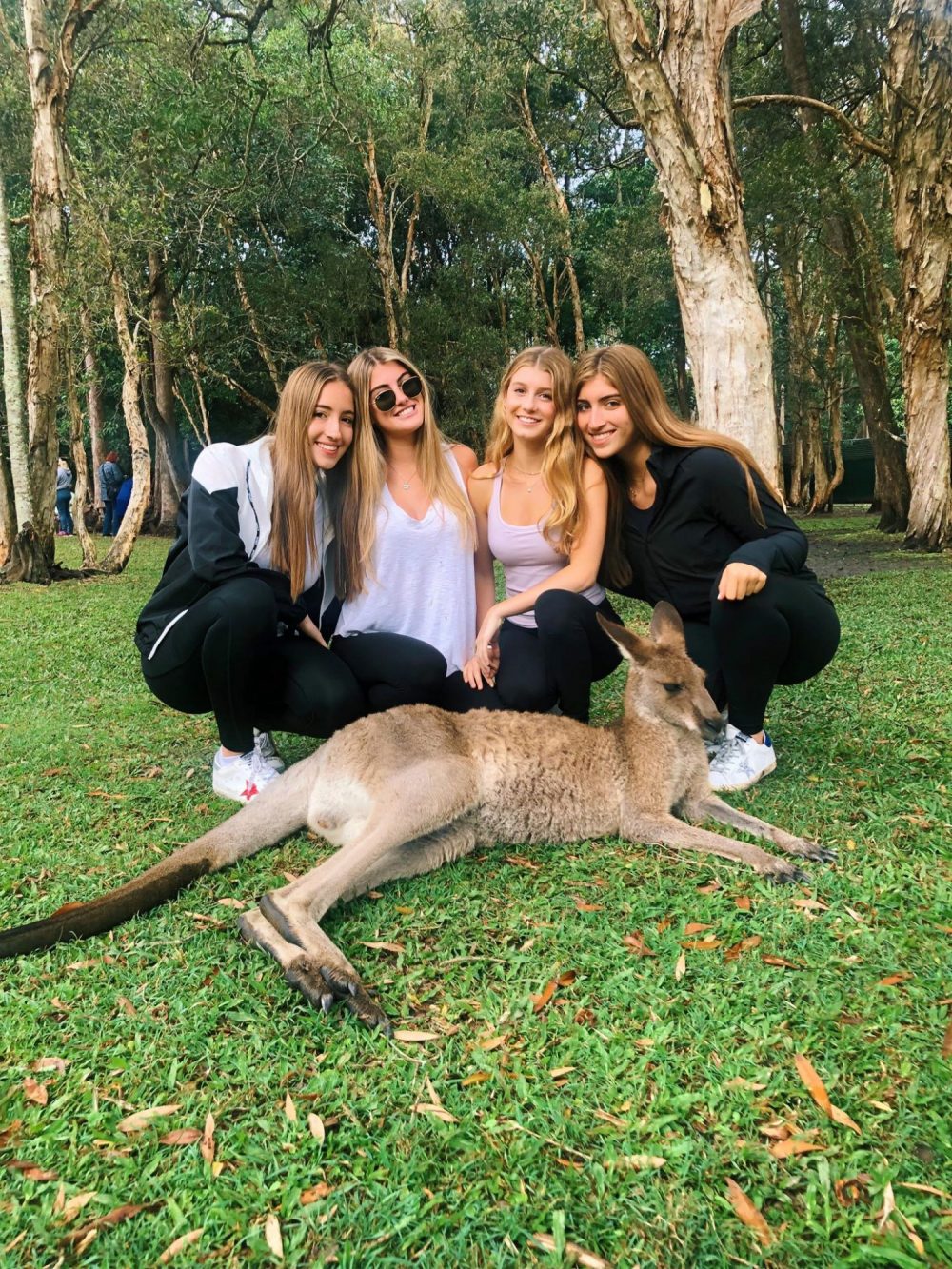 A big hello from trip 71H! Last time we left off we were headed to Fraser Island, the only rainforest in the world that grows in the sand! We started off our time on the island tasting a variety of the native food staples which included Australian delicacies such as crocodile, emu, and kangaroo which many of us were surprised actually tasted like steak. We then headed to a restaurant for a group dinner and ended our night off with a bang with a color battle where teams faced off in a variety of challenges, including water bottle flipping, and eating Oreo cookies off our foreheads using no hands. In the end, our trip leaders' group took the victory home but laughs and fun was shared by all. 
The next morning we embarked on a bumpy bus ride up and down the sandhills of the rainforest (there are no roads!) and drove along the beach "highway" to various picturesque locations. Our first stop was Lake Mackenzie, a beautiful freshwater lake with crystal clear blue water, so fresh that you can actually drink the water whilst swimming! From there we continued along the beach to view a shipwreck and on our way, we were lucky enough to spot two of the island's 200 wild dingos. We stayed active by taking a hike through the rainforest. Arianna was brave enough to join the staff in cooling off by floating in the fresh waters of Eli Creek, a natural lazy river. Before our tour was over, we even got to witness planes taking off from one of the two beaches in the world where this is possible! Our night ended with a group dinner and a nature walk guided by the island's rangers where we saw cane toads, scorpions, eels and even the shadows of the ocean's stingrays! 
The next morning we boarded the ferry back to the mainland and made our way to the Australia Zoo where we took photos with the 'roos, held koalas, and watched the Irwin family feed and wrestle with a freshwater croc! After seeing all of Australia's wildlife, we headed to Brisbane for dinner and a good night's rest before our flight to Cairns the next morning. 
After our short and smooth flight up to Cairns, we stopped to eat lunch at the delicious cafes in the city center and then made our way to check into our home for the next two nights: On the Wallaby Eco Lodge. We quickly split into groups and our first group headed off on a sunset canoe ride while the rest of us enjoyed a starlit nighttime canoe ride where we were able to see Jupiter from down here in the Southern Hemisphere. We even spotted some wild wallabies! If you haven't already noticed, there's a lot of wildlife here in Aussie.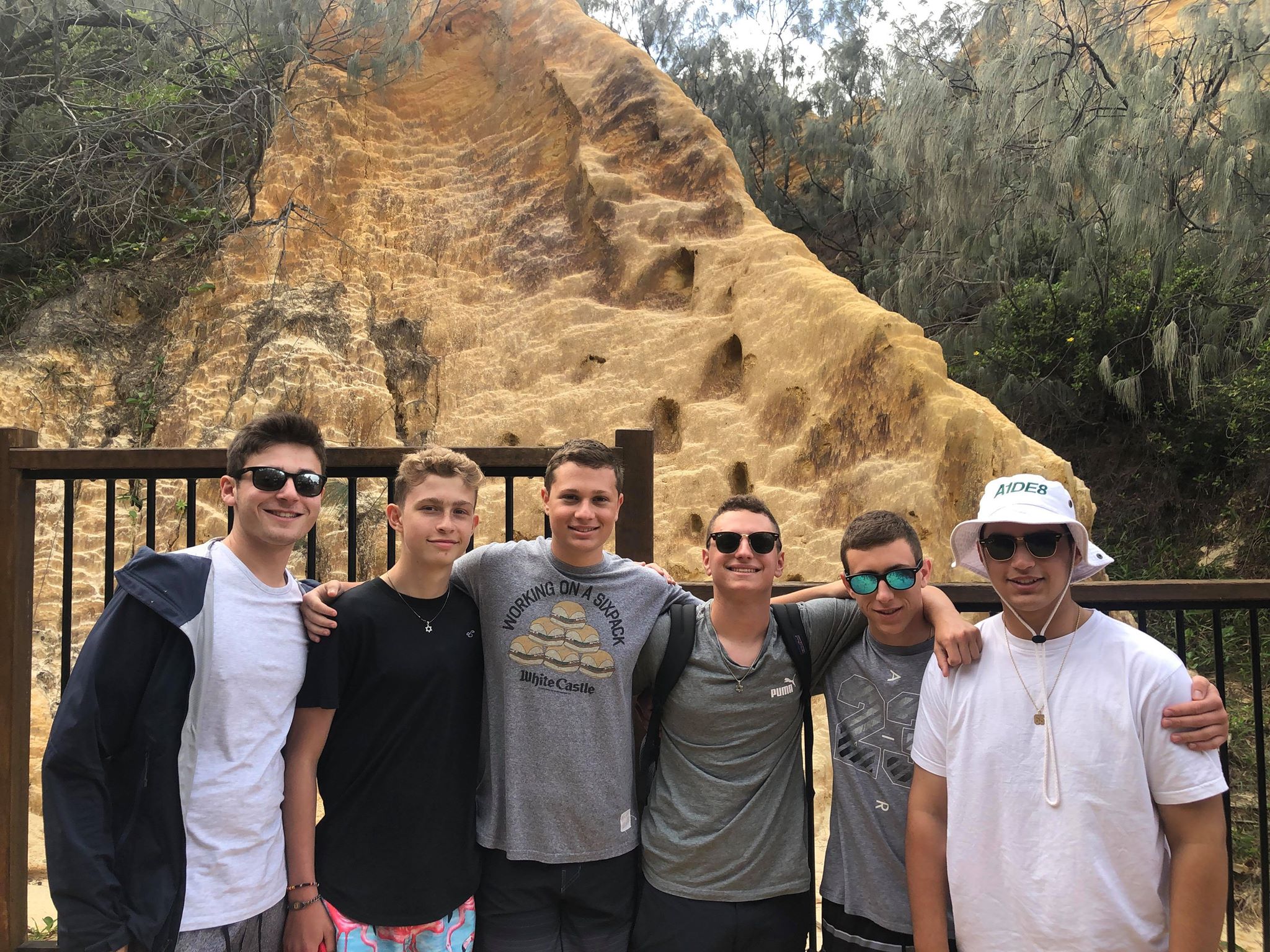 Our next day was filled with another guided tour where we swam under the beautiful waters of the Milla Milla Waterfall. Bailey said that it was "the coolest thing" she had experienced all trip. We also spotted platypus and turtles swimming in the river, and visited a 500-year-old fig tree that measures 1312 feet in circumference! Our night ended with a delicious Mexican themed dinner, a group dance party and a sing-along around the campfire.
The following day we traveled to the small town of Kuranda for some lunch and checked into our beautiful hotel in tropical Cairns. We then headed off to learn about corals and marine life we would be seeing the following day at one of the seven natural wonders of the world: the Great Barrier Reef! Our time scuba diving and snorkeling at the reef the next day surpassed all of our expectations. We saw beautiful colored corals, turtles, fish half the size of us and we all found Nemo! Many of our trip members are now eager to get their scuba license (sorry parents!). After a thrilling day at the reef, we enjoyed a delicious group Greek dinner and then headed back to the hotel for some downtime and a well-deserved rest after a long day. 
Our next morning led to a visit to an indigenous center where we watched traditional dancing, practiced our boomerang and spear throwing and painted our own boomerangs to take home with us. The afternoon brought more adventure as we spent our time cable skiing and making our way through the obstacles of the water park. We finished the day off with some well-deserved gelato.
We have already rafted, and are now on the way to the Northern Beaches. We will fill you all in about that next time. 
Cheers mates!
The Westcoast Blogger
Want to experience your own adventures in Australia? Check out our 27-day teen tour in Australia and Hawaii! To browse all of our programs, click here.