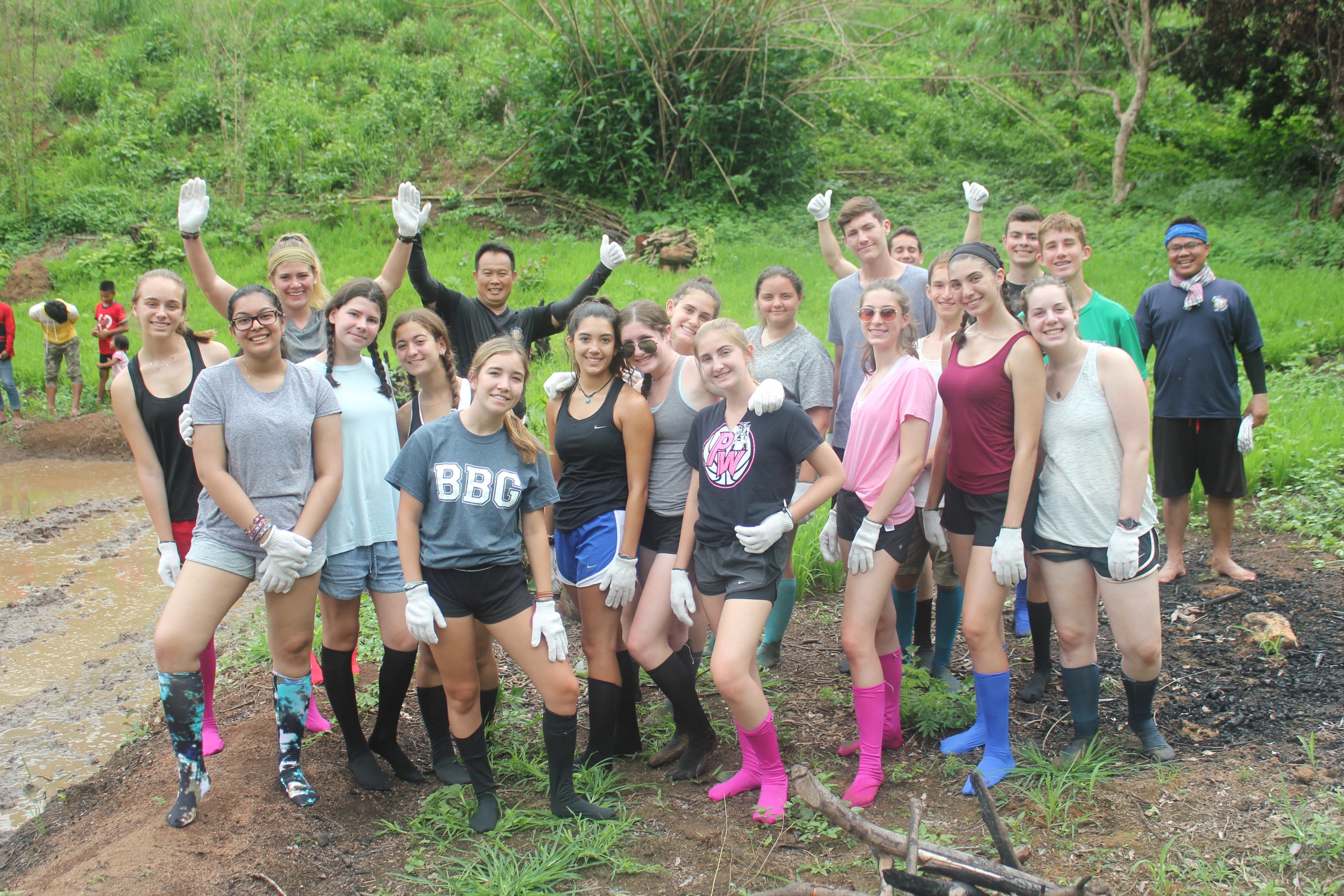 Our group left the remote village of Mae Salak full of gratitude for the hospitality we experienced from the local people. We were inspired to continue our community service work in Chiang Mai, this time providing English lessons to the students at the Watpakoita School. We covered a lot of ground during our six-day stay in Chiang Mai: from service, to elephants, to zip lining in the jungle. 
We began our visit with an extensive Thai cooking lesson, which included a visit to a local food market to see where our ingredients come from. We even tasted different fruits during our visit.
Our guide informed us that the children at Watpakoita look forward to the Westcoast group visit every year. Trip Members were divided into small groups to create lesson plans tailored to grades 1-6. When we arrived at the school, the excitement was palpable. The lessons began in the morning and ended early afternoon. During our nightly debrief, we all discussed how rewarding it was to help teach these children. 
We returned to Watpakoita for a second day with a better understanding of how to manage a classroom. We also made use of lesson plans that the teachers had graciously put together for us. At the end of teaching, we had an hour of outdoor activity time during which we played soccer, arm-wrestled, made music, and enjoyed the company of the students. We were honoured to be formally thanked by the principal, teachers, and students, which included with certificates. Our goodbyes were filled with hugs and laughter. It's amazing how much we bonded with the children, despite the language barrier. We're all mostly the same, which is embodied in the Thai expression: "same same, but different".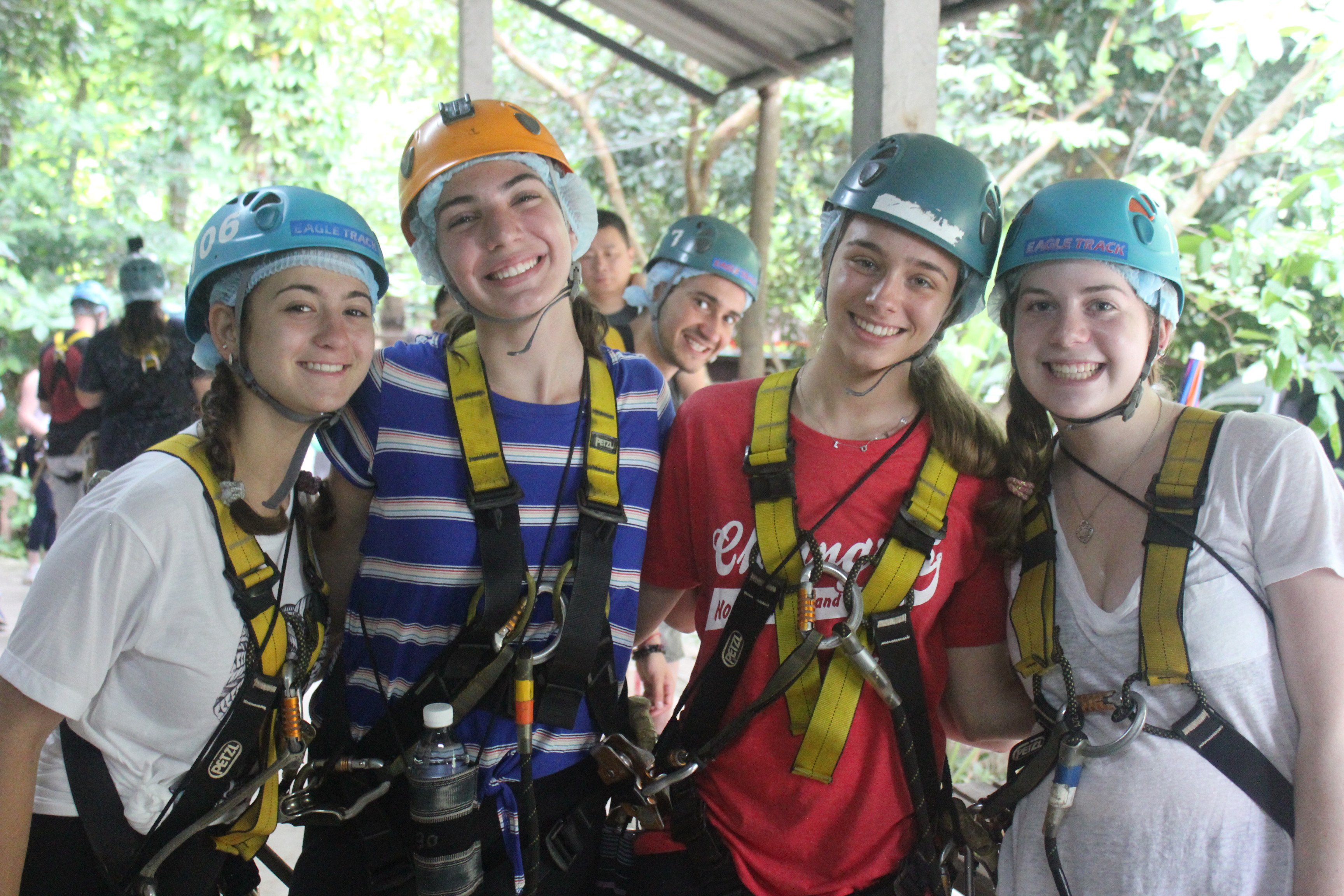 It's hard to believe how many activities we were able to do in Chiang Mai. We had the opportunity to go through the Eagle Track Zipline, where we completed a 30-part jungle zip-lining course! That night, we enjoyed good old-fashioned American food at a local mall, and then we split up to watch a movie: "Annabelle" and "Spider Man". Half of our group left the theatre on edge, and the other half ready to save the world! 
Our second last day was one of the most anticipated of the trip – we visited Patara Elephant Farm! Our instructor began by teaching us what to look out for in a healthy elephant: flapping ears, short toenails, wagging tails and, surprisingly, tears. We were all paired off and assigned an elephant, with which we spent the majority of the day. From riding them through the jungle, to scrubbing them in the water, we all became friends with these incredible creatures. 
We were extra excited for our last night in Chiang Mai, as we attended a Muay Thai Kickboxing lesson! It was the perfect occasion for the girls to wear their official kickboxing shorts that they purchased at a night market in Bangkok! Later that evening, we all had a chance to watch a professional Muay Thai fight! 
The most difficult part of leaving Northern Thailand was definitely leaving our amazing guides and drivers from Smiling Albino! Berm and Nu were not only knowledgeable guides, but also wonderful humans with whom we had the privilege of spending many days with. Luckily, we were reunited with our guide from Bangkok at the airport in Krabi! It's time for T1 to unwind and process the epic few weeks that we've had. Our time in Krabi will be filled with beaches, scuba diving and lots of relaxation…until next time! 
The Westcoast Blogger
Want to volunteer in Thailand next summer? Check out our 25-day Thailand Community Service program! To browse through all our summer programs, click here.