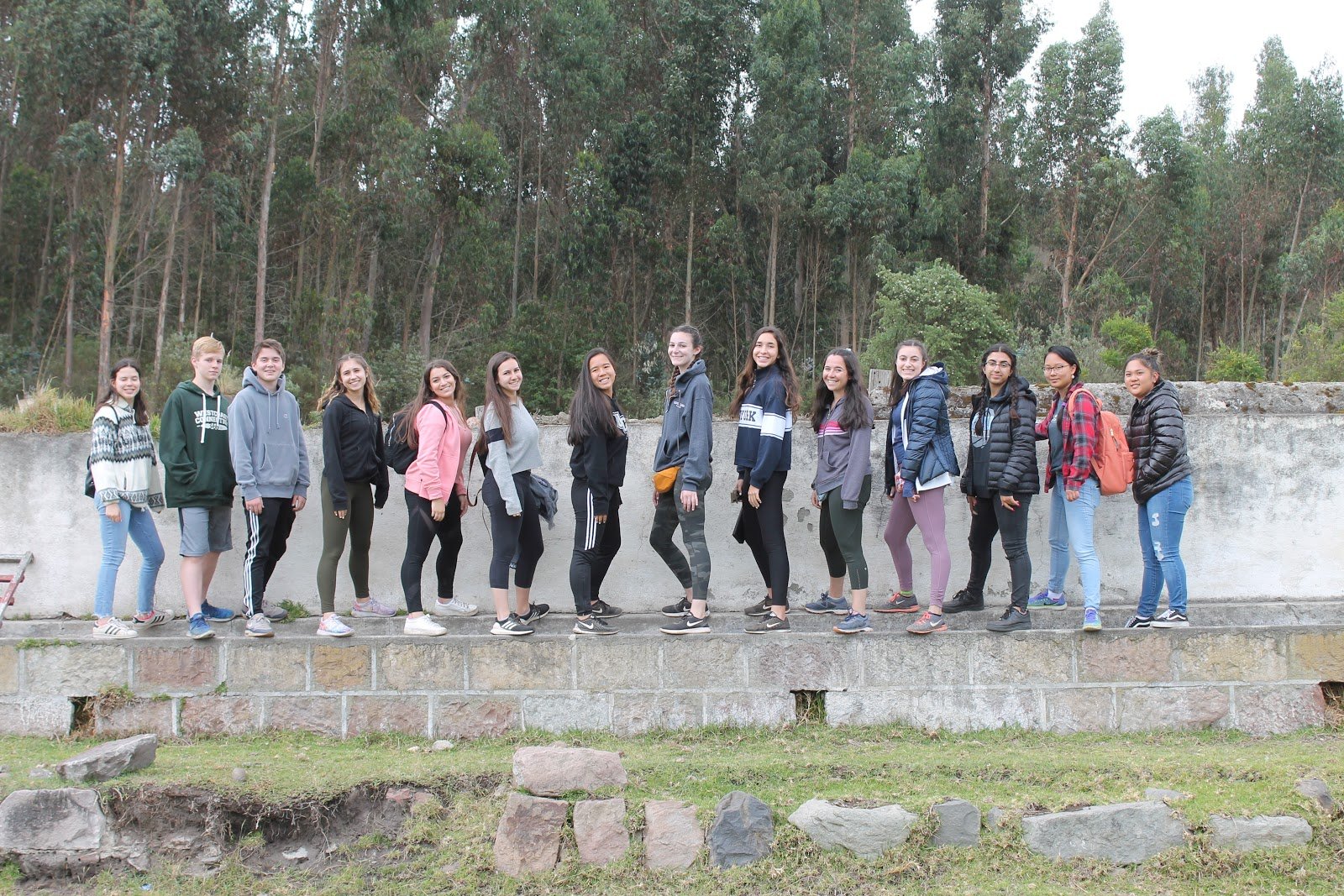 Wow! Since our first day of clinic, our EM1 family assisted with two more clinics and a community development project.  
We visited a rural community where we met an elderly man named Arturo. Arturo showed us his one-room house that consisted of a bed, a small storage area, and no electricity or running water. Our MEDLIFE guide explained that Arturo had lived in this community his whole life, and his nephew had recently left him to move to the city. Our group was able to start a community development project that later Westcoast groups would be able to finish- we would start building Arturo a new house! 
Bricks had been donated to start the project, but the bricks were at the bottom of the mountainside. Our group was able to move over 900 bricks up to the small leveled area on the mountain where Arturo's current house was. We acknowledged that teamwork was necessary to achieve this and therefore, created an assembly line to carry the bricks from the bottom to the top of the hillside. 
In true EM1 fashion, we brought out a speaker and played some upbeat tunes to keep our energy levels high. In addition to the bricks, we were also able to move metal rods that would be the foundation for Arturo's house. After our day of service, we took a break and enjoyed the breathtaking views of the Ecuadorian countryside where we ate lunch with Arturo. Paul, our MEDLIFE guide, taught us that smashed plantain chips make a perfect addition to turkey sandwiches, an interesting but delicious combination! 
We ran two more clinics in rural mountain communities and villages. Our program members helped the MEDLIFE professionals in treating over 100 patients, assisting in diagnosing high blood pressure and helping a man with Parkinson's disease.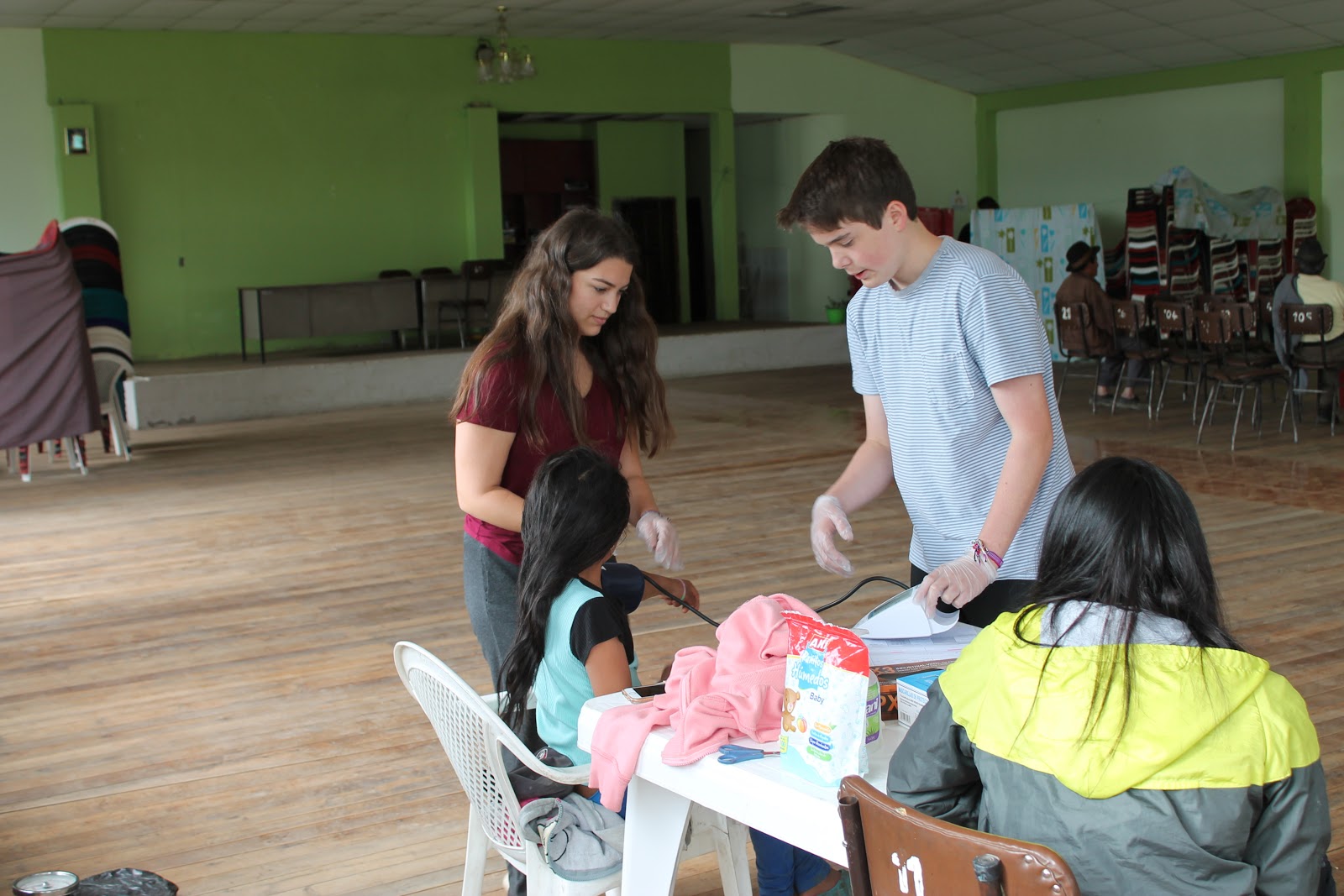 Our program members were excited to take a break from their service to check out an Ecuadorian Mall! We even got to test our Spanish skills and watch Toy Story 4, fully in Spanish. 
Also in Riobamba, we enjoyed some friendly competition. We split into two teams- the RioBombshells and the Llamas. The teams had a blast competing in games such as Charades, Trivia, the Name Game, and Mind Meld.  
It's hard to believe that our service flew by so quickly! We headed to Banos, where we were able to enjoy the hot springs and mineral baths. Some of us even decided to get massages and facials. 
We had our closing ceremony for EM1 where trip members received awards, watched a slide show of the trip and reflected on all the fun we've had had together. They also had the opportunity to write letters to one another to receive in the mail when they return home. 
To end the trip, we headed back to Quito where we were able to enjoy the city's sites one last time. First, we headed to El Panecillo, a 45-meter monument created by Agustín de la Herrán Matorras, a Spanish artist. 
Next, we checked out the market and picked up some souvenirs to take home with us. We headed to the Teleférico Cable Car to overlook the city one last time. We climbed almost 13,000 feet above sea level in the glass gondolas and got to check out the 360 views of the city. Of course, we had to take our last photos of our EM1 family up there.
It's hard to believe our trip has ended. When reflecting on our experience together, each program member chose one word, to sum up their experience. Words that they mentioned were: community, incredible, experience, impactful, life-changing, inspiring, superior, inspiring, awesome, gratitude, meaningful, mind-blowing, unity, eye-opening. 
Thank you all for following us on our journey in Ecuador!  
The Westcoast Blogger 
Do you want to explore Ecuador while providing meaningful service? Learn more about our 11-day Ecuador Medical Assistance program. To browse all of our programs, click here.