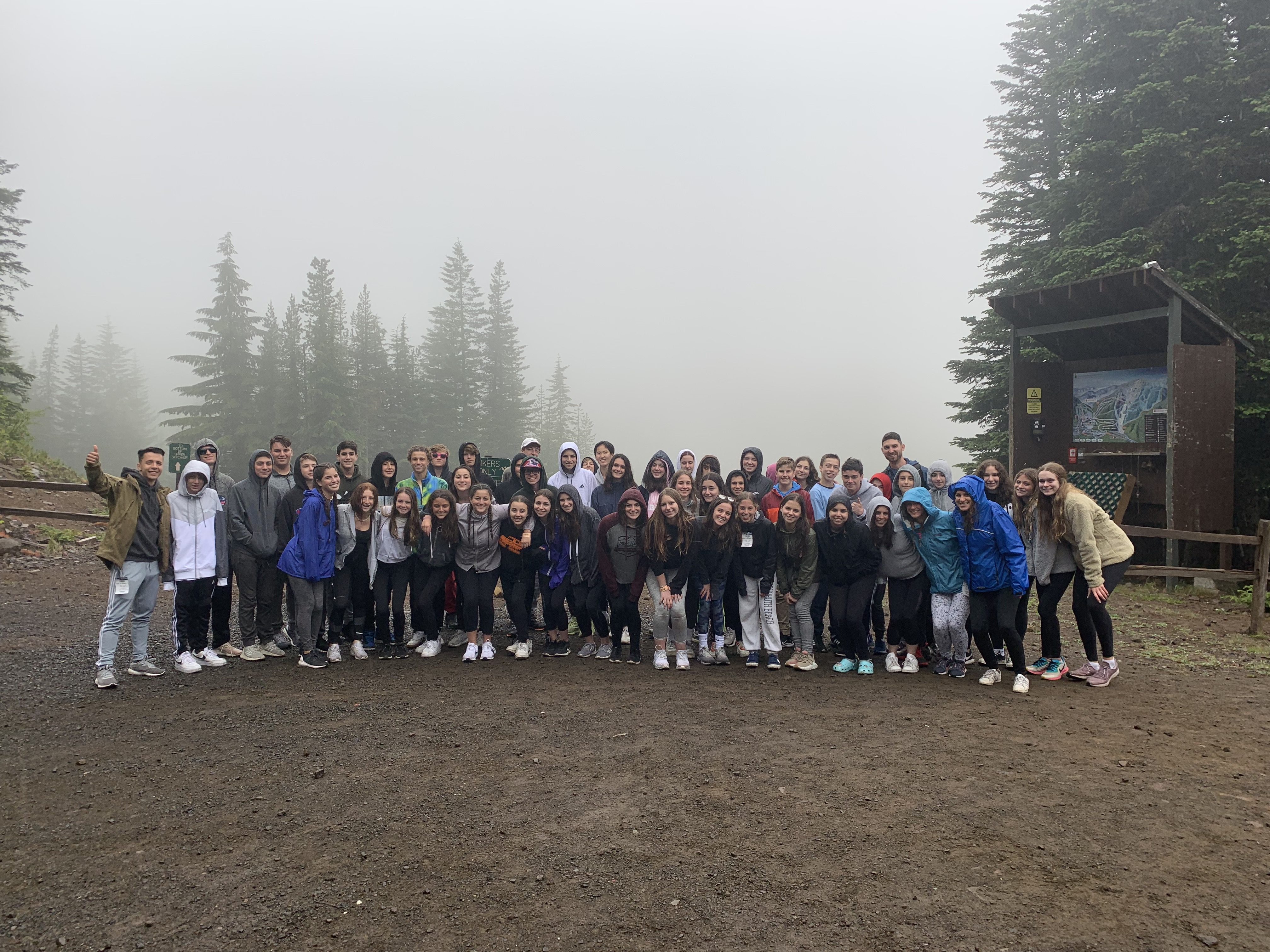 Coming together from Canada, Los Angeles, Chicago, Florida, New York, New Jersey and Connecticut, we kicked off our trip from the minute we touched ground in Portland. As we arrived at our campsite in Mount Hood, all 57 of us enjoyed a delicious lunch, icebreaker games, and human bingo. We began our exciting adventure hitting the slopes! Half of the group went skiing and snowboarding while the other half went on a scenic mountain biking adventure. After a great morning of activities, we all came together for lunch at the chalet before heading to the Scenic Sky Chair ride. Riding up the chairlift, taking in the spectacular views of Mount Hood, we arrived at the top and were amazed by the astonishing scenery. We then headed back to the campsite where we had a great time making meatballs, pasta, and salad for Italian night!
The next morning, we packed our bags and headed to Seattle, the Emerald City. When we arrived, we enjoyed a round of WhirlyBall, an exhilarating game that combines bumper cars, lacrosse, and basketball all into one. We had an amazing time getting to know other trip members as we worked together as teams. 
The next day was jam-packed from start to finish. We began our day at Pike's Place Market, visiting the original Starbucks, fish market, and famous pastry shops. We then toured the MoPop museum, where we had a fantastic time recording keyboard and guitar soundtracks. From there, we went all the way up the Space Needle, Seattle's tallest observation tower! As we photographed the beautiful city and visited the rotating glass floor, we enjoyed our scenic view from 518 feet above the ground. Finally, we concluded our incredible Fourth of July on Seattle's Great Wheel.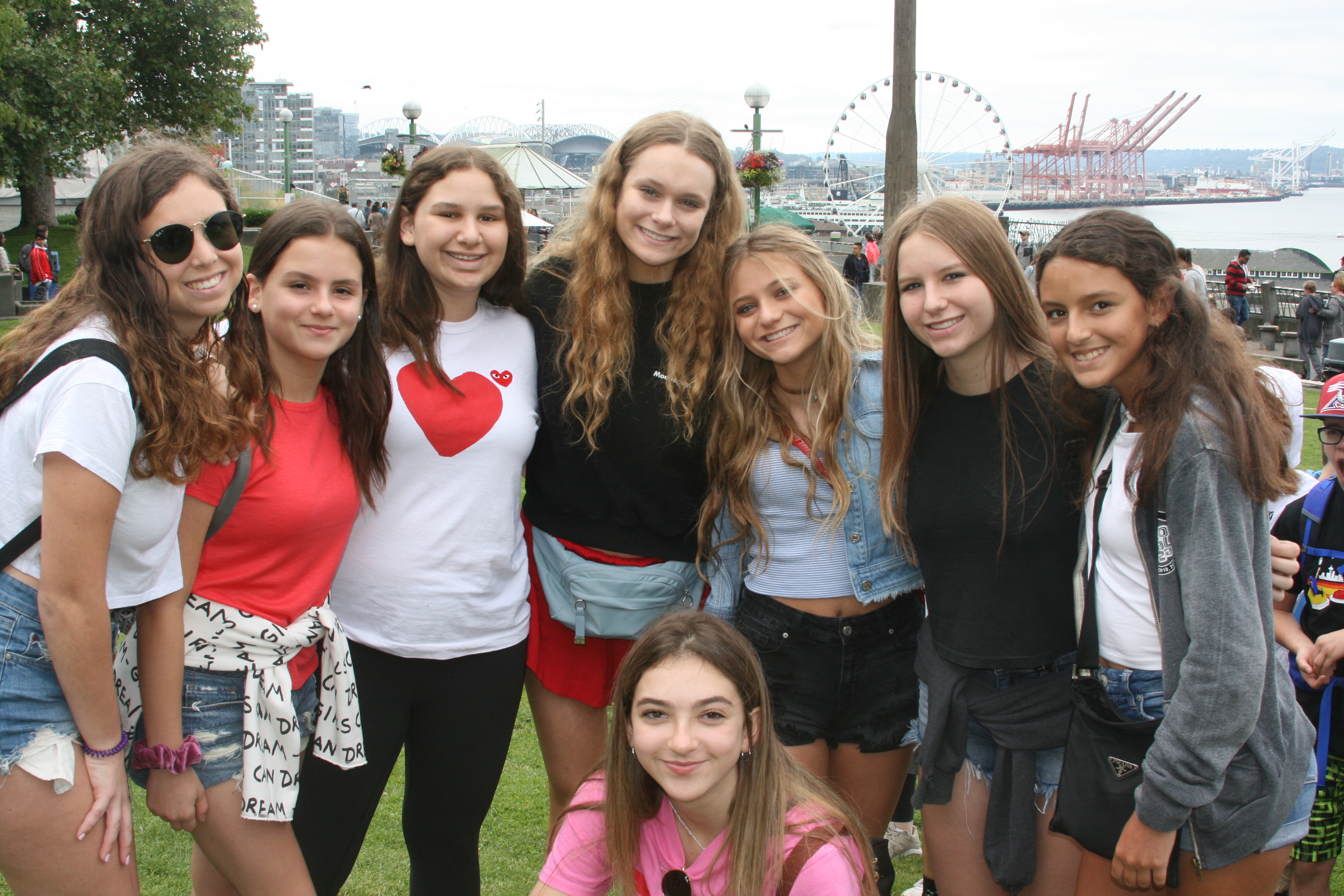 On our second day in Seattle, we visited Wild Waves Theme & Water Park. From rollercoasters to water slides, arcade games and pools, our morning was nothing short of amazing! Later in the day, we went to the Mariners game where we had a great time watching and cheering on the Seattle Mariners play against the A's. Our final day in Seattle brought us kayaking alongside some beautiful views of the city. We watched water jet planes take off and land as we paddled along the water. 
After an incredible time in the United States, we packed our bags and headed across the border, arriving in British Columbia. Our first night in Canada was spent in Whistler, where we had some time to explore the village and enjoy a delicious dinner.
Our next full day in Whistler was truly an adventure we will never forget. After getting off the gondola ride, we began our hike up the Whistler mountain as we embarked on our Via Ferrata journey.  As we hiked over rocks, waterfalls, and better yet, snow! We saw tons of "Algae Snow", which is pink snow that smells like watermelons! The breathtaking view only got better and better as we ascended the mountain. Upon finishing our hike, we successfully stood 23,000 feet above the ground, feeling very accomplished. We took in the breathtaking views of the mountains as we completed our adventure standing amongst the clouds. 
That's all for now… more on Whistler to come!
The Westcoast Blogger
Want to experience your own Northwestern Odyssey? Check out our 17-day and 25-day options! To browse all of our programs, click here.