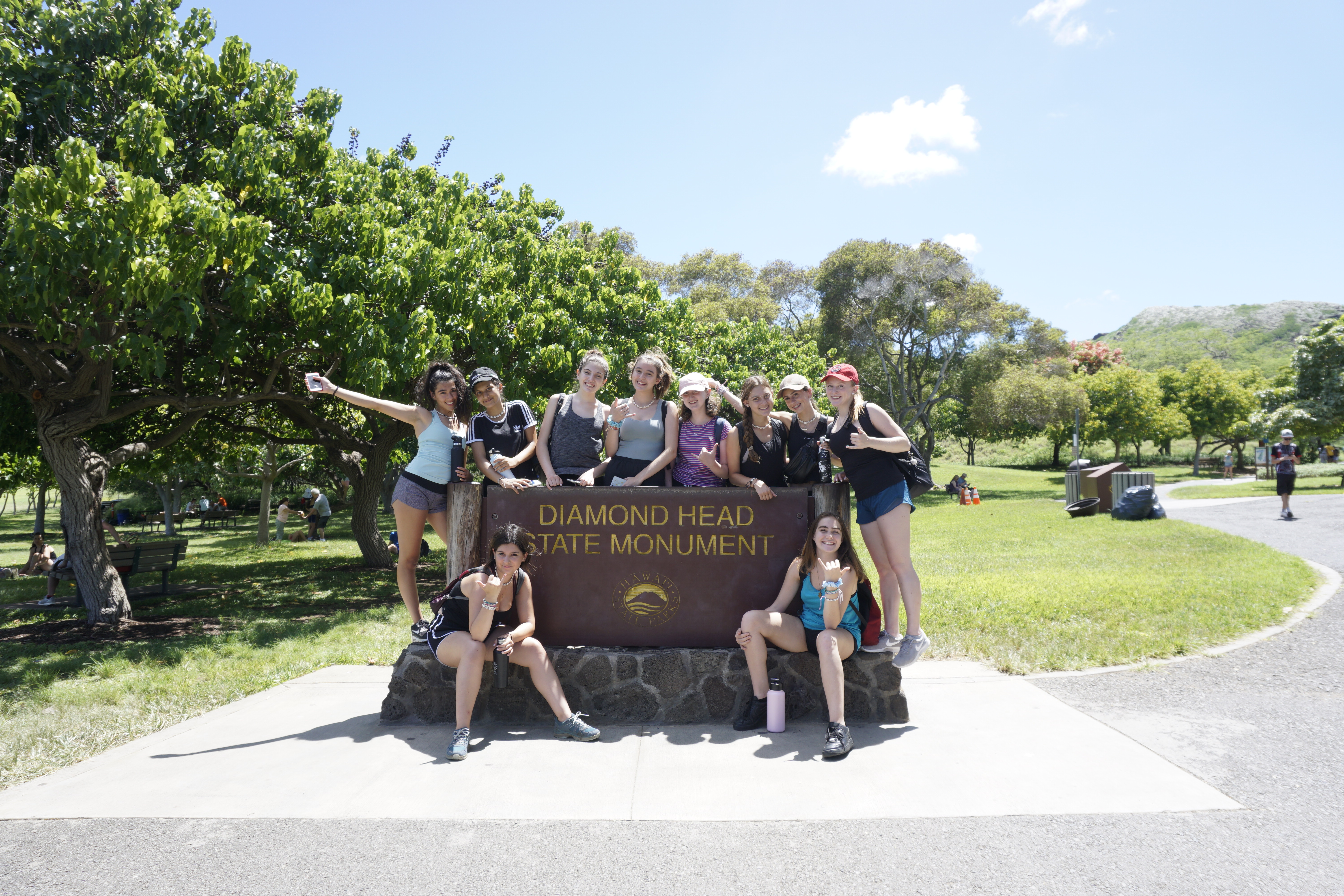 Aloha from Hawaii! We've had a very busy and exciting week of service and adventure!
Earlier last week, we partnered with Skyline Eco-Adventures to restore the understory of Haleakala National Park. Skyline Eco-Adventures is part of the Skyline Conservation Initiative, dedicated to providing support for healthy natural systems in the Hawaiian Islands and reconnecting people to the true ecological identity that has been lost in many areas of urban and rural landscapes. We spent the day planting sandalwood trees and other native plants. 
During service, we were encouraged to research the native plants from where we each call home and to think about how we can help restore those plants. After service, we shared many thrills ziplining through Haleakala Ranch before ending our day enjoying a gorgeous sunset and fireworks in Lahaina to celebrate Independence Day. We certainly lived Skyline Eco-Adventures motto on the 4th: "Do good. Have fun!"
The next day, we enjoyed brunch at Paia Bay Coffee, an adorable coffee shop in the heart of Paia. After brunch, we caught some rays at Kanaha Beach Park and took a dip in the warm water. We even saw a sea turtle! We had a blast that evening at the First Town Party in Wailuku. We enjoyed various vendors and food trucks for dinner, though the Hawaiian Lemonade stand was a clear favorite. Two highlights of the night were our impromptu dance party in the town square with a local dance group and playing "Trade Up". In "Trade Up", each small group begins with a pen and must trade that item for something better by asking locals and other tourists what they are willing to trade for. At the end of the night, each group had to convince the rest of us that whatever objects they ended with were the best. Our winning group started with a pen and ended with an amethyst crystal, a beautiful homemade bracelet, a Jimmy Hendrix CD, and a hair piece valued at $20!
After our relaxing day, we were ready for more service! We partnered with Eco Maui to beautify parts of the privately-owned Wailele Farm, where the famous Maui Twin Falls are located. On the next few days, Nature Jay and Nature Ray taught us about the importance of having "ina," or land that you connect to. Nature Jay explained that taking care of places that mean something to us is our "kuleana," or responsibility. Nature Jay lovingly calls us a "hui malama." A hui is a group that comes together and malama means to care for or protect. The more we care for something, the more we will care about it.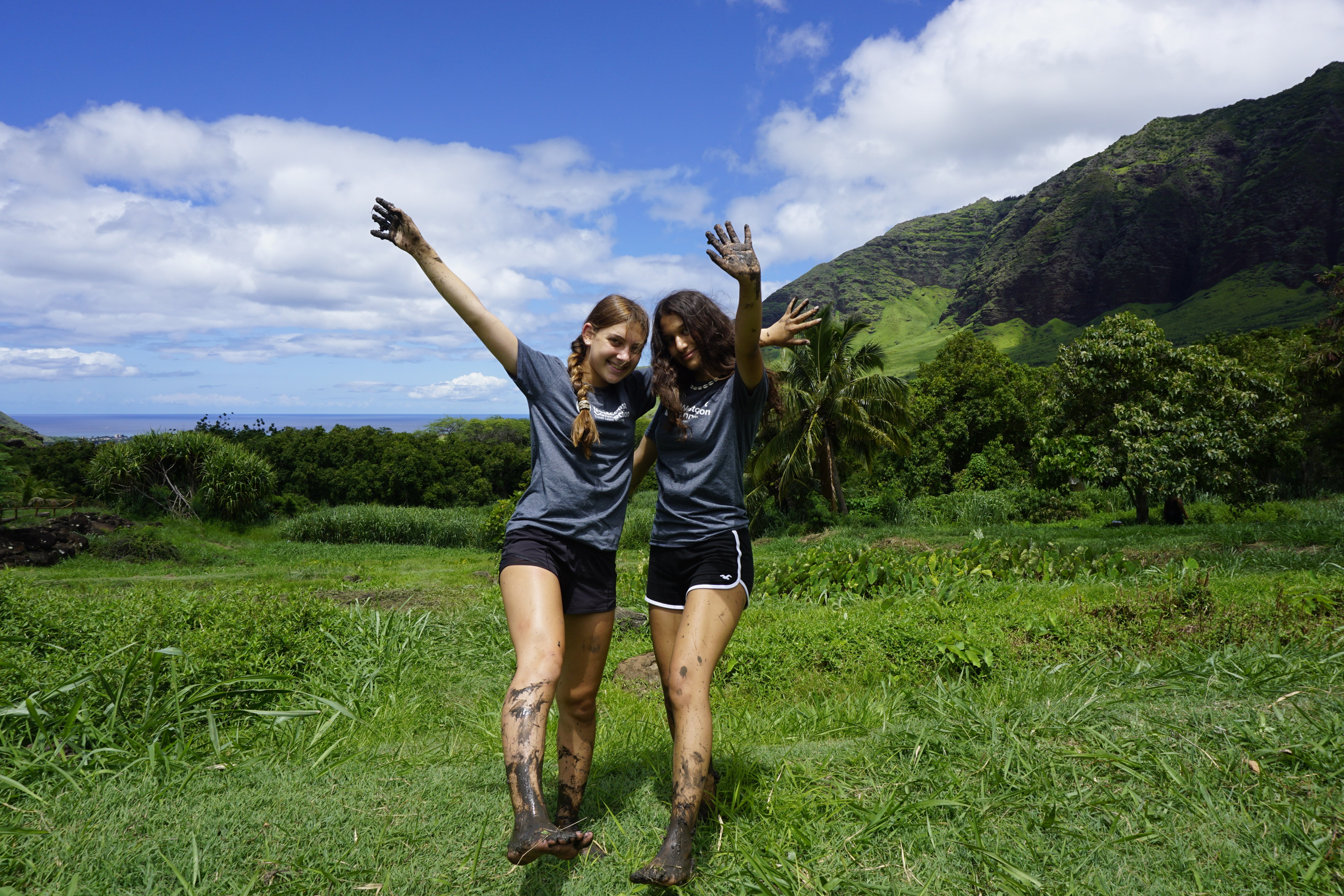 Whereas we spent time restoring the uka, or upland forest, with Skyline ECO-Adventures, and we restored parts of the kula of the Ho'olawa Valley with E.C.O. Maui. Kula refers to the best growing area, which is typically located about halfway down a mountain and closest to streams. In addition to the restoration work we completed, we learned how to tell which plants to pull, what qualifies a plant as invasive and which plants are safe to eat. After our days of service, we took a swim in a natural pools created near a few of the waterfalls. One night, we also had a campfire under the stars where we spent some time reflecting on our trip thus far. 
The next day, we had a number of exciting Hawaiian cultural experiences! In the morning, we headed to the beach for surfing lessons with Waves Hawaii. Post wave riding, Nature Ray's daughter came to our hotel to teach us all how to make leis. We were each able to pick out our own flowers and make our own leis to wear to a Hawaiian Luau that night! At the Luau, we enjoyed a number of Hawaiian classics from poke to poi while learning about different traditional dances from around the world. After the Luau we were lucky enough to even take some photos with all of the dancers!
We woke up the next morning and continued our nature work on the kia, or coast, where we weeded some invasive species along the Waihee Coastal Dunes while surrounded by both the land and the sea.
We then ventured into the ocean again, but this time in a submarine! Off the coast of Lahaina, we all were submerged more than 100 ft below sea level where we got to watch all different types of creatures swim around on the ocean floor. We saw many colorful types of fish, corals and remnants of shipwrecks. But most importantly, we saw sharks! After our underwater adventure, we grabbed lunch in Lahaina and drove back to the hotel to get ready for our final night together in Maui.
Sitting together we shared favorite memories of the trip and created a web with rope which we then cut into bracelets to be able to carry our memories and connection to each other with us.
Yours in malamaing, 
The Westcoast Blogger 
Do you want to explore Hawaii and partake in rewarding community service projects? Check out our 21-day Hawaii community service program, for an incredible opportunity to explore its islands, its people and its culture. To browse all of our programs, click here.