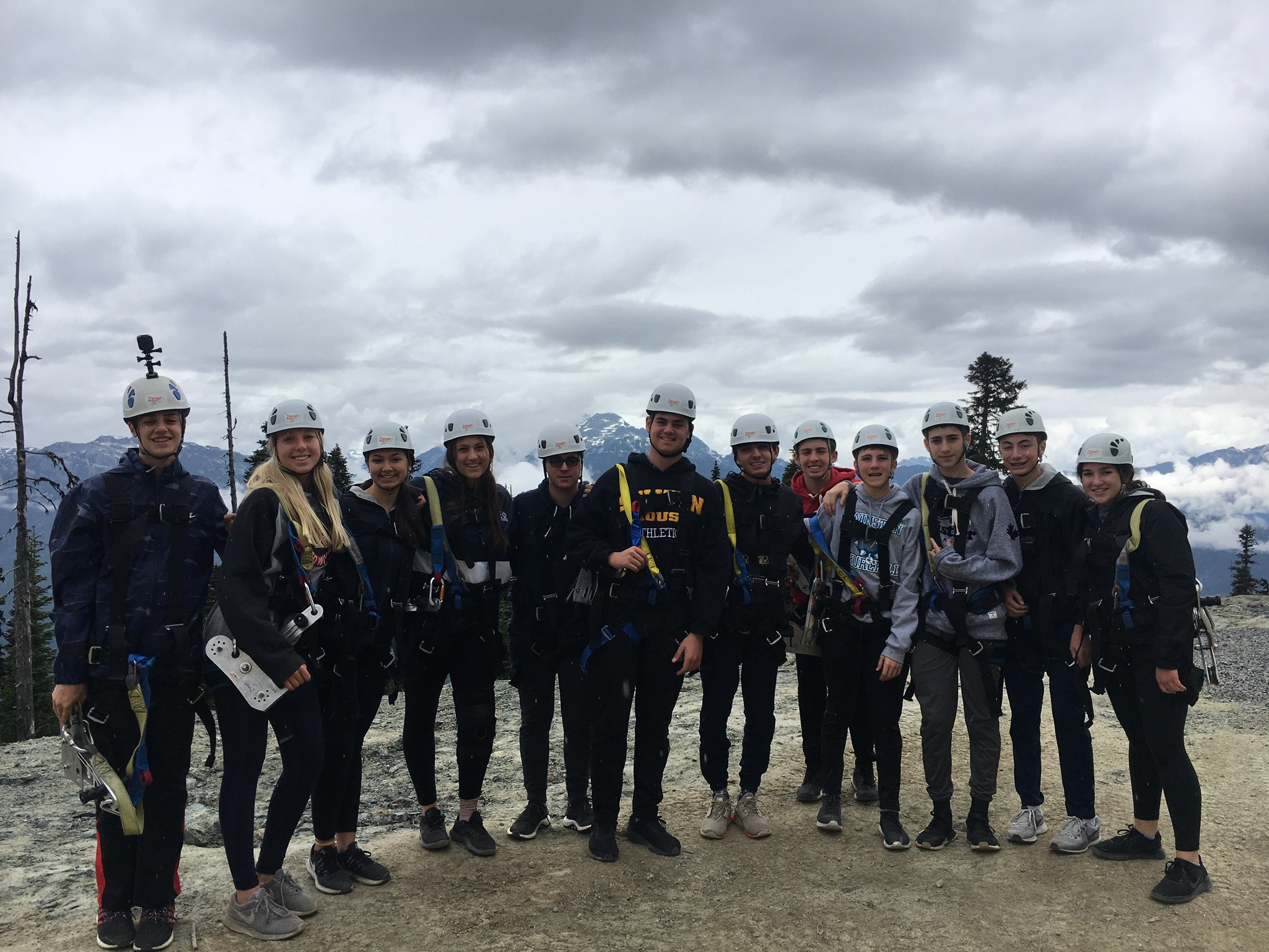 Previously on Trip 32's Northwestern adventure, we were heading over to Union Lake to go kayaking! With some hard work and team coordination, our kayaking adventure was definitely a success. Once we made it back, we hopped on the bus and made our way to Wild Waves, a cross between an amusement park and a waterpark. What a blast! We loaded back on the bus, and off we went to the Mariners game. We settled into our section and ventured off to find some interesting food. Along with the help of their trip leader, a couple of the trip members got the chance to meet a contestant from the TV show "Survivor". She was very sweet, and even took a picture with them! We said goodbye, and went back to our seats to cheer on the Mariners! Although we didn't manage to make in on the jumbotron after our many efforts and crazy dance moves, that didn't take away from the great day we had.
The next morning, we started the day with our morning song and announcements, before heading to our bus and driving to Whistler. Once we checked into our condos, we had free time to stroll around town. After dinner, we had a little surprise trip to Cows, where we all got treated to some delicious ice-cream. A great end to a relaxing day!
The following day we woke up, did our morning routine, and it was time to take the gondola up towards Via Ferrata, which is a mix between hiking and rock climbing. Once we were all harnessed up, we hiked through the snow to get to the beginning of our trail. We even made it above the clouds! It was debatably one of the coolest things we've seen. Feeling very accomplished, we took the gondola down to The Roundhouse Lodge for lunch. After a beautiful day of sightseeing, we all had a chance to rest a little bit before heading to dinner, where we got to make our own stir fry. We picked all of our ingredients and sauces, and the chefs cooked our meals on the grill in front of us. Stuffed, we walked around town for a little while before heading back to our condos. 
Eager to get our final day in Whistler started, we walked down towards the gondola and went ziplining on North America's longest zip line. After all the excitement we got from our ziplining adventure, we had free time in the village before heading back to our condos to start preparing our lip sync battle performances. We had a very relaxing dinner in our condos, and for dessert, we baked some delicious chocolate chip cookies! Then it was time for one last practice before our performances. Everyone absolutely nailed their performances. The trip members really got the chance to get creative and have their moment to shine!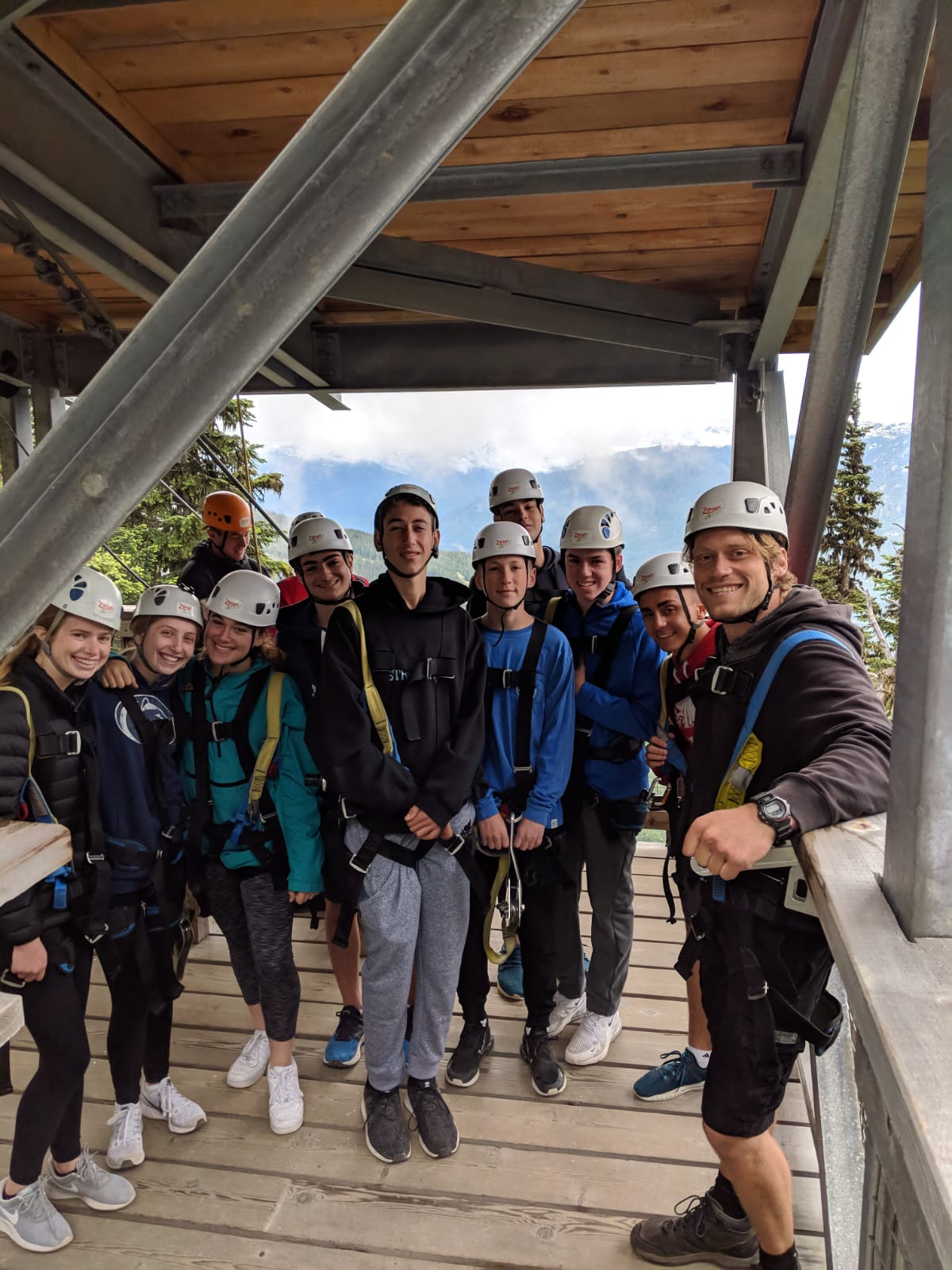 The next day, we made our way to Vancouver. On the way, we walked across the Capilano Suspension Bridge, which is just above Capilano River! For lunch, we stopped on Granville Island, where there were many mini markets. Along with exploring the markets, there were street performers, and some of our amazing trip members even participated. Later that afternoon, we went tandem biking around Stanley Park. It was like learning how to ride a bike all over again! To end off our day of exploring, we had the opportunity to explore Canada from the East Coast to the West Coast with FlyOver Canada, a 4D flight simulator.
Bright and early that next morning, we hopped onto the bus. The isles were all decorated with banners and party hats, as we were celebrating one trip members' special day. It was Emily's 16th birthday, and we definitely intended on making it sweet! After exploring Robson Street, we made our way to the beach. Some went swimming, others were too focused on their intense games of football and volleyball. Once we arrived back at the hotel for free time before dinner, we sang "Happy Birthday" to the birthday girl once more as she made a wish a blew out her candles. That evening, we went to an Asian night market with performers, carnival games, food booths, and kiosks of all types. 
It was day eleven, and off we went to Okanagan. On our way, we had the chance to explore Kelowna. After some free time by the beach, we had an amazing catered dinner, followed up by some fun team bonding games. We then made our way to the beach to hang out and listen to some music before it was time to head to bed. 
Can't wait to catch you up on our next adventures!
The Westcoast Blogger
Want to experience your own Northwestern Odyssey? Check out our 17-day and 25-day options! To browse all of our programs, click here.