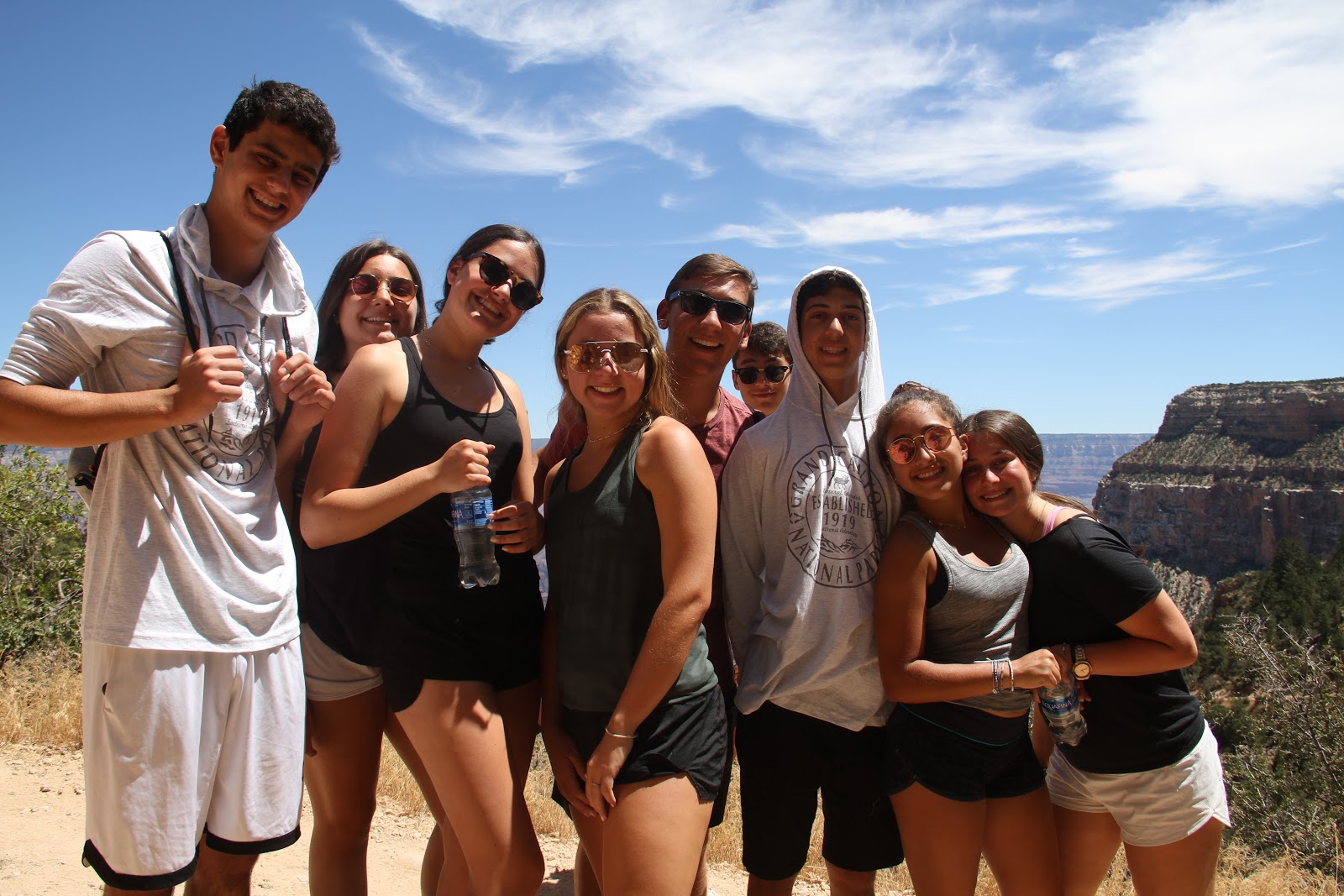 Wow! How on earth did these four weeks fly by so fast? Sitting at the pool together in Scottsdale, Arizona, there is a unified feeling across the space, and an endless chit chat of memories. From our first day in Boulder, it's amazing to see how much we have grown as a group and how many new places we've seen. As of now, we have officially visited 12 cities and 7 states! Let's recap what we have done since we last left off in Vegas!
Vegas was nothing like any other city we had been to. From the larger than life hotels to the awesome entertainment, it was so amazing! Before we even entered the Strip, we got to see two awesome Nevada landmarks – the Seven Magic Mountains and the Las Vegas Sign. Our hotel in Vegas was gorgeous. We stayed in the beautiful newly renovated Luxor Tower and everyone was super excited about the rooms and the cool views!
In Vegas, we got to explore the strip and see some of the most famous hotels and indoor malls, including Caesar's Palace, the Venetian, the Bellagio Fountain Show, and the Mirage Volcano Fire. We also got to explore the top of the Stratosphere where many trip members went on the two adrenaline rushing rides at the top of the building. But a highlight of Vegas was certainly the M&M and Coca-Cola store.
After Vegas, we were off to our campsite in Bryce where we set up our tents. By this point, we could call ourselves camping pros. Everyone knew exactly what to do when we arrived and there was a sense of excitement when we got everything set up.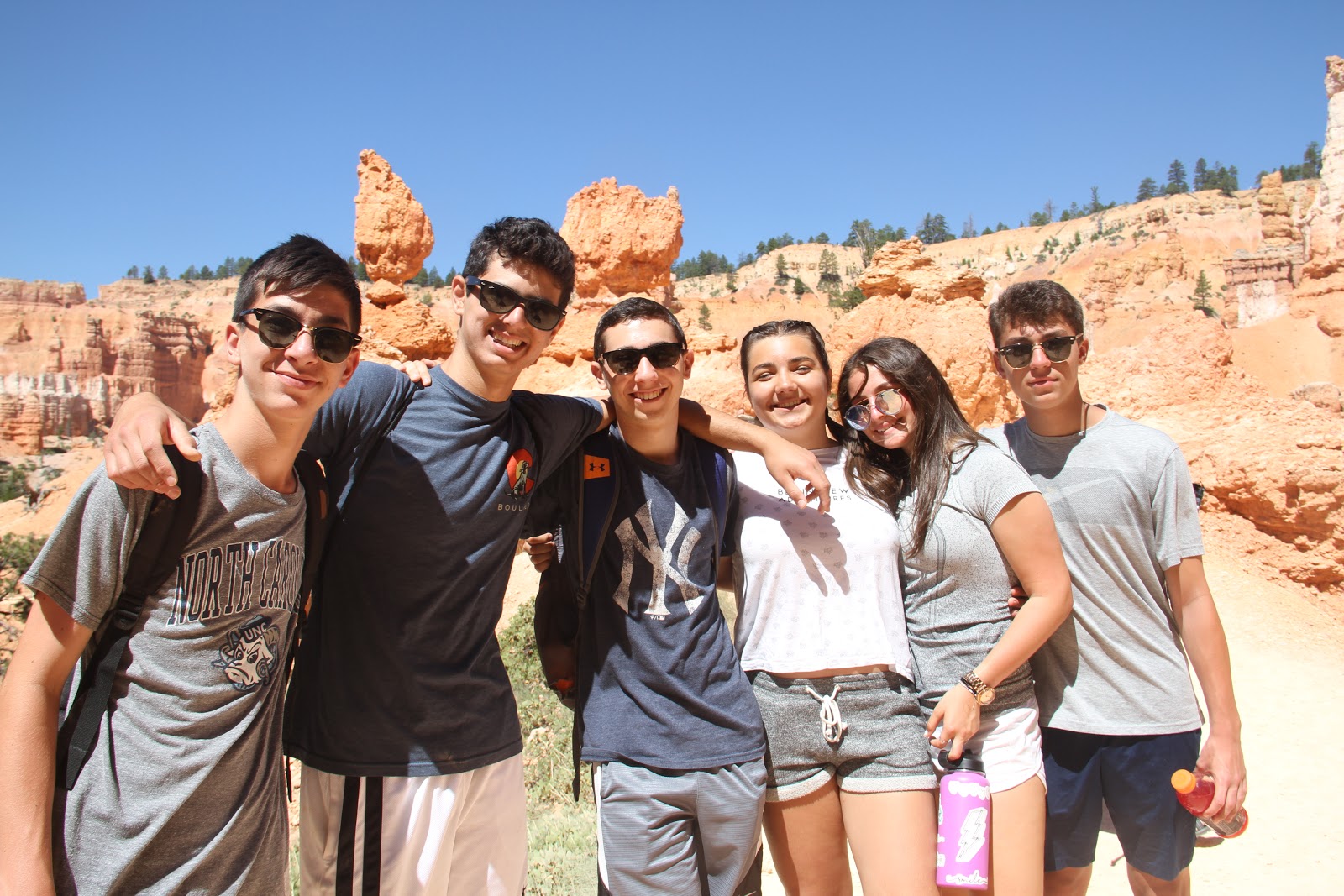 Our third time camping was a blast. We visited the famous Bryce Canyon and for many of our trip members, it was one of the most beautiful hikes. As we walked down the red sand rocks, there were endless breathtaking views and tons of opportunities to take beautiful photos. The hike felt like a breeze as we sang songs and chatted the whole way down. 
After our hike, it was time for an afternoon of games! Back at our campsite, we spent the afternoon playing a series of tournaments and games to determine the winning team. From minute to win it, kickball, lip-sync battles and Iron Chef, it was awesome to see everyone work together and bring out our competitive sides. 
On our way to Flagstaff, Arizona, we stopped at what was another one of our best hikes of the trip, the Coral Pink Sand Dunes! For a minute, it almost felt like we had left the U.S. Looking out, it was just endless mountains of sand in what appeared to be a massive sandbox. As we walked to the top of the mountain, everyone could not get over the breathtaking view. Once we reached the top, many trip members and staff decided to run down the super soft sand dunes for a once in a lifetime experience.
And quickly enough, it was off to Flagstaff, Arizona! In Flagstaff, we got to relax a bit and see a movie! Most of us saw Spider-Man, while others saw The Lion King!
The following day we headed to Sedona for what many would say was their ultimate trip highlight – the Pink Jeep Tours. In groups, we headed out to the mountains in 4×4 remodelled Jeep Wranglers to see some amazing landmarks. The sun was shining, music was blasting and everyone got amazing pictures out in the desert.
Then, it was time for our last stop in Scottsdale, Arizona. In disbelief that the trip is actually over, we took our last day to relax and commend ourselves on an amazing tour. We had a yummy lunch at the Cheesecake Factory and sat by the pool soaking up the last of this beautiful desert heat as we looked forward to our banquet.
Every single one of our Trip Members was so special to our trip, and we could go on for hours about how amazing they were. 
Here's to a great summer!
The Westcoast Blogger
Are you looking for the summer of a lifetime? Learn more about our 28-day Californian Extravaganza! To browse all of our programs, click here.