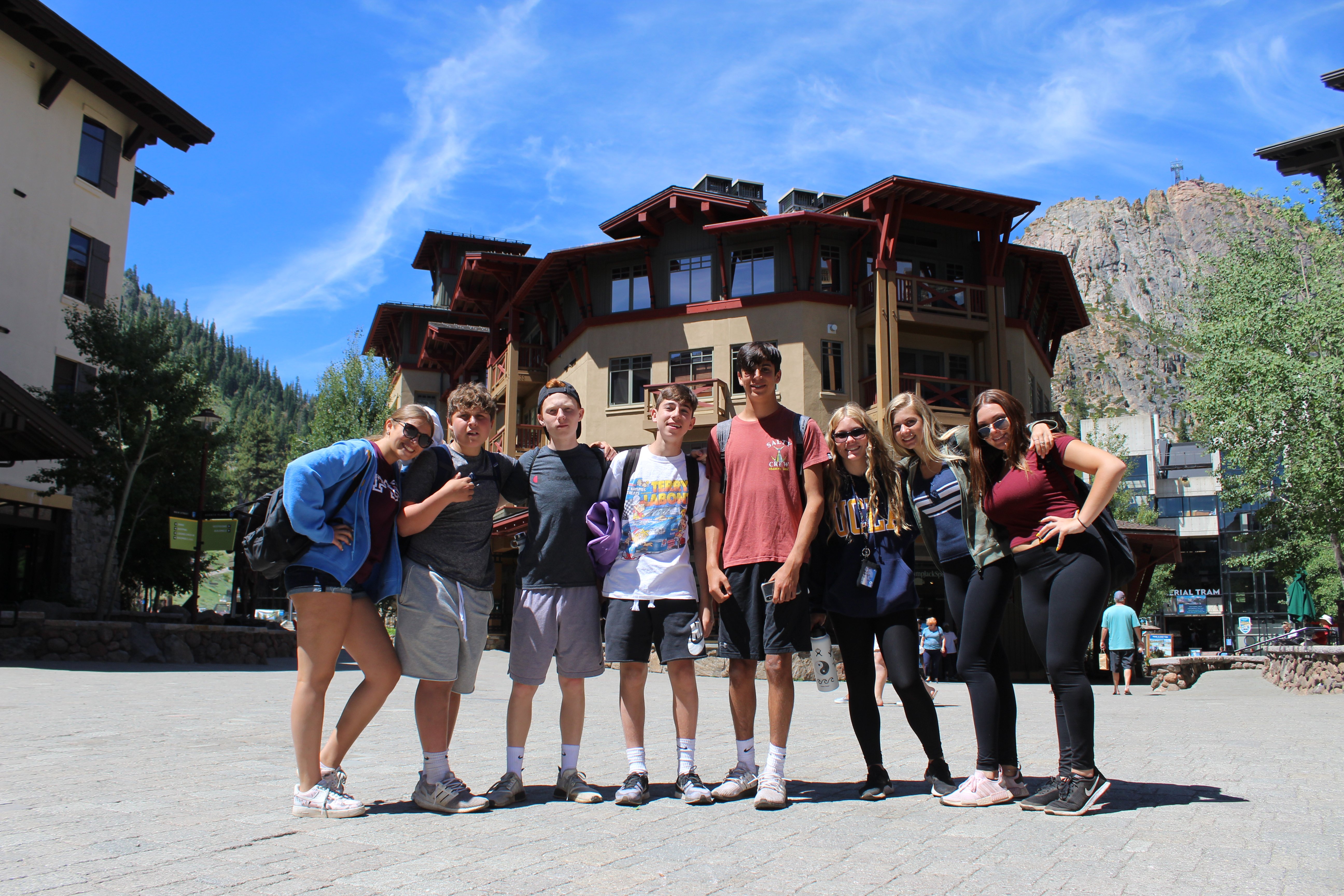 Hi from Trip 8A, California Dreaming!
We've been busy since you last heard from us a few days ago! We had a beautiful drive from Los Angeles to Lake Tahoe on our way here, where we played plenty of games (a favorite was our "How Well Do You Know Your Staff?"). Our group even managed to squeeze in a few dance parties before taking in the beautiful view of Lake Tahoe and the snow-capped mountains! We explored Squaw Village for dinner and many of our Trip Members enjoyed the tranquility of nature, while petting plenty of the beautiful dogs that hung out there. We finished the day with a night swim / hot tub party, complete with ice cream by the pool!
We woke up bright and early the next morning ready and excited for our day on the Lake! Did you know that you could put the entire Empire State Building in Lake Tahoe and it is so deep you wouldn't even see the top? Everyone tried tubing, waterskiing, and wakeboarding, and our Trip Members were so supportive – they cheered each other on from the boat and had a good laugh together when their friends fell in! We spent the afternoon all together sailing across the lake, enjoying some time to relax and play a rousing game of "Finish the Sentence". Each Trip Member contributed one word to an evolving sentence with mixed and hilarious results. We finished off our evening with a trip to Wild Islands, where we all enjoyed some delicious pizza before going go-karting, playing laser tag, and running around on the jungle gym.
We spent the next day cruising through white-water rapids, which got our adrenaline pumping! Before hitting the water, the group learned the white-water raft commands, how to steer the boat, and got suited up in helmets and life-jackets. We had a great time working as a team to make it through the rapids, and were even able to jump into the water and float alongside our rafts during the calm sections of the river.
We spent the afternoon relaxing after our big day by enjoying some calmer waves in the hotel pool, playing Frisbee, and having a water balloon fight! We had a big group dinner in Squaw Village and we were fortunate enough to be in there during their "Tuesdays Bluesdays" to catch several street performers. The group was even able to get one of the performers to take a request when the entire trip began singing "Take Me Home, Country Roads" at dinner.
Our final day in Tahoe did not disappoint when the group conquered a ropes course in the forest. We ziplined, balanced on swinging bridges, and climbed up to the beautiful lookout tower, all while cheering each other on. Although some of us were a bit nervous at first, our teamwork and encouragement helped every single one of us make it through both of the obstacle courses! The morning finished with our greatest display of team work yet, where each Trip Member had the chance to swing from tree to tree like Tarzan. In order to start the process, the entire group used a rope to raise the trip member into the air! None of it would have been possible without us all working together. We all loved watching our friends swing through the air, yelling at the top of our lungs!
Though sad to say goodbye to Lake Tahoe, we were ready for our final stop, San Francisco! It was an incredible last few days together, visiting all of San Francisco's iconic spots, including Alcatraz, Pier 39, Ghirardelli Square, and Lombard Street (the most crooked street in the world!), and the Golden Gate Bridge.
This will be our last post, so we hope that these updates have provided you with some insight into the amazing time we had on our California Dreaming experience. We look forward to seeing you all!
All the best,
The Westcoast Blogger
Do you want to spend your summer exploring all that California has to offer? Check out our 14-day California Dreaming teen tour! To browse all of our programs, click here.