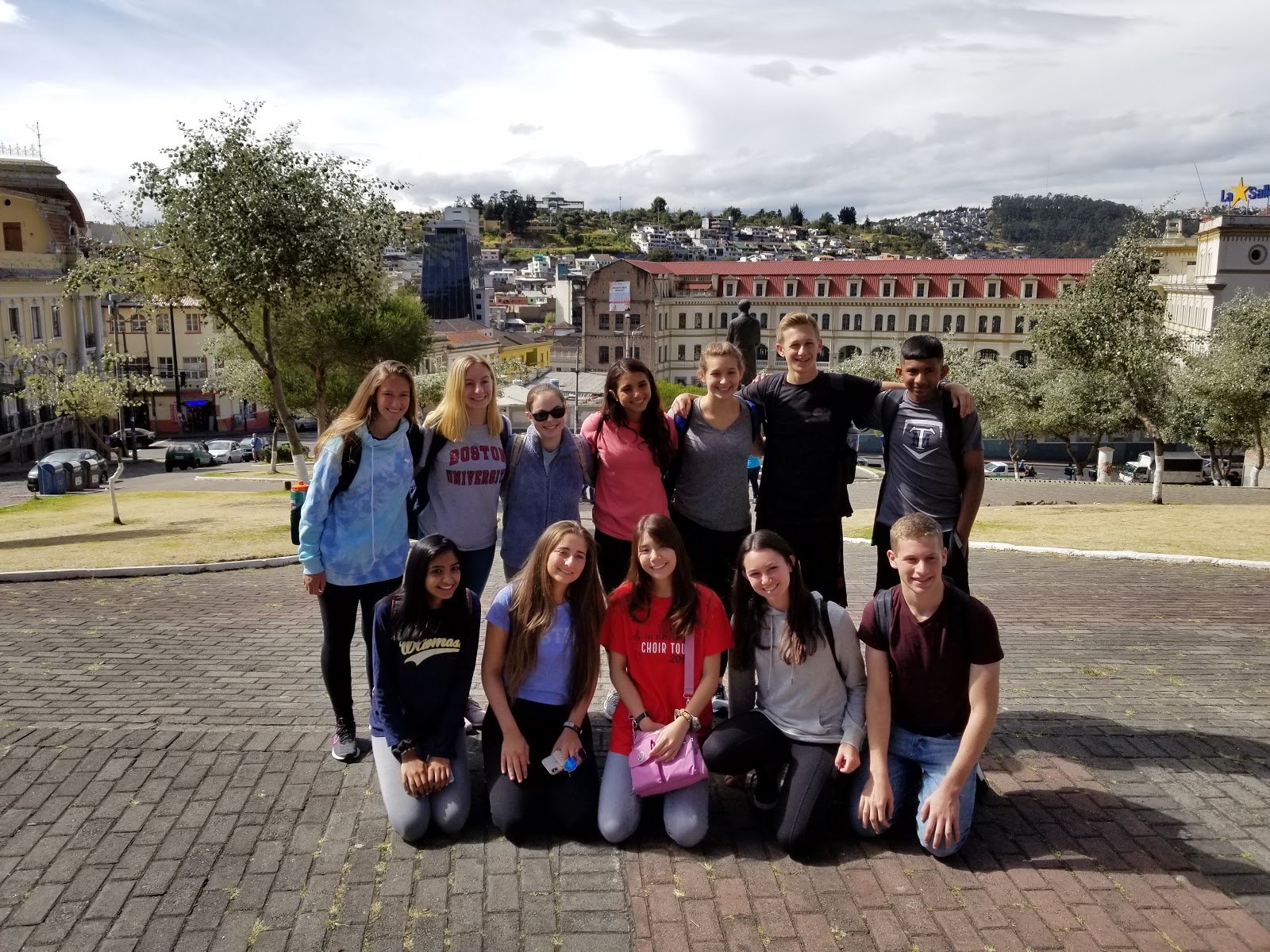 Hola from Ecuador! 
 Our trip has been off to a great start. From day one, we started to bond and create our own unique trip culture. We created a "community code" where we each traced our hands and wrote a word that in our eyes, defines community. For example, respect, kindness, co-creation, and inclusivity. We then wrote out different ways that we can honor the community we would be working with for the next little while. 
A few of these "codes of conduct" included listening, showing up on time, and not using our phones during our service projects or while we participate in group activities. These codes have allowed our group to take ownership of how we want our trip to unfold. 
On our first day, we went to Quito where we participated in a city tour and visited a museum at the equator line.  During the city tour, we went to the Basílica del Voto Nacional, a Roman Catholic church in the historic center of Quito. We climbed up the tower and had an unbelievable view of the entire city. We also saw the statue of "The Virgin of Quito". Our tour guide, Ivan, explained that during the pre-colonial times, the Indigenous people had their Sun Temple where the Basilica is and the Moon Temple where the statue currently is. 
Next, we stopped in the Pacari chocolate store. Cacao is a major export in Ecuador and we had the chance to learn about the process of how it's made and sampled some too! We then headed to a museum on the equator line. Here, we had the chance to participate in an array of activities to experience the effects of being on the equator. First, we had to balance a raw egg on a nail and then we watched as water poured down the drain on both the Northern and Southern hemispheres. The water drained down in different directions for each one – it was so cool! 
We headed to Riobamba, our home for the next week. Upon our arrival, we prepared for our community service project with MEDLIFE. Program Members shared that they believe our community service is important because it is an opportunity to give back and learn about another culture. Many are interested in pursuing a career in healthcare and through this experience, they hope to feel inspired. Additionally, they were excited to work directly with patients to create deep and meaningful connections.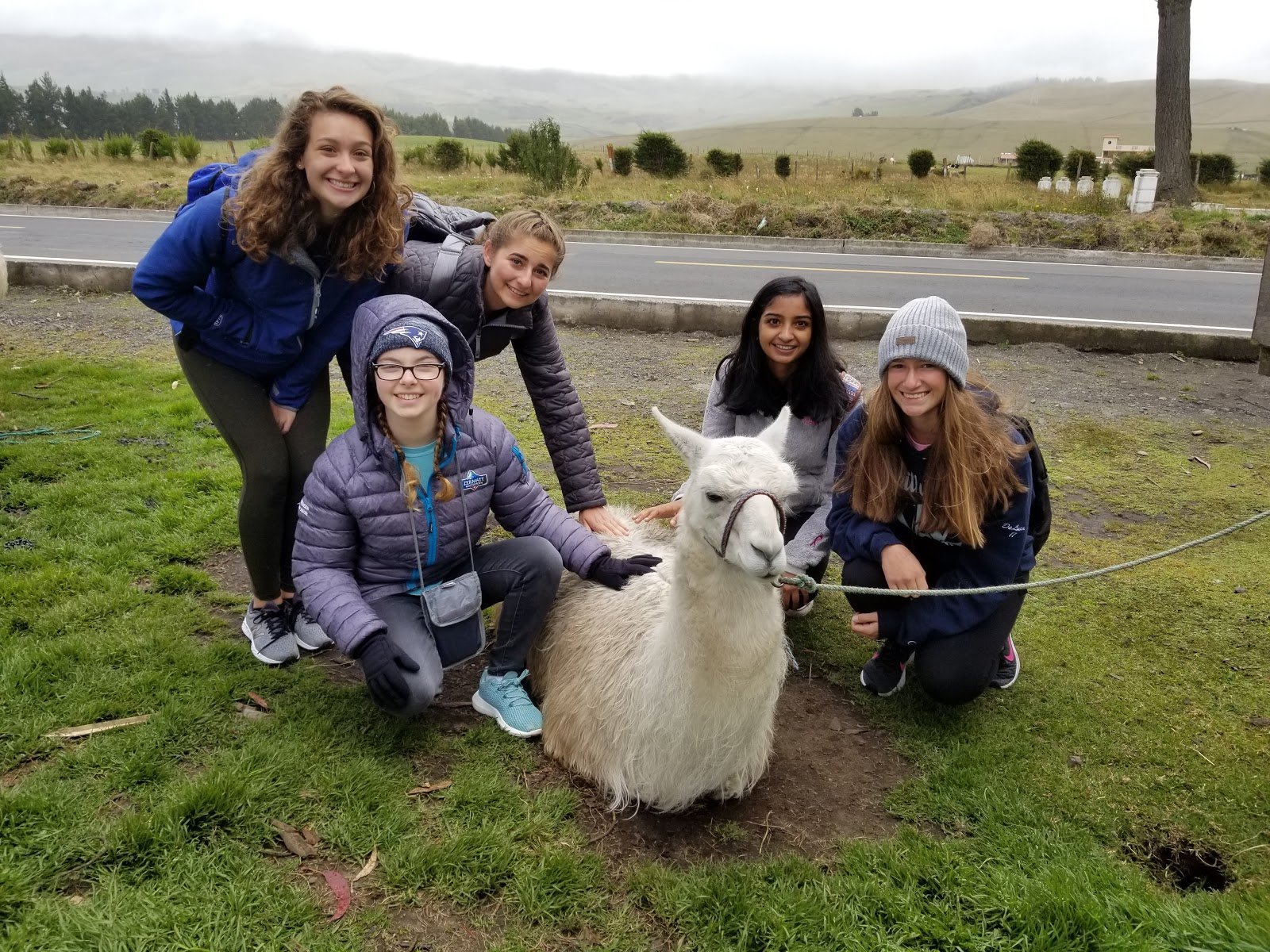 On our first day of service, we worked with the doctors in an Indigenous community outside of Riobamba. We had 76 patients come through the clinic that day and Program Members were divided into different stations, which included: triage, education, tooth-brushing for kids, doctor, and pharmacy. 
With the doctors, we had the opportunity to hear what a parasite sounds like inside one's stomach using a stethoscope and witness tooth extractions. We will be rotating stations throughout the week and will have the chance to play with the local children as well. 
Even after our very first day, we felt inspired and excited to continue our service here in Ecuador! 
Hasta luego,
The Westcoast Blogger
Do you want to explore Ecuador while providing meaningful service? Learn more about our 11-day Ecuador Medical Assistance program. To browse all of our programs, click here.