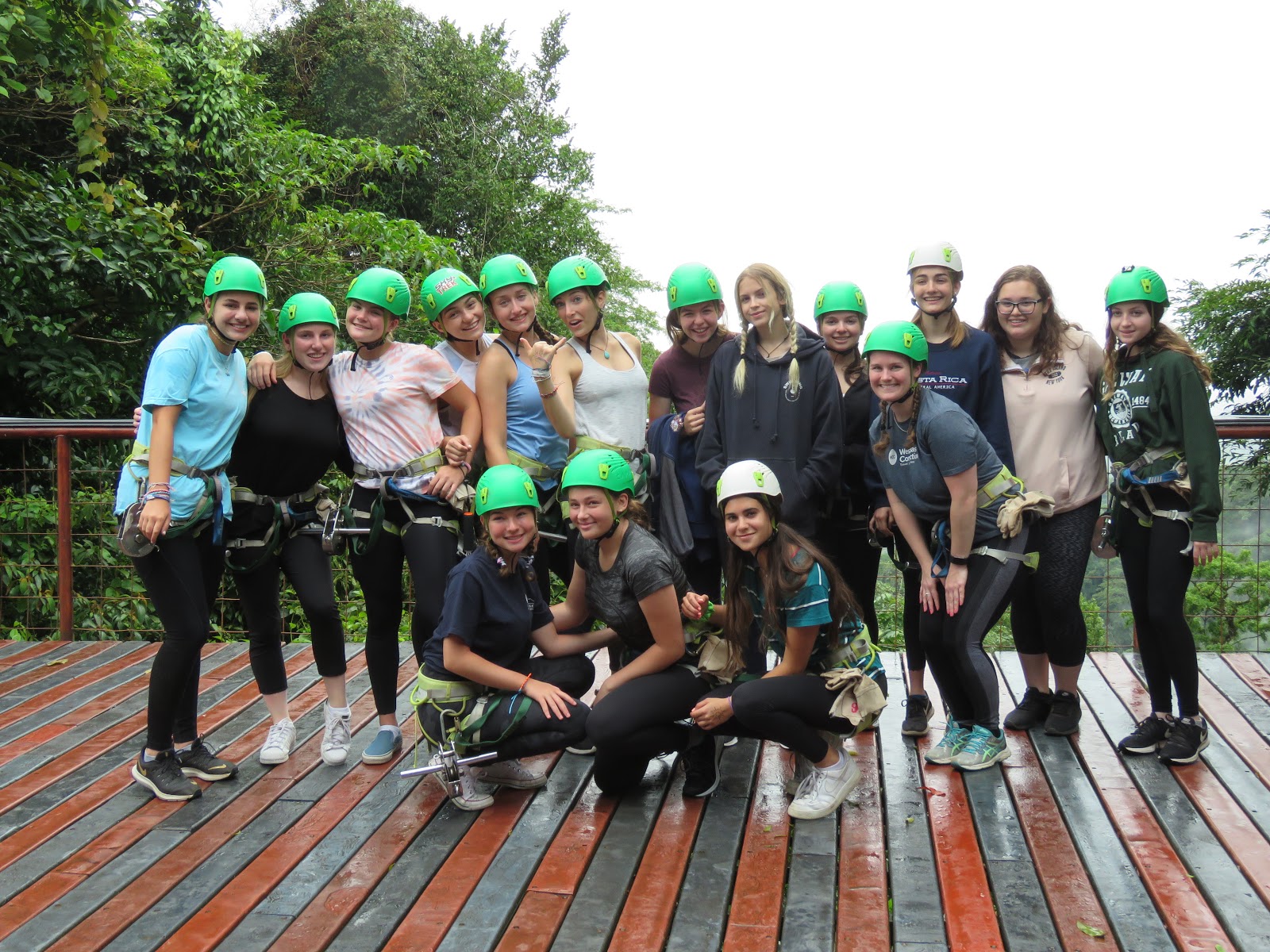 We have done so much since our last update and have had so many new experiences. We have met, connected with, and said goodbye to two groups of campers at Parque EcoPaz. We have gone zip-lining, taken a cooking class, and bathed in hot springs. And in-between all of this, we are enjoying spending time together as a group, experiencing both the touristic and authentic sides of the local culture.
On Wednesday, we moved onward to Monteverde where we toured Parque EcoPaz, the facility where we would be hosting a children's camp. We had lunch in the lovely town, and noticed the extreme difference in climate as soon as we got off the bus. Since Monteverde means "green mountain," we were not shocked to see the lush foliage as we drove up into the town. We saw some great views of the landscapes, as well as some adorable farm cows and horses. Another thing we immediately noticed about this town was its emphasis on local wildlife. Everywhere you look, there is an image of the Blue Morpho butterfly, or the quetzal bird.
When we arrived at the park EcoPaz, we were immediately greeted by an adorable chocolate lab named George. We then met the dog's owner and most importantly, the man responsible for the park's creation and continual development, Sergio. We could tell immediately that Sergio was a special person, as he started to show us around the main part of his 29 acres of land. As we walked through the playground, the soccer field, and the peaceful footpaths, Sergio educated us on the background of the park.  
EcoPaz is a nonprofit community park and is the first park in the Monteverde area dedicated to the local youth. Sergio has focused very deliberately on creating a space that not only has a small carbon footprint, but one that also works alongside the environment. Sergio himself has studied topics like butterflies and the delicate balance of the earth's natural resources. The park has a composting area, a young tree nursery, and its own sustainable potable water system. All of the elements of the playground are built from repurposed materials such as tires or plastic storage barrels, and the bridges over the streams throughout the hiking paths are constructed from repurposed wood.
The main goal of this park is to create a space for the local children and adolescents. Sergio noticed a need within this mountain community for a space to relax, and connect with nature.  With the help of his family and various volunteers, both long-term and temporary, Sergio has done and continues to do so much to make his vision a reality.  
The trip members and staff were all incredibly inspired by the story that brought him to create and keep building this park. We were also happy to hear that some of the money from our trip funds was donated to EcoPaz and is allowing Sergio to build a second bathroom onto the "casita" that serves as the central building at the park.
The funds allowed Sergio and his volunteers to purchase construction materials, and he had just recently began putting down the foundation for this new bathroom a couple of days before our arrival. While many of us were so active with the children's camp, giving many under-served children all of our love and attention, some were curious as to whether Sergio needed some help around the park, building and making repairs. We only wish you could see the huge smile on his face whenever they offer! In asking that, we were given the opportunity to help build the bathroom that our trip is funding.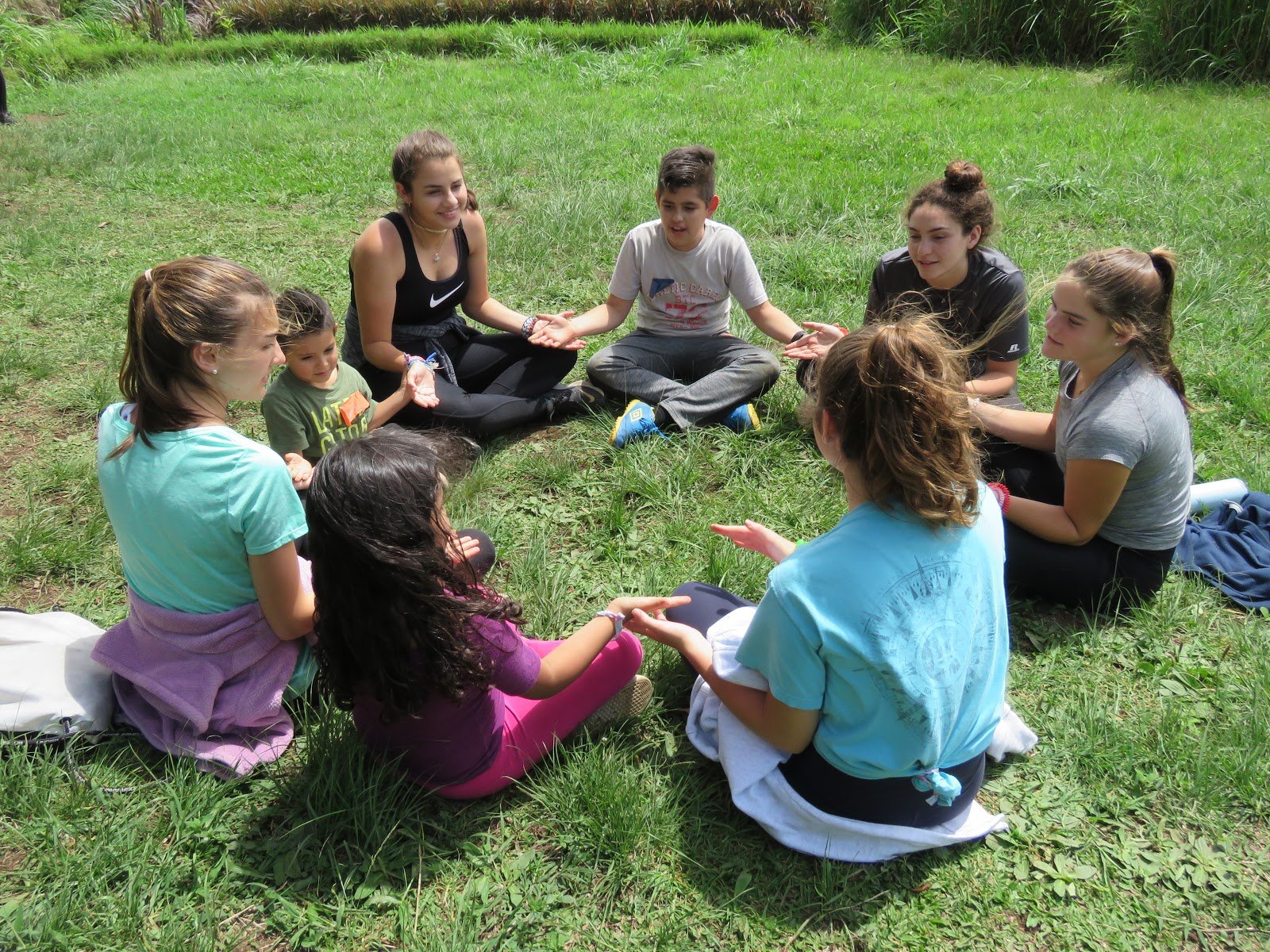 Last Thursday and Friday, we had our first group of campers. We went into the first day having done so much planning, feeling very prepared for our project ahead. The girls improvised a lot through the day, anchoring with some of the planned activities, but quickly learning that these kids were so excited to have their individualized attention that they could hardly focus on activities! Over the first four days of camp, our trip members worked through communication barriers with campers and each other, learning how to optimize their time with these well-deserving children. 
In the weekend between the two groups, we were able to take a trip down the mountain to the city of Arenal, where we saw views of a volcano, and took a dip in some relaxing hot springs. Sunday, we went zip-lining through the forest, and many girls came back talking about how exhilarating the experience was. 
Last and most recently, the girls spotted a familiar (famous) face on our way to the grocery store. Having requested multiple hits from the High School Musical soundtrack on our travel playlist, who did we find but Bart Johnson, who played Coach Bolton, on vacation with his family! They were so gracious and allowed our girls to talk with him and take photos, and Mr. Johnson even posted a shout-out to our group on his social media page! Since this was just hours before our movie night, what else did we decide to watch but High School Musical? It was the perfect movie to get us in a great mood to begin with our third and final round of campers tomorrow. With only five more days as a group, it is so hard to believe this trip has passed so quickly. We have met so many amazing people here in Costa Rica, it will definitely be difficult to say goodbye, but for now, we are going to keep on living la pura vida and savor every moment.
The Westcoast Blogger
Does exploring Costa Rica through community service and adventure activities sound like fun? Read more about our various service opportunities in Costa Rica here! To browse all of our programs, click here.