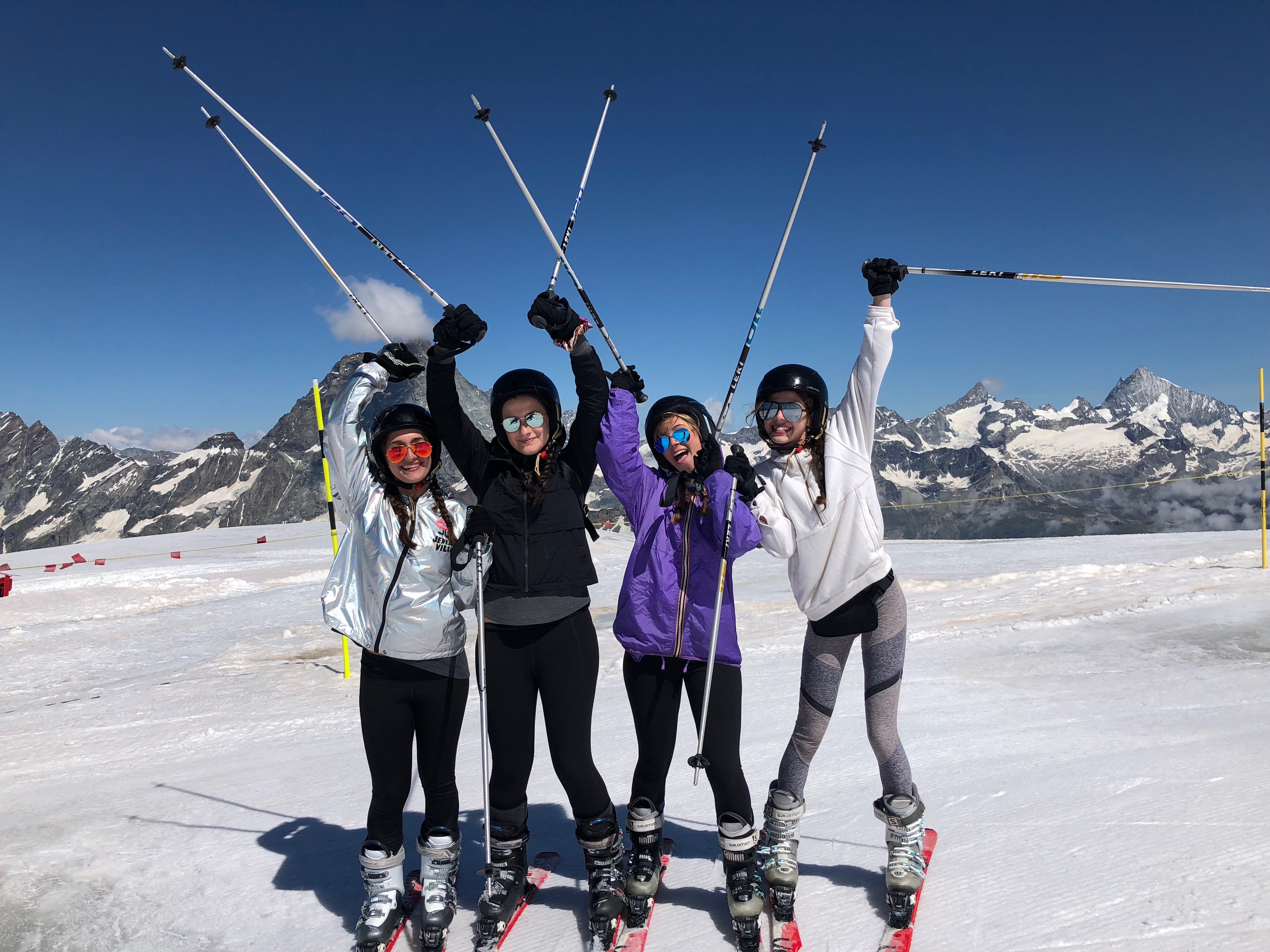 Our second week has been packed with excitement and activities! Since our last blog, trip 46 has tried our hand at two different languages, used two different currencies and celebrated two of our trip members' birthdays all while exploring three beautiful cities!
First up was the city of lights, Paris! On night one we quickly learned why this city was given this nickname. We boarded a boat and cruised along the River Seine to get a glimpse of the city and trip members admired the beautiful architecture and the impressive Eiffel Tower. We waved to locals picnicking along the river and we were amazed at how many people were out and about taking in the views of the Parisian sunset. We couldn't think of a better way to spend a beautiful summer night!
While in Paris we toured and visited the Louvre, Rodin, Arc de Triomphe and the Palace of Versailles. We walked along the Champs Elysees and enjoyed croissants, macaroons, and fresh crepes. Some trip members even tried escargot for the first time. As one trip member said, "When in France you just have to eat like the locals."
Most trip members would agree that the highlight of our time in Paris was our visit to the Eiffel Tower. We climbed up and took in the magical city views at sunset. Just when we thought we'd seen it all, we were heading back to the bus for the night when the tower lights began to sparkle. Everyone was mesmerized. It was truly one of the most beautiful things we've ever seen!
On our final night in Paris, we enjoyed a delicious dinner and karaoke fun. While the staff took the stage to perform 'Wannabee' by the Spice Girls, our trip members performed everything from old classics to movie tunes, and current pop songs. We also sang happy birthday to Alexa H! Paris was definitely a city to remember.
Our journey to Annecy couldn't have come at a more perfect time! After exploring two large cities we were ready for some relaxation and small-town exploration. Upon arriving in the town, trip members were amazed at the breathtaking views. We nicknamed Annecy the "hidden gem" of our tour. We spent the morning paddle boating and biking around the lake. While we expected the beautiful water views, we were surprised to see a huge herd of cows grazing right beside us!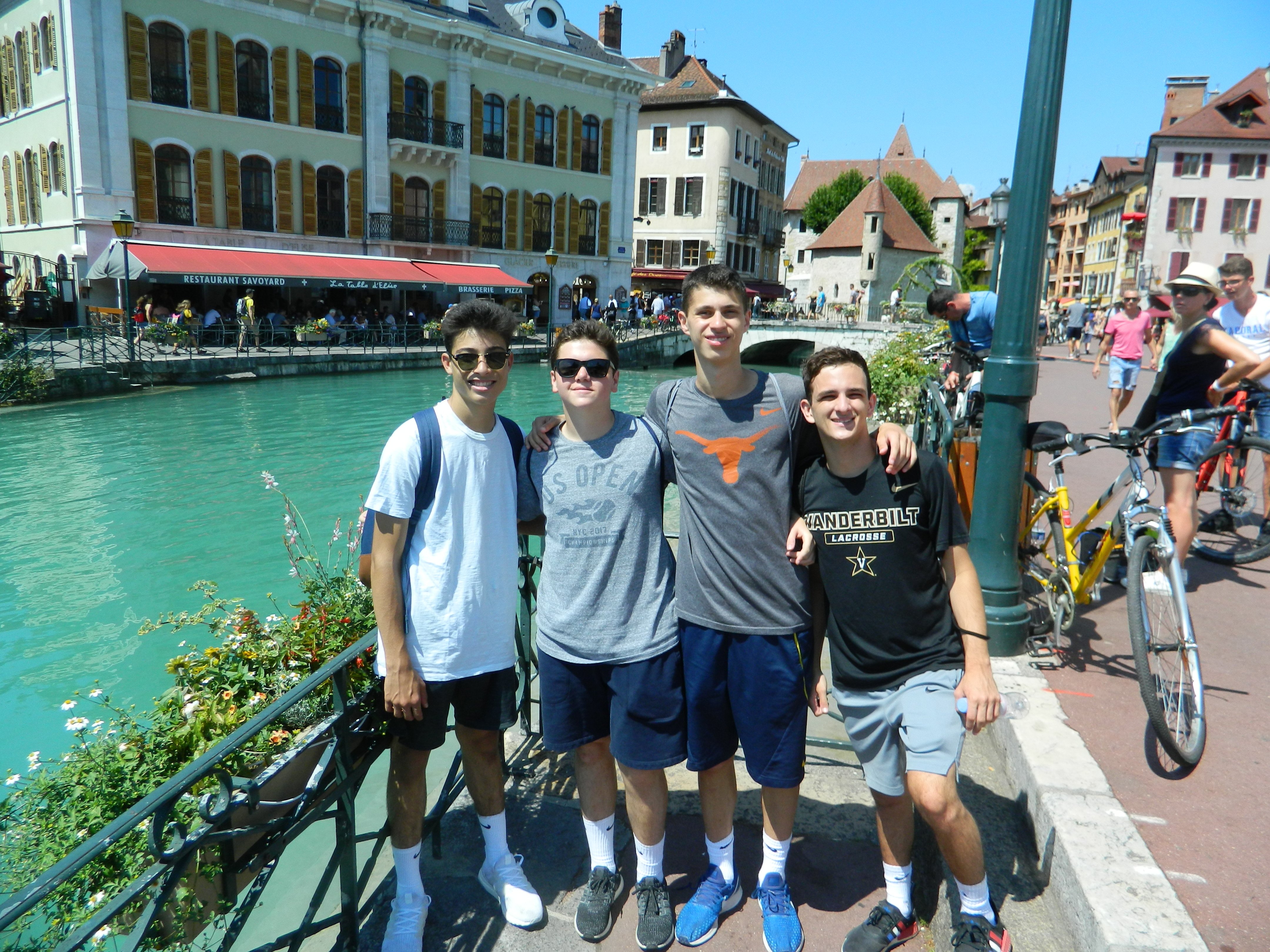 After fueling up on lunch, we headed to the beach for some fun in the sun. Trip members enjoyed playing beach volleyball and swimming in the crystal-clear waters.
The next morning we woke up eager and excited for our white-water rafting adventure. We put on our wetsuits, life jackets and helmets. Traveling down the rapids was quite a bonding experience. Trip members left rafting with huge smiles on their faces!
We said goodbye to France and headed up to the Swiss alps. After a scenic bus and train ride, we arrived in the quaint town of Zermatt. Trip members loved that we could explore the whole town on foot! Our skiers then took to the slopes for a once in a lifetime summer skiing experience. Other trip members rode the gondola up to the top of the mountain.
It was hard for everyone to believe that we just left hot summer weather and were now standing beside snow-covered mountains! The rest of the day was spent exploring the town, sampling Swiss chocolate, and playing basketball. After a relaxing afternoon, we were ready to take on the night and celebrate Justin H's birthday at our first Disco.
While we've enjoyed all the activities on our itinerary, some of the most memorable moments have been our many impromptu sing-alongs and dance parties. Give trip 46 an open space and some music, and we'll create our own fun!
Now we're off to country number four. We're eager to see what Italy has in store for us!
The Westcoast Blogger
Do you want to spend your summer touring Europe? Check out our 28-day European Experience!
To browse all of our programs, click here.