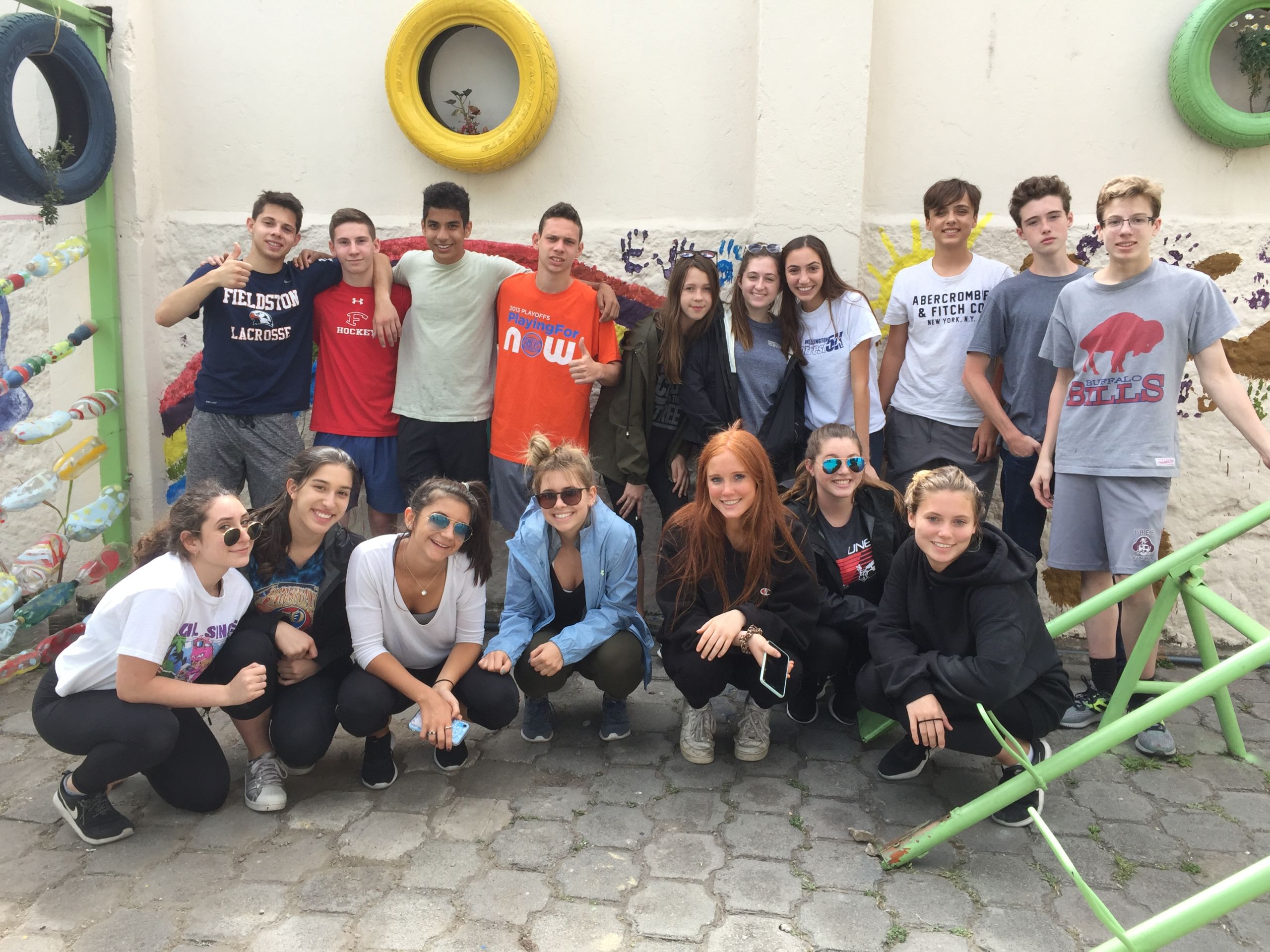 Hola from Quito, Ecuador! The past few days have flown by and we are having a great time together. It isn't hard to feel like you're on "cloud nine" when you're 9,350 feet above sea level! On our first day in Ecuador, we jumped right into action at our first day of service. We attended a local elementary school where we assisted on three different projects: painting beautiful murals alongside a local Ecuadorian artist, repainting the basketball court and assisting in the beautification of the school garden. 
While many trip members really enjoyed working on various projects, most were really excited to meet and play with the local children. We practiced both English and Spanish with the kids and played with them during their recess and after school. One of the most meaningful moments of the day was that many of the children even volunteered to help with the painting! It was heart-warming to see their excitement to help paint their school. They will surely look at the murals and freshly-painted athletic areas with great pride as they remember helping us beautify their school. 
After a day full of making meaningful memories at our project location, we went to a local cafe where we had a cooking class and made our own "llapingachos", a traditional Ecuadorian potato fritter. We then sat back, relaxed, and enjoyed our dinner while sharing conversation and laughter with our team of fellow volunteers. After dinner we continued the camaraderie by learning a new game that got us huddled together with teammates, belting song lyrics, and getting to know each other even more.
On our second day in Ecuador, we had a day full of exploration! We began our day with a walk through the historic center of Quito. We visited the stunning Basilica of Quito and climbed up to the very top of the church towers where we enjoyed the crisp Andean breeze while taking in the scenery: mountains, forests, and brightly colored houses and buildings on all sides.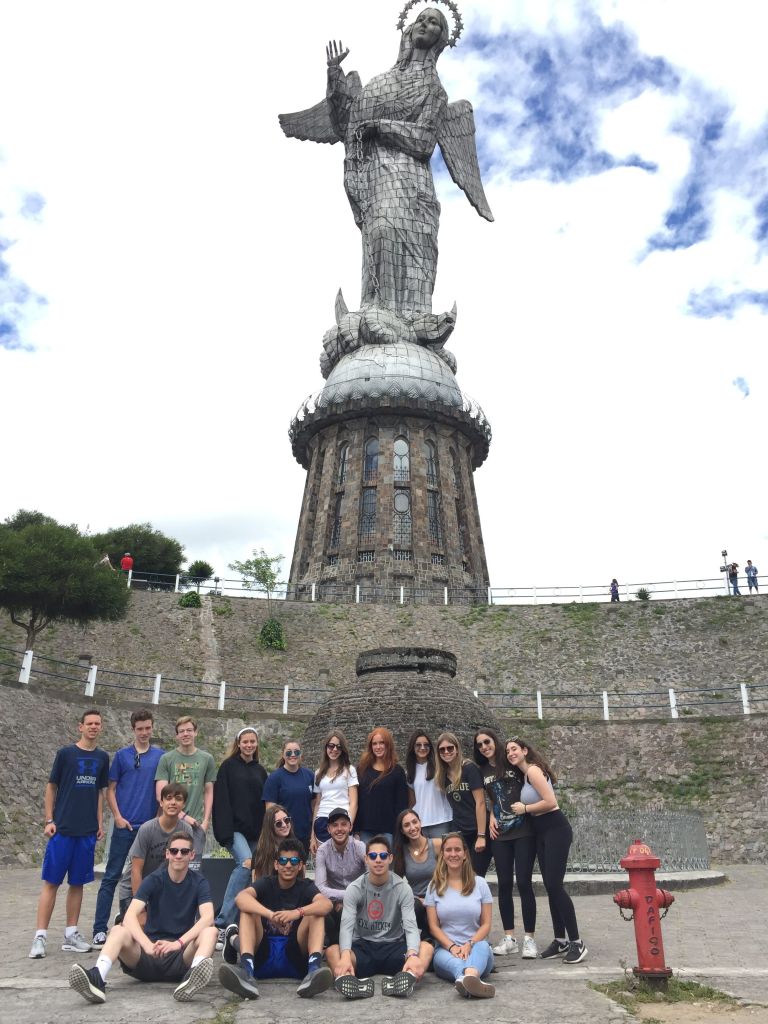 After making it back down to the ground, we strolled down La Calle De Las Siete Cruces (The Street of Seven Crosses) where we visited a local church, sampled organic Ecuadorian chocolates, and relaxed to take in Ecuadorian culture in the busy central plaza of the old city. After lunch, we took a journey to the center of the Earth… kind of! We may not have reached the "center", but we did take a walk down the equator at "Mitad del Mundo". Each of us placed our right foot in the Northern Hemisphere and our left foot in the Southern Hemisphere and paused for a group picture to commemorate the moment. We were also able to do some mind-blowing experiments on the line. One of the most interesting experiments demonstrated how a person's muscle strength was affected by how close they stood to the equatorial line. When we stood directly over the line, we couldn't even keep our hands in the air if someone pushed on them with just two fingers. The equator is a mysterious, powerful place! 
After boarding the bus and beginning the trip back to our hotel in Quito, we were blessed with the appearance of the widest rainbow any of us had ever seen. The impressive streams of color peeking through the cloudy mountaintops was a surreal experience. Believe it or not, some of the most exciting moments we've shared aren't even on the itinerary! After a day exploring Quito, some trip members decided to start an impromptu dance party at our restaurant. Even our waiter stopped by to show us his moves! 
Sunday, we had an adrenaline packed day of activities. We zip-lined through the Mindo Cloud Forest, ate organic, sustainably-resourced pizza in a forest preservation, toured a small, local artisan chocolate company, and went white water tubing. After several hours spent soaring through the skies and riding the river waves, we relaxed on the bus back to Quito while listening to a playlist that we made ourselves. Each trip member added one song to the playlist, resulting in a diverse playlist with a bit of character from each member. The time flew by as we jammed out to some tunes and guessed who might have added each song to the playlist. 
It is often moments like this that really make us realize how close we've grown in just the past few days. We've only spent three full days in Ecuador, but we've already made memories for a lifetime and will surely make many more!  
The Westcoast Blogger
Does helping out a community in Ecuador interest you? Check out our 18-day and 25-day community service programs!