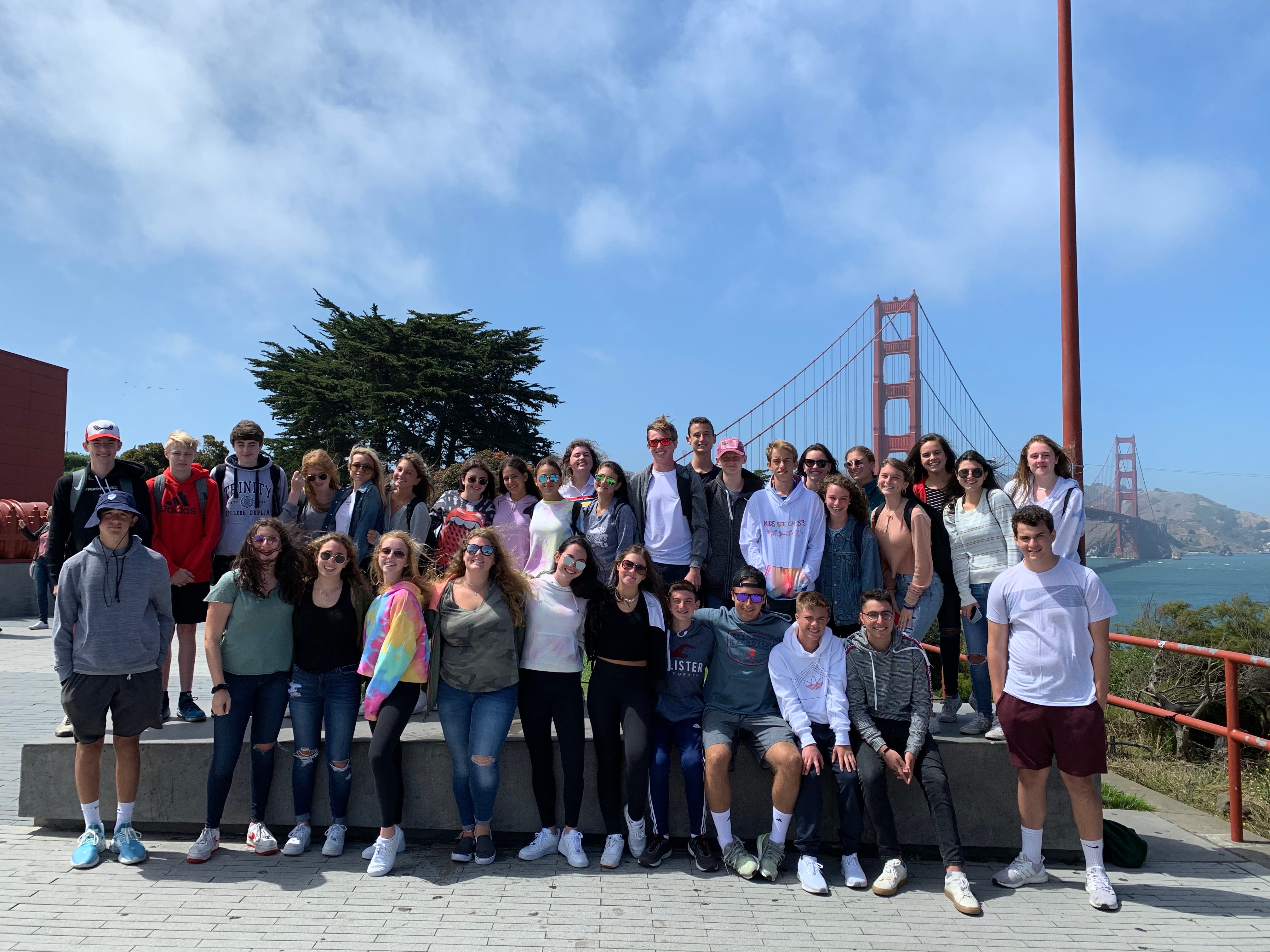 What a whirlwind our California Dreaming trip has been! We have already seen two cities, splashed in two different waterways and have made many new friends.
After making it to our first destination – San Francisco, we stopped at In-N-Out Burger to enjoy a quick California meal with our new friends. We then strolled through Chinatown, seeing different fruits, paper lanterns, all while taking in the scents of authentic Chinese food stores and markets. Many trip members had the courage to try out a variety of bubble teas, while others took a tour of the fortune cookie factory. 
To start our first full day in San Francisco, we took the cable car up Lombard Street, enjoying views of typical San Francisco homes and glimpses of the Bay Bridge. We then walked past dozens of uniquely colored hydrangeas that lined the way to a perfect view of the Bay Bridge and overlook of San Francisco. 
We then saw the Oakland A's take on the Texas Rangers where trip members enjoyed a true slice of Americana with hot dogs, chicken fingers and ice cream while we watched a close win by Oakland. 
The next day held highlight after highlight! On a sunny San Fran day, we made our way to Alcatraz to learn about some of America's biggest convicts. We then made our way to the Golden Gate Bridge for a completely clear view of the entire bridge, bay, skyline, and Alcatraz. Not a cloud in the sky! Trip members learned about the bridge's "international orange" coloring and other fun facts!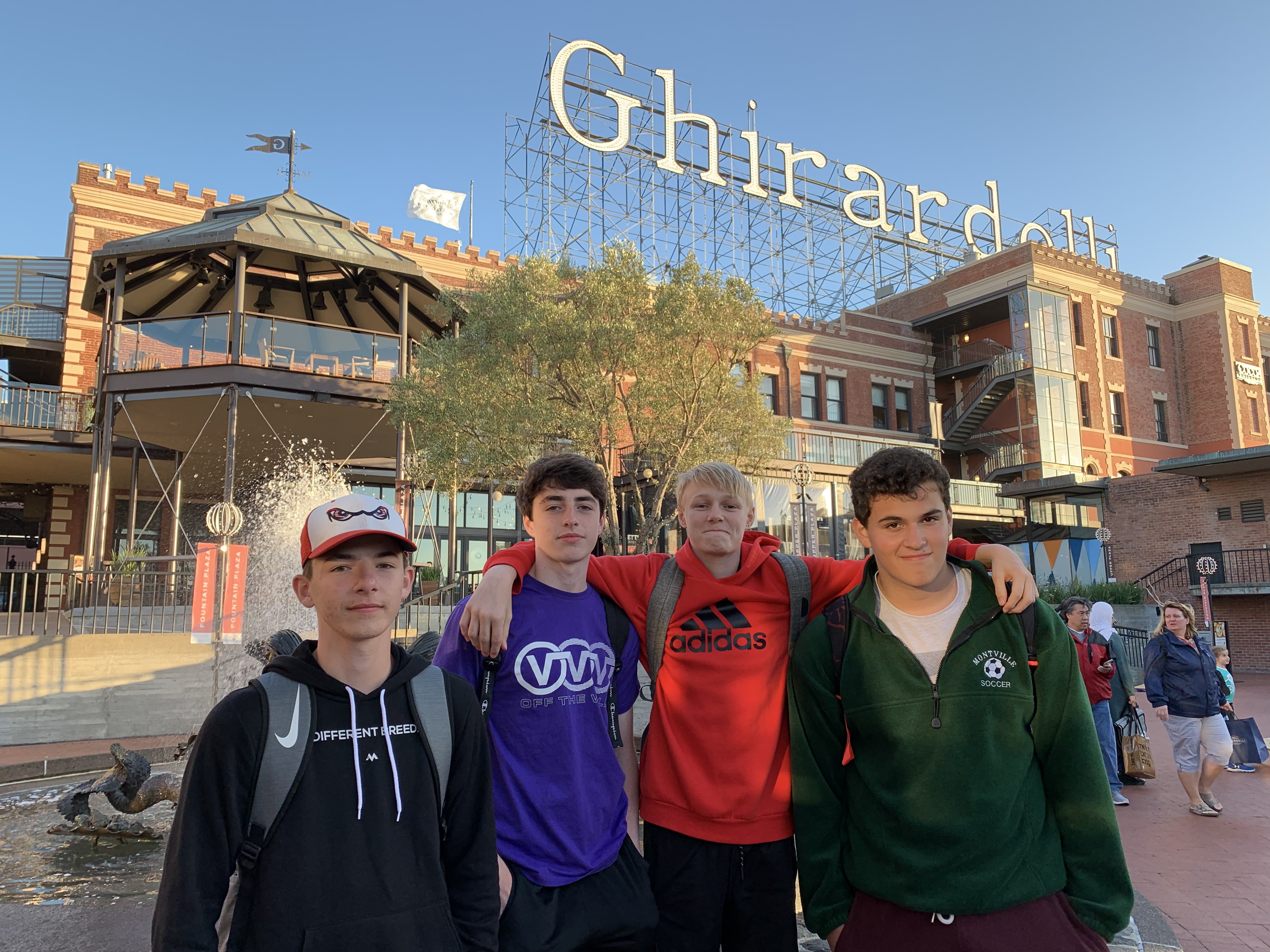 After that, we hit Pier 39 where several trip members spent their time watching the sea lions while they wandered around. Some trip members got to meet a professionally trained acrobat and watch an impressive street performance and balancing act. After an eventful last day in San Francisco, we made one final stop at Ghirardelli Square to enjoy premium chocolates, mini-golf, and a breathtaking sunset. 
Departing for Lake Tahoe, we made a stop to take on white water rafting at the American River where trip members took on several rapids! A few trip members tried even more rapids, while others enjoyed the view from the boat. In between rapids, there were plenty of jokes, riddles and interesting tidbits of history shared. Once at the lodge in Lake Tahoe, we visited the village for dinner and live music, ending the night by a large bonfire where everyone shared their favorite moments from the trip so far.
Lake Tahoe was described as "Stunning" "Awesome" "The best". Trip members enjoyed tubing and water skiing, relaxing and tossing a football on the beach with a beautiful 360-degree mountain view. Snow-capped peaks and unreal blue water was relished by all. After enjoying Lake Tahoe from the shoreline, we hopped on a private boat to take in the views from the lake's center. 
We learned about the native tribe's tale of The Sleeping Maiden who only rises when there are members in trouble on the lake. She last rose 600 years ago when the tribe's princess had winds change on her and her raft flipped. We thought we would wake her up with our laughter and dance-offs that even the ship's Captain tooted his horn for!
It's been an eventful, exciting, beautiful trip so far that everyone is excited to wake up for each day. We have an incredible group of trip members who can't wait to see more of this wondrous state. 
Until next time,
The Westcoast Blogger
Want to experience an amazing summer in Cali? Check out our 21-day California and the Canyons teen tour. To browse all of our summer programs, click here.