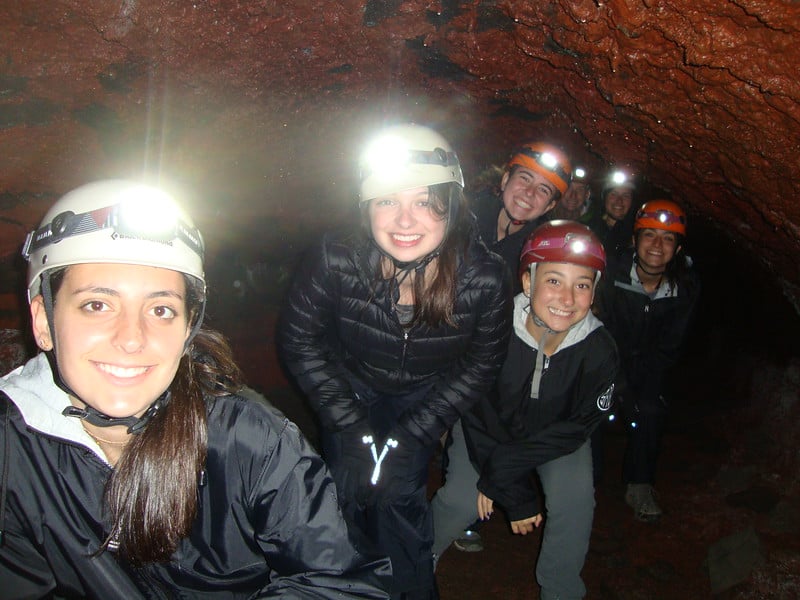 We began our journey south by leaving Akureyri and arrived back in Reykjavik just in time for the Fifa World Cup Finals. Jules excitedly led the group to a square where hundreds of soccer fans had gathered together to watch the game on a big screen. You can imagine our excitement when France won the cup. "It's a moment I've waited for my whole life" said Quentin who is from France!  
The next afternoon the group spent a sunny day at the world famous Blue Lagoon! Everyone had a great time drinking smoothies and trying the all-natural face mask which left our skin feeling silky soft. Feeling relaxed, we embarked on our last adventure in Iceland which was volcanic cave exploring! "The caves were such a surreal experience" explained Josh. When we exited the cave, we returned to the gorgeous Icelandic blue sky, contrasting with the stunning mountain range in the background.
Next we were off to Greece! Upon arrival in Athens, we met our local guide Katarina and headed towards the Acropolis. We learned about the different sculptures at the Acropolis Museum, before visiting the historic grounds and experiencing 360 degree panoramic views of the city. We enjoyed authentic Greek cuisine at dinner and were very entertained breaking plates after our meal. "It doesn't get more Greek than this! Opa!" said Maya, as she smashed her plate to the ground.
All the trip members bonded together on the ferry while making traditional friendship bracelets. In Naxos we were greeted by a fantastic pool and a beach next to the clear blue sea, just minutes away. The following morning we attended a cooking class, where we learned how to make stuffed tomatoes, zucchini and peppers, and authentic Greek pancake doughnuts called loukoumades. Samie H. learned how to cut fresh parsley like a pro, and Reece learned how to chop potatoes like a champ. It was a delicious meal! In the afternoon, we biked to a nearby beach that boasted gorgeous views of the mountainous islands. And what better way to end our day than a classic night out on the town? We put on our dancing shoes and danced our hearts out on the beach. Jake surprised everyone with his legendary dance moves and all the trip members enjoyed their gelato and crepes on our way home.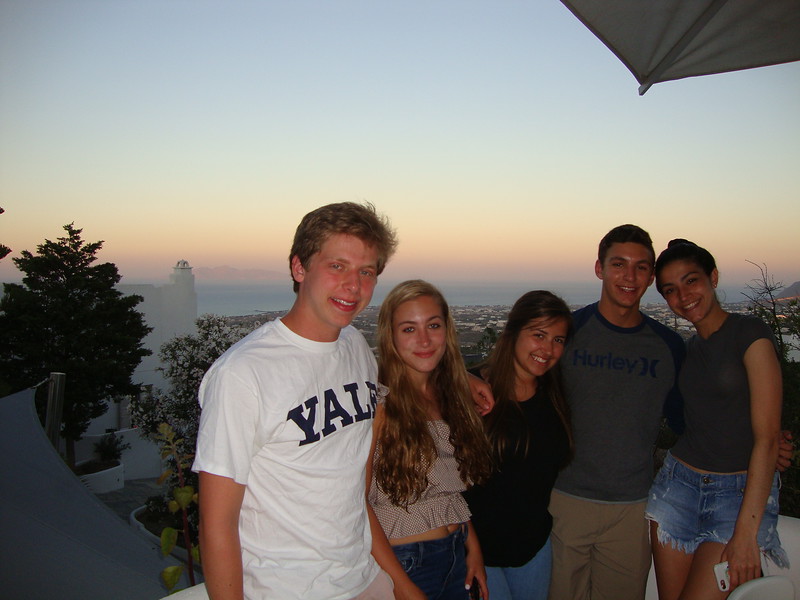 The birds were chirping the next day as we made our way to scuba diving, an activity many of us had never tried before. The groups saw different kinds of fish, sea turtles, sea cucumbers and even an octopus. "That was the coolest thing, I definitely want to do that again" declared Jacob. Back on the beach we indulged in gyros and Greek salad between swims. Karaoke that night was the perfect ending to our day, especially as we sang songs from the movie Mamma Mia!
White buildings with blue domes built on the edges of cliffs greeted us upon arrival in Santorini. We explored Fira town with its small pedestrian-only streets full of shops, restaurants and gelato stands. The group visited the Akrotiri Archeological Site and Museum where we were completely blown away to learn that the lost city was only discovered 51 years ago but dates back before Pompeii. Next, we were all ready for a swim on a little stone beach where we went paddle boarding and snorkeling. While kayaking, we passed amazing rock formations and explored a cave. Many trip members also tried paddle boarding for the first time! Oia was absolutely gorgeous and we marveled at the picturesque views during our sunset dinner. "The sunsets here are the most beautiful I have ever seen" said Sami W. Lastly, we took the cable cars down the cliff to the old port and boarded our ship which brought us to a volcano. We hiked up and then relaxed with a dip in the thermal hot spring area. That evening we participated in friendly team competitions and everyone had a blast battling it out in a cheer-off, paper airplane tournament and team flag designing. At this point of the trip we we're not just trip members, we are like one giant family that has shared amazing memories
The Westcoast Blogger
Do you want to see the gorgeous Blue Lagoon and blue domes? Learn more about our 24-day Iceland Plus Greek Islands trip!