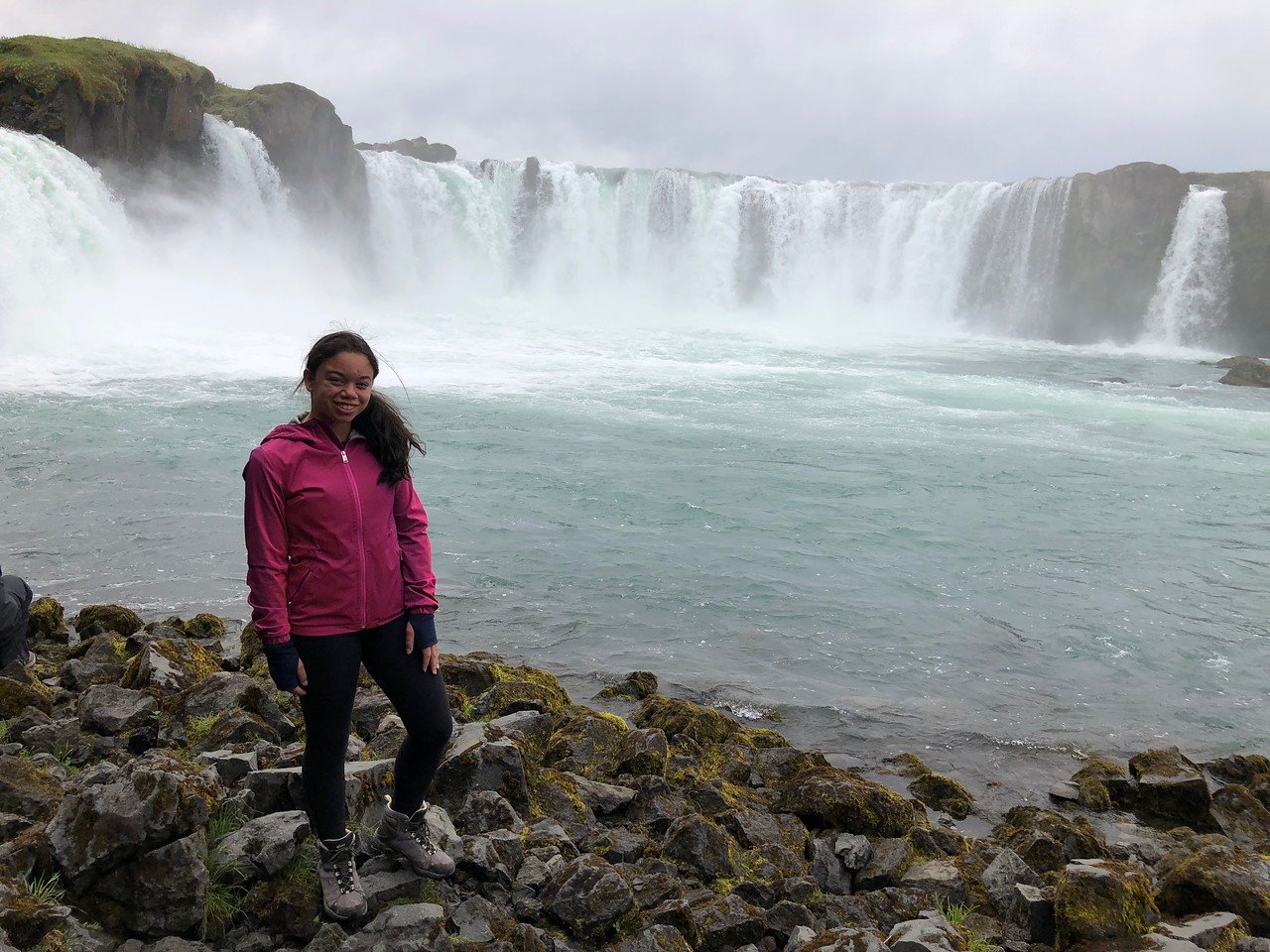 Our final week on this magical island of Iceland was jam-packed with adventure. As soon as we arrived in Akureyri, it quickly became everyone's favorite stop on our journey because it was such a charming little town and we loved having free time to really explore and get to know it. On our first night, we shared an epic multi-course dinner before watching some hilarious movies.
On our first full day in Akureyri, we went whale watching! When we arrived at base camp, we were given full-body warmth jumpsuits that kept us comfortable. The tour really exceeded everyone's expectations: trying to spot the whales and capture their beauty on our cameras really made for another incredible afternoon. We saw more than ten humpbacks and one even swam under our boat. Eli recaps the experience, "Whale watching was definitely a highlight of the trip so far. Not only did we see a bunch of whales, but we also got to fish. We stopped at a spot where it was easy to catch giant fish and we took turns reeling them in. The guides ended up grilling the fish we caught and we had an awesome time eating our fresh catches." Afterwards, we went on a tour of a fish factory to learn even more about fishing in Iceland. The owner gave us the tour, and not only was he knowledgeable, he was also very entertaining and made it a great experience for us!
Our next day was filled with some incredible and diverse Icelandic scenery. Our morning hike started off with a walk through the Dimmuborgir Lava Rock formations that led us to the side of a volcano. Albeit challenging, the view from the top of the mountain was absolutely worth it, as was everybody's feeling of accomplishment! The crater was giant and the view went on for miles in every direction. In the afternoon, we went to the Námaskarð geothermal area. Although we had seen two hot springs before, this one was like nothing we expected, with many trip members stating, "it looks like Mars!" Red earth extended in every direction and the hot springs were not just water and steam, they were filled with a grey mud that smelled strongly of sulfur.
On our final day in the north, we hiked up one of the mountains at a local ski resort, and it was a once in a lifetime experience. Every one of us pushed ourselves out of our comfort zones as we all experienced incredible views on the way up. During our free afternoon in Akureyri, several trip members relaxed on a hill and took time to relax in the sun, while others played soccer and enjoyed chatting with some Icelandic kids who also share the same passion for soccer as they do. At night we enjoyed spending dinner together, as well as watching the World Cup and battling each other in very competitive games of pool.
We spent the next morning exploring a network of underground lava tubes, which were formed over 2000 years ago. After our time in the cave, we headed to the Blue Lagoon, the most anticipated attraction for many trip members! The lagoon was absolutely gorgeous and we all loved relaxing in the mineral-rich water. We covered our faces in mud masks and took stunning pictures. Together we experienced this unique Icelandic treasure! Afterwards, we all shared our favorite incredible memories from Iceland, as we get excited for the sunshine ahead.
Kveðjum (farewell) Iceland and Χαίρετε (hello) Greece!
The Westcoast Blogger
Do you want to explore Iceland's unique and natural beauty? Find out more about our incredible 16-day and 24-day trips!