Our week in Italy concluded in the amazing city of Perugia, home to beautiful landscapes and mouth-watering chocolate. On our last day, we went to the water park where trip members got to play beach volleyball and soccer, in between going down the waterslides in their stylish green bathing caps. We ended the night with an amazing group dinner, that included a variety of classic Italian appetizers and a main of our choice. The food was outstanding and left us with the taste of Italia we all needed before moving onto our next destination, Greece! And, we of course took advantage of the gelato and the nightlife before heading down for a quiet night.
We took an overnight ferry between Italy and Greece where we had ample opportunity to bond, play cards, enjoy a good game of mafia and get our first sample of Greek culture and food. When we docked in Sivota, we spent the day relaxing by the pool and beach. At night, we drove into the city of Perga to feast on tzatziki, souvlaki, gyro, Greek salad, and so much more. To cap the night off, we went dancing at the disco to some classic tunes!
Our first full day in Sivota, is one for the books! We started the morning off with a serene kayak to a secluded beach where we had the opportunity to dip our feet in the crystal clear water and enjoy some watermelon before heading back into the city for lunch. Nothing compares to the views we had of the city from the water and feeling the waves under our kayaks as we rocked back and forth. In the afternoon, we went tubing, lounged by the sea, and enjoyed some virgin piña coladas before making our back to relax at the hotel before dinner.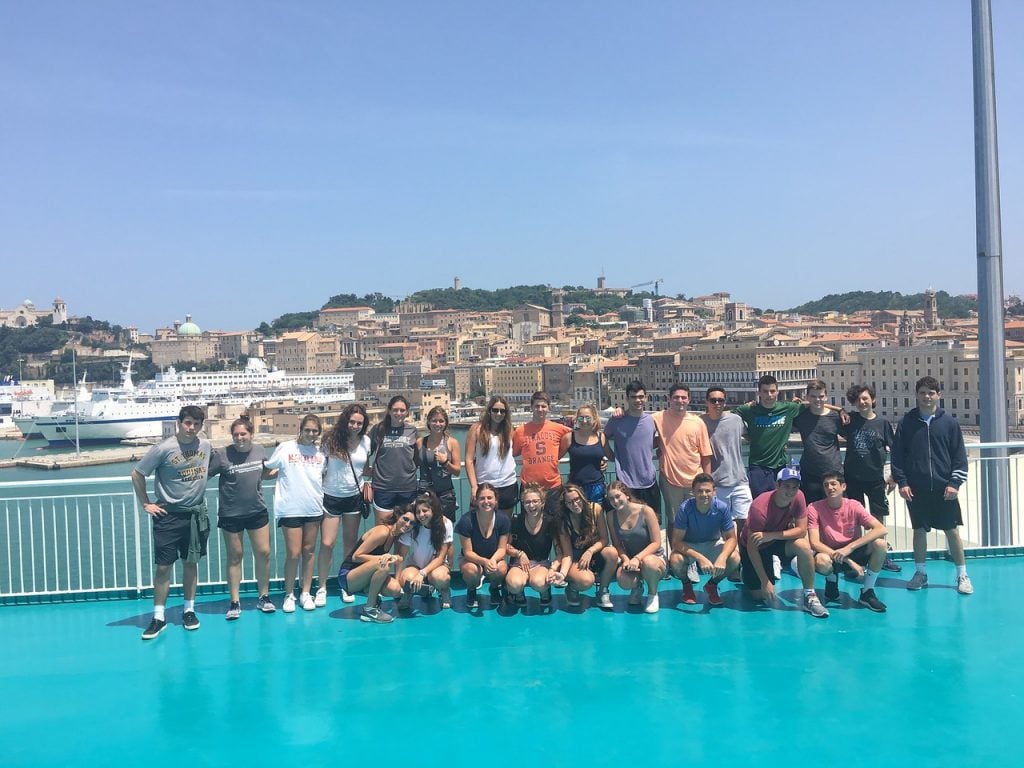 The next day, we soon made our way to Ioannina, a beautiful town surrounded by a lake and mountains. Across from the town, is the only island in the middle of a lake in Europe that is inhabited by people! We all took advantage of tasting baklava samples until we were stuffed and ferried back to the mainland. We had a traditional Greek group dinner at night and couldn't help but order seconds of the spinach, cheese and mushroom pies!! We didn't leave any leftovers but that didn't stop us from getting chocolate and ice cream for dessert at the end of the night.
Tomorrow we are headed river tubing! More details to follow in the next blog about this amazing adventure – until then, Yiasas!
The Westcoast Blogger
Want to live the Mediterranean lifestyle? Join us on our 10-day, 17-day, or 25-day ON TOUR Greece, the Islands & Italy!