Our New Zealand adventure continued with an evening at the Tamaki Maori Village! Beginning with an impressive display of power, the Maori welcomed us at their gates' with a traditional war dance, followed by presenting the group with a peace offering allowing us to enter their village. Once inside, we walked around the village learning about the different aspects of Maori culture. At one hut, the Maori women showed us how they would strengthen their arms in preparation for war by swinging "poi", a soft ball made of wax on a string. Mia was selected to learn the dance and impressed the Maori women by immediately mastering it. We ended the night with a delicious dinner that had been cooked underground for hours, and thus had a beautiful earthy taste. Ashley also discovered her new love for the incredibly soothing Maori herbal tea, Kawakawa. The evening was truly spectacular and immersive, nearly impossible to put into words.
Imagine travelling to such a small town, where the population is actually 8 people! Well, welcome to Whakahoro! Here the dogs outnumber you 7 to 1 and the sheep, 700 to 1. We also took this time to disconnect from the digital world. When we arrived we took a fun ride in an ATV around a 2000-acre farm and stopped to see Dan, the owner of Blue Duck, who showed us how he uses basic commands and dog whistles to get his sheep dogs to herd the sheep into the barn for sheering. Commands like "Here Bell" and "Quiet Frank" soon turned into some of our trip's favorite expressions, as Chase would include in his karaoke set night in Queenstown. In the morning, Matt and Aidan enjoyed helping one of the farm hands with chopping wood and all the trip members got the chance to show off their brawn.  After an incredible home cooked meal, we said our goodbyes to a truly special place, even prompting Max to exclaim, "I plan to come back next year."
Next, with crampons, poles, helmets, gloves and leg muscles, we set off on our Tongariro Crossing hike up the snow-covered mountain. The top of the mountain can best be described as the beauty of a painting and was truly unlike anything we have ever seen before. Several trip members commented that "the view looks like the cover of Kanye West's new album" and Sydney described it as, "a long hike, but most definitely worth the experience."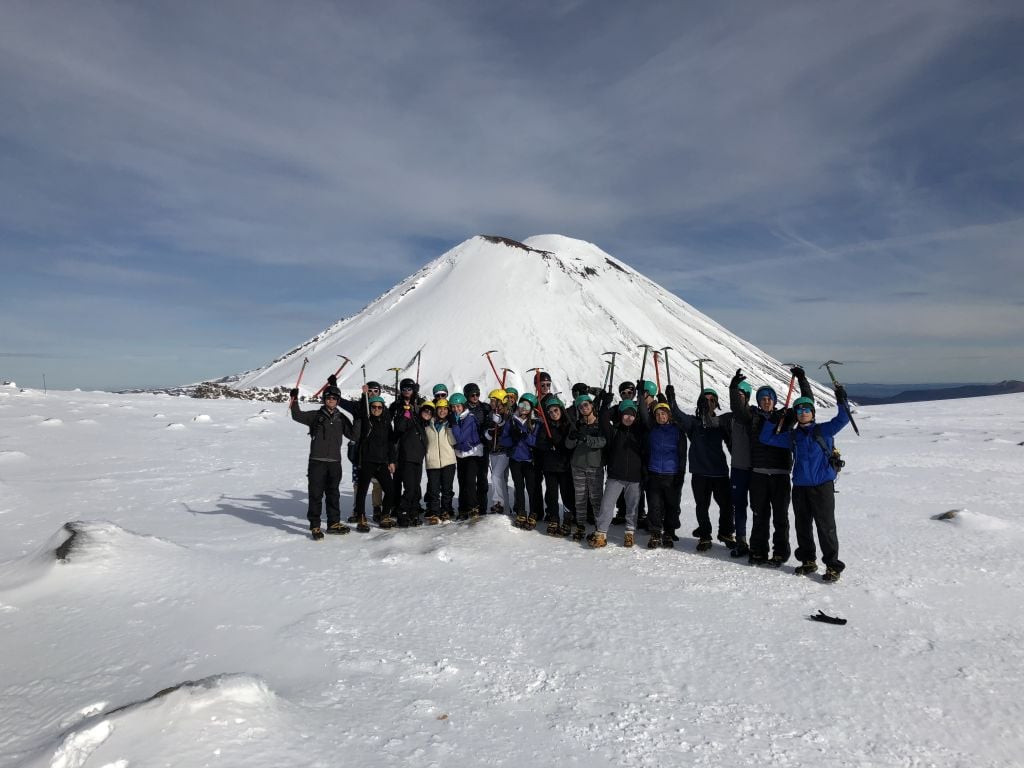 Queenstown is a beautiful ski town, located in the foothills of The Remarkables mountain range. All one needs is to take a quick look around to understand how the mountain range got its name. Most of the trip members seized the opportunity to go skiing and snowboarding, where the conditions were absolutely perfect! Several other trip members opted to test their teamwork skills and work collaboratively at an escape room.
The last experience we had was on the world famous Shotover jet boating ride. There are no words to describe this experience. Basically we all held our breath for 20 minutes on one of the most harrowing and adrenaline-pumping activities we've ever done. Wow, what an incredible way to finish off New Zealand!
Off to Australia and though we are sad to leave the land of the long white cloud we cannot wait for the sunshine of Australia.
The Westcoast Blogger
Would you love to go on an adventure through New Zealand & Australia? Check out our full 23-day itinerary to learn more!