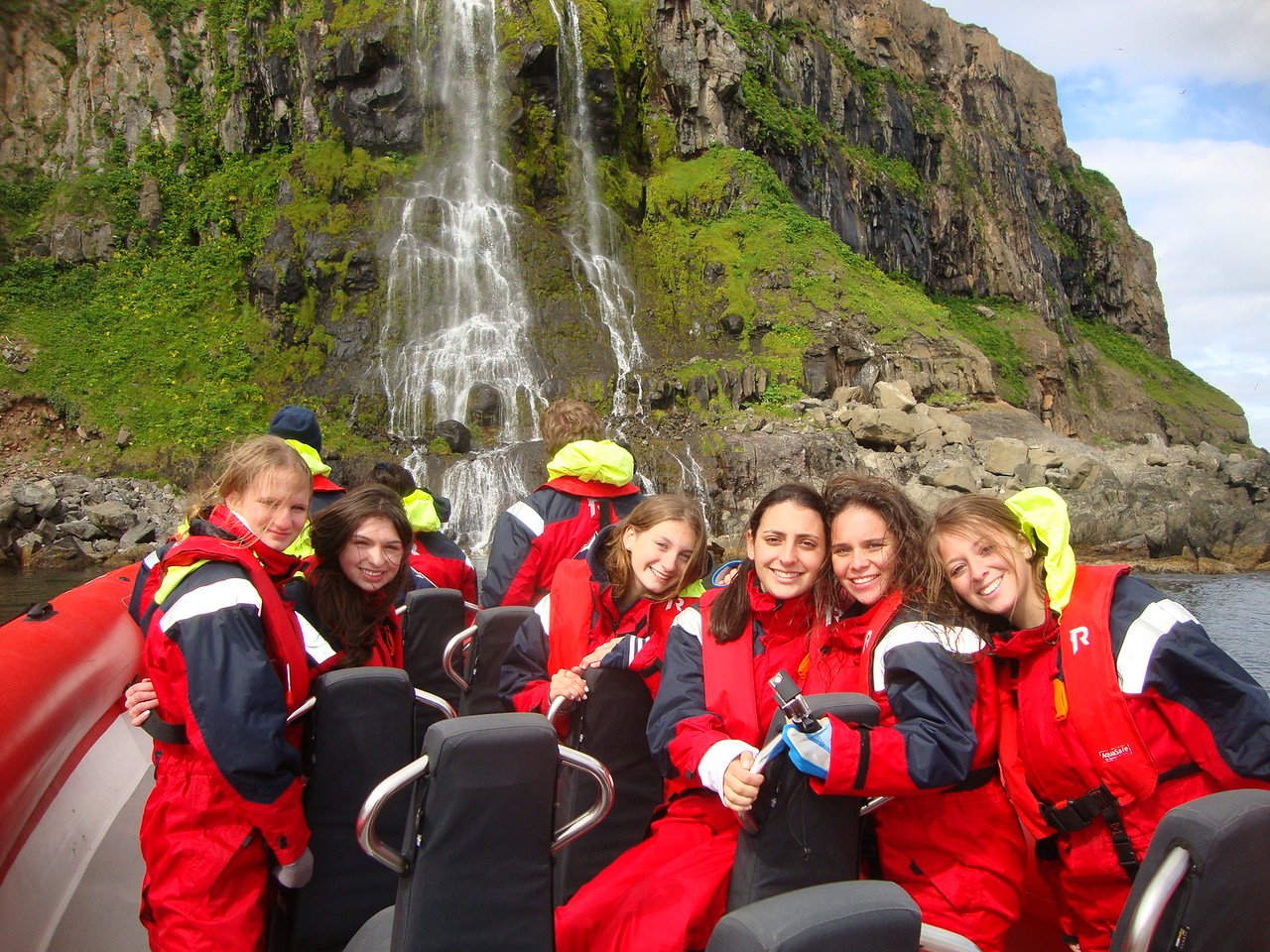 Our explorations of the Snaefellsnes Peninsula in Iceland brought us to some more amazing rock formations along the coast and up to a beautiful light house. The view was breathtaking and we had a lot of fun snapping pictures together. We made it back to Stykkishólmur where we boarded our Viking sushi tour boat. "We saw puffins!!!" exclaimed Brian and Samie H., as they ran downstairs to tell their friends who were enjoying some hot chocolate in the boat's cabin. All of a sudden, we felt a net launch from the back of the boat and we went up to the top deck to see what it had caught. The ship's crew brought over some soya sauce and wasabi and started cracking some fresh scallops and sea urchins for us to enjoy. Whether we used chopsticks or simply slurped the scallops right from the shell, everyone thoroughly enjoyed the very fresh seafood snack. "This was such an incredible experience" said Jules.
Next, we drove to Akureyri, or as the locals call it, "The capital of the north", and were greeted by warm weather and sunshine. The town's colorful houses, local murals and cobblestone street provide a lot of personality. It even has heart shaped red streetlights, an adorable touch for a cute town. After venturing around the city centre, we enjoyed some famous Icelandic ice cream from a local shop called Brynja.   
Everyone woke up the following morning very excited to chase some whales! We headed right to Ólafsfjörður where a speed boat brought us up close and personal with some whales and dolphins. Quentin caught some amazing videos of the whales, as two of the giant creatures came right up to our boat to say hi. Everyone also got to go on a nice long walk along the beach that was surrounded by mountains. There were also many jellyfish on the beach. "It's so pretty everywhere you look out here" Sami K. said. After grabbing lunch in the little village, we made our way to another small fishing town of Siglufjörður, where we met the owner of the Marulfur Fish Factory. Several trip members bravely tasted shark and received a legendary "Rotten Shark Club" certificate. After learning how the company catches, fillets, and stores fresh cod, we were treated to some fresh fish at the factory's restaurant.
The following day we explored the geothermal area of Námaskarð and the Goðafoss Waterfall. We made our way through the sulfurous areas, exploring the colorful desert-like area of bubbling and steaming grey-blue mud. It was truly something else! Upon learning that many of us are Game of Thrones fans, our guide led us on a hike to a scenic cave filled with gorgeous blue thermal waters that was featured in an episode.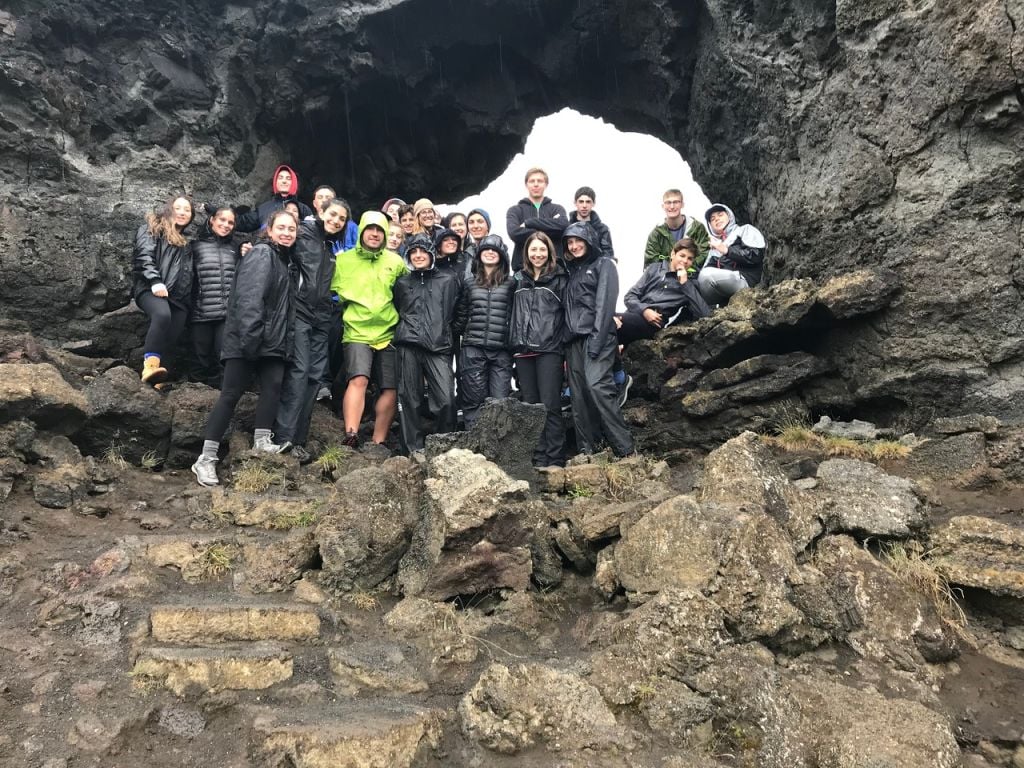 Next, we hiked up a lava rock formation to the Hverfjall Crater, where we bumped into country music legend Reba McIntyre! She encouraged us to keep hiking to the top. The crater was really neat and unlike anything else we've seen thus far. The whole area was made of volcanic ash.
Today we completed our last hike in Iceland at the Hlíðarfjall Ski Resort. Everyone was encouraging each other the entire way up and we all made it to the top in record time. At the top, we were greeted with some snow – we had a blast sliding and making snowballs and snow angels. The view from the top was incredible and we took pictures with the beautiful stream of water that was flowing alongside us during our hike. Once we returned, we had time to explore the city before completing an awesome photo scavenger hunt all around town. The sun was shining and there were lots of people enjoying the gorgeous day outside. After a few rounds of shooting pool and quality bonding time, everyone was full of smiles as we headed back into the quaint town of Akureyri for our last dinner in northern Iceland.
The Westcoast Blogger
Does whale watching and hiking interest you? If so, check out our incredible 16-day and 24-day Iceland trips!