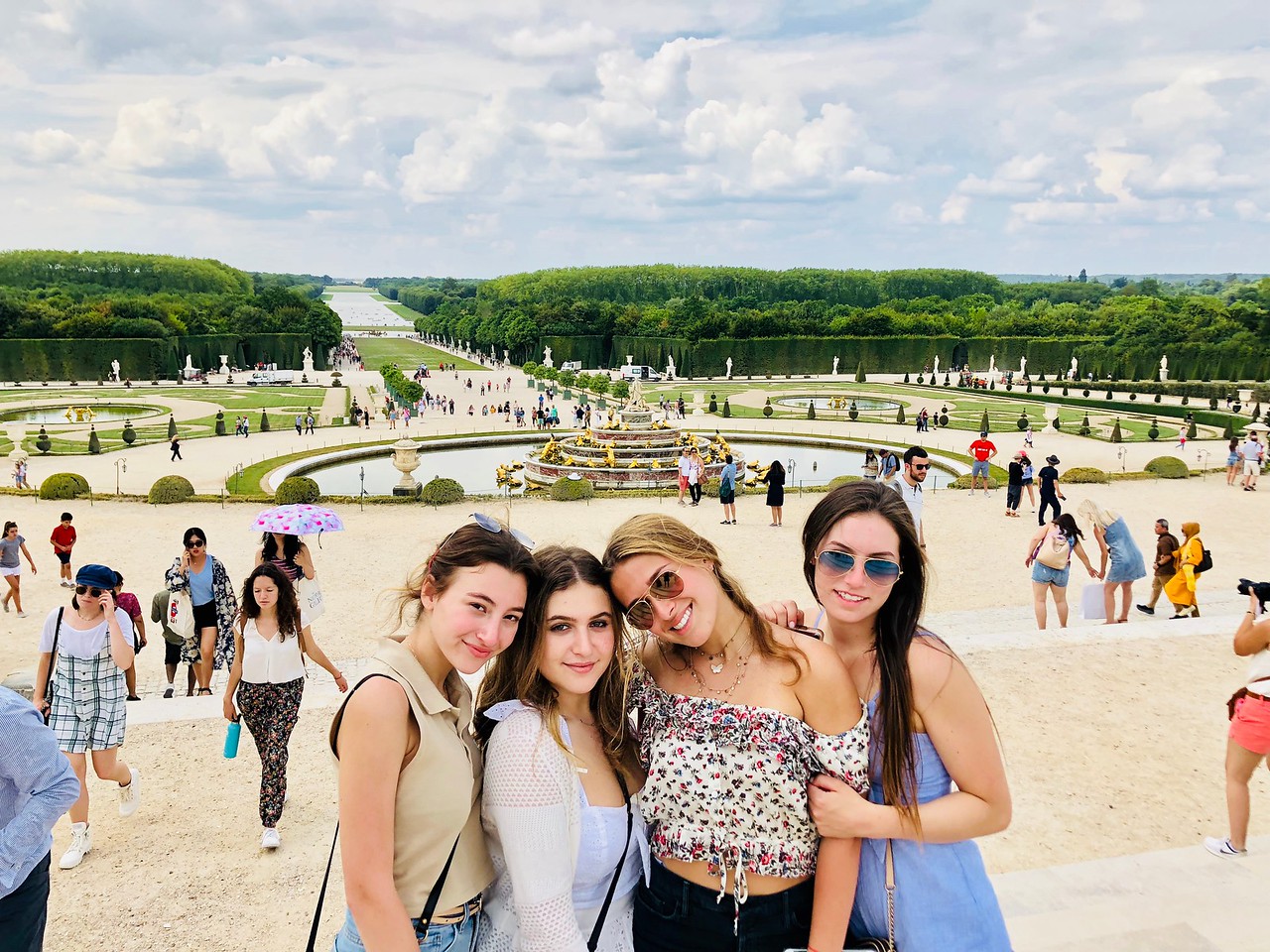 With an itch for adventure, our trip of a lifetime began! Our enthusiastic staff team greeted our trip members with a giant welcome sign, creating a friendly, family atmosphere. To start things off in Amsterdam, we headed straight to Museum Square for ice breakers, name games, and a beautiful picnic in the park. Games such as 'Where The Great Wind Blows', allowed us to recognize our similarities, and celebrate our differences. It turns out that this is the first time many of us have been to Europe! Later that evening, we enjoyed our first European dinner on the patio restaurants of Rembrandt Square; a beautiful and lively area of the city.
We started the next morning singing Happy Birthday to Brett and Adin, and the day ahead was certainly a birthday to be remembered! Visiting the Anne Frank house was an emotional experience, which provided a visual perspective of historical events. We later learned that Van Gogh was an incredibly talented painter, and that missing an ear does not make you any less of a painter. For dinner, we experienced our first 'progressive dinner'; a three course meal, with each course at a different restaurant! During dinner, we learned more about each other playing games and having intriguing conversation starters. We also experienced beautiful Amsterdam at night, where the lights sparkling on the canals was a beautiful sight to see. The highlight of the night was watching World Cup soccer in Europe, as people here take their football very seriously! We also learned how to navigate the thousands of cyclists in the city of Amsterdam and enjoyed riding along the canals like locals.
Next, we were on our way to Paris! Basking in the Parisian sunshine, we took a spectacular group photo at the Notre Dame Cathedral and enjoyed an unforgettable sunset boat tour on the Seine River. Many of us would agree with Rebecca when she said she "wants to live in Paris for the rest of her life!"
The following day, we appreciated the sculpting talent of Rodin at the Rodin Museum. We then saw what it was like to live like royalty, walking the majestic gardens and admiring the Hall of Mirrors at the beautiful Palace of Versailles! That evening, we enjoyed a wonderful dinner and showed off our singing voices with karaoke. Its safe to say that our trip does not lack any enthusiasm or musical talent!
Our last day in Paris began with taking selfies with Mona Lisa and learning fun facts about some of the world's most spectacular works of art at The Louvre Museum. Looking back on our group photo outside The Louvre will bring back memories to last a lifetime! Then it was time for some window shopping on the famous Champs Elysees, and some exploration of the art district of Montmartre, and the majestic beauty of Sacré-Cœur Basilica. After all of this excitement there was no better way to end our adventures in Paris, than by watching the beautiful sunset from the top of the Eiffel Tower! A full panoramic view provided us with a new appreciation for the size of the city, and views not soon to be forgotten.

With Paris behind us, we are very excited to see what's to come next in Annecy! Au revoir Paris and we hope to see you again soon!
The Westcoast Blogger
Ever wanted to live a Parisian lifestyle? Read more about our 28-day ON TOUR European Experience!