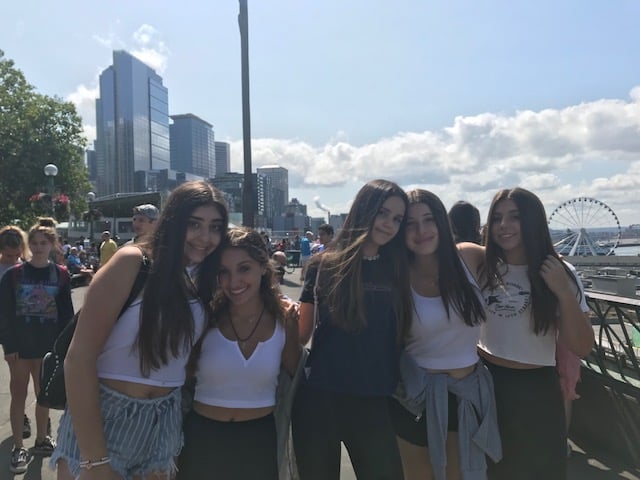 We kicked off our Canadian adventure in Vancouver, B.C. Upon our arrival, we explored the Kitsilano area and enjoyed a game of laser tag. The next day, we went tandem biking around Stanley Park, Vancouver's first and largest park. It was the most beautiful day and the sun was shining as we biked around on tandem bikes. It was funny to be on a bike with another person! Later, we visited Granville Island, a former industrial site that has been transformed into a neighborhood with many unique shops and cafes. We sampled fresh fruit, chocolate, and pickles at the market and explored the amazing artwork and graffiti.
We walked along Robson Street, the core of Downtown Vancouver's. Here, a few trip members even tried flavored grasshoppers! We ended the day at Flyover Canada where we 'soared' across the country and admired its breathtaking scenery.
We woke up the next morning and headed to the Capilano Suspension Bridge. It was awesome! To end our time in Vancouver we had to try out a Canadian delicacy, poutine!
We then hopped on the bus and made our way towards Whistler, staring out our windows in awe at the amazing landscapes on the drive north. Starting our time off in Whistler with the most thrilling adventure, we hiked and climbed Whistler Mountain on our Via Ferrata adventure. Feeling accomplished, we made it to the peak and admired the incredible views from up top. That night, we baked cookies together and enjoyed a fun night laughing about our day.
We also had the chance to mountain bike around Whistler! Some trip members played football at Rainbow Park while others hung out by the lake.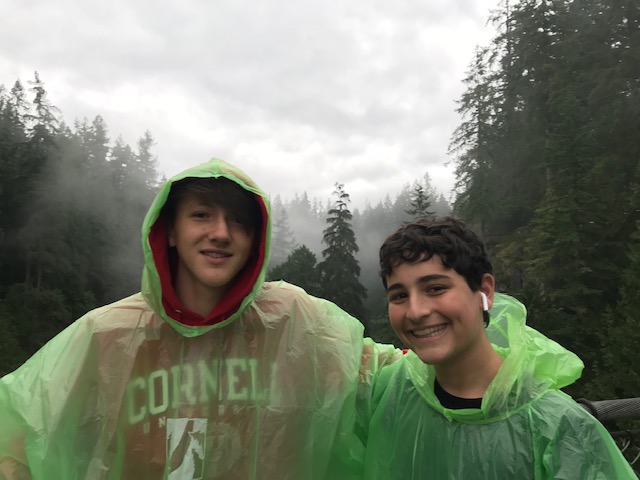 Next up was Seattle! Here, we played Whirlyball, a combination of bumper cars and basketball. It was a blast! We explored Pike Place Market, where we saw the famous flying fish and tried delicious local peaches. Then, we made our way to the Museum of Pop Culture, where we got to sing and learn how to play instruments. Our group ended our time in Seattle with a visit to the Space Needle where we went 600 feet up in the air!
It was cruise time! We boarded the Carnival Legend and set sail to Alaska. It was absolutely beautiful and had so much to offer. In Alaska, we went whale watching, saw glaciers, pet eight-day-old puppies, learned about the Iditarod dog sled race, and kayaked on the Pacific Ocean.
We've had a blast this summer and we will miss our trip 75 family but we are returning home with memories that will last a lifetime! We hope you enjoyed hearing about our amazing adventures in Hawaii, Vancouver, Whistler, Seattle, and Alaska!
The Westcoast Blogger
Looking for the summer of a lifetime? Check out our 27-day Hawaii and Alaska teen tour! To browse all of our programs, click here.