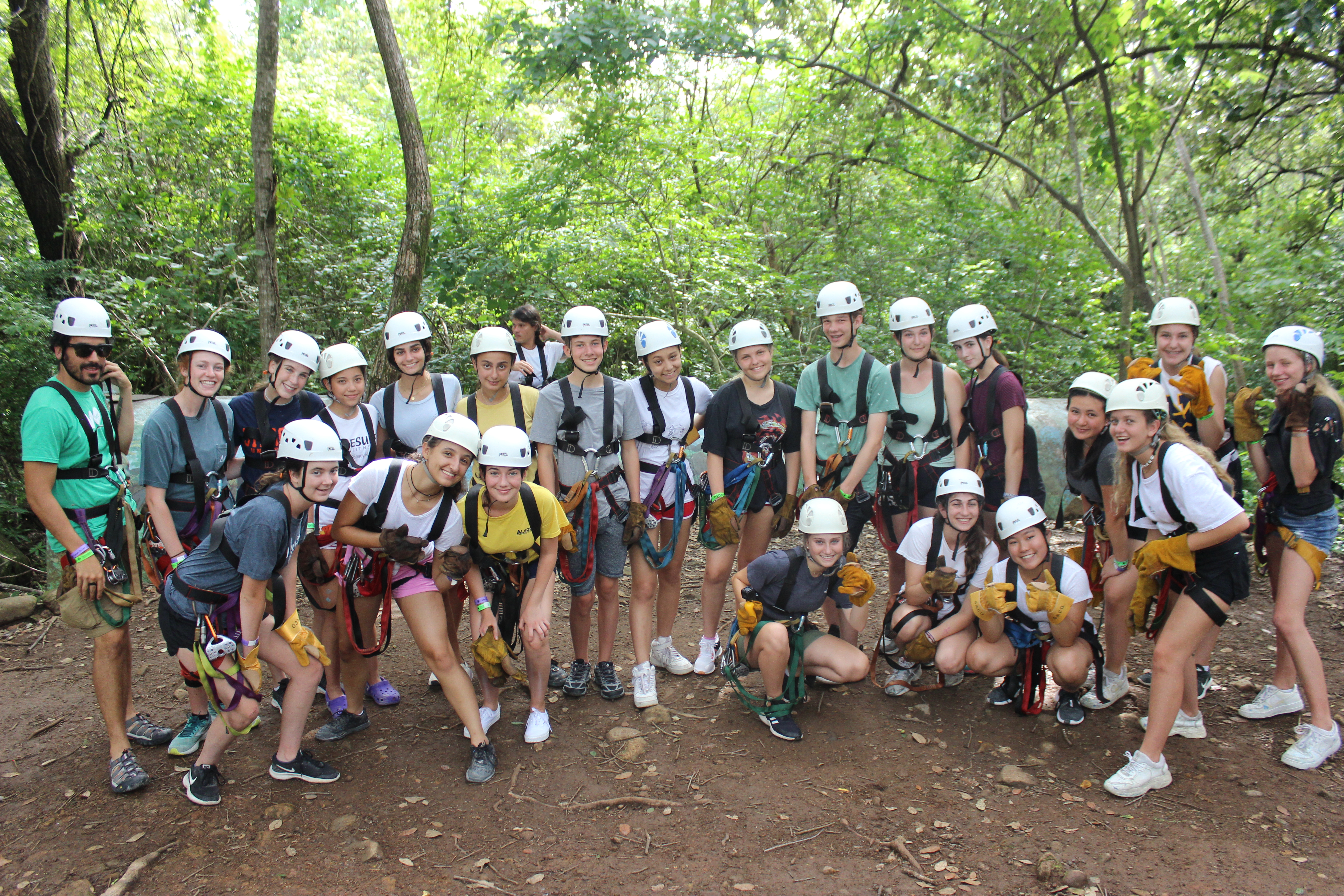 We left Flamingo and headed to our stunning Eco Resort in Rincón de la Vieja. To start off our time here, we were excited to zipline over the canyons and waterfalls. As we ziplined, we could smell the fresh jungle air, hear the exotic birds chirp and feel the wind blowing on our faces. There is truly nothing like this place back home! 
Our jungle explorations did not stop there. We woke the next day eager and excited to learn more about Rincón de la Vieja. On our hike, we found the perfect location for a morning swim, the Las Chorreras Waterfall! We were blown away by its natural beauty and we had a blast swimming in its refreshing bright blue water. Our guide, Diego, brought us to a second waterfall called the Oropendola Waterfall. It was magnificent! Afterwards, we hiked through the jungle and crossed a hanging bridge, taking in our beautiful surroundings. 
That evening, the group enjoyed the Volcanic Mud Baths and relaxed in the natural hot springs before it was time to head back to San Jose. 
Back in San Jose, we were introduced to the empowering founder of the Costa Rican Humanitarian Foundation, Gail. She told us about how she came to Costa Rica over two decades ago with the Peace Corps to bring aid to a small village called La Carpio. There, she witnessed the poor living conditions and poverty of Nicaraguan immigrants who were not entitled to the same education or medical care as the citizens of Costa Rica. 
Gail taught us about the importance of helping people in these communities and encouraging them to work hard to turn their situations into an upward spiral. She also shared a story about one of the women from La Carpio named Nela. Program members even had the chance to meet Nela and work with her directly to beautify the streets of La Carpio.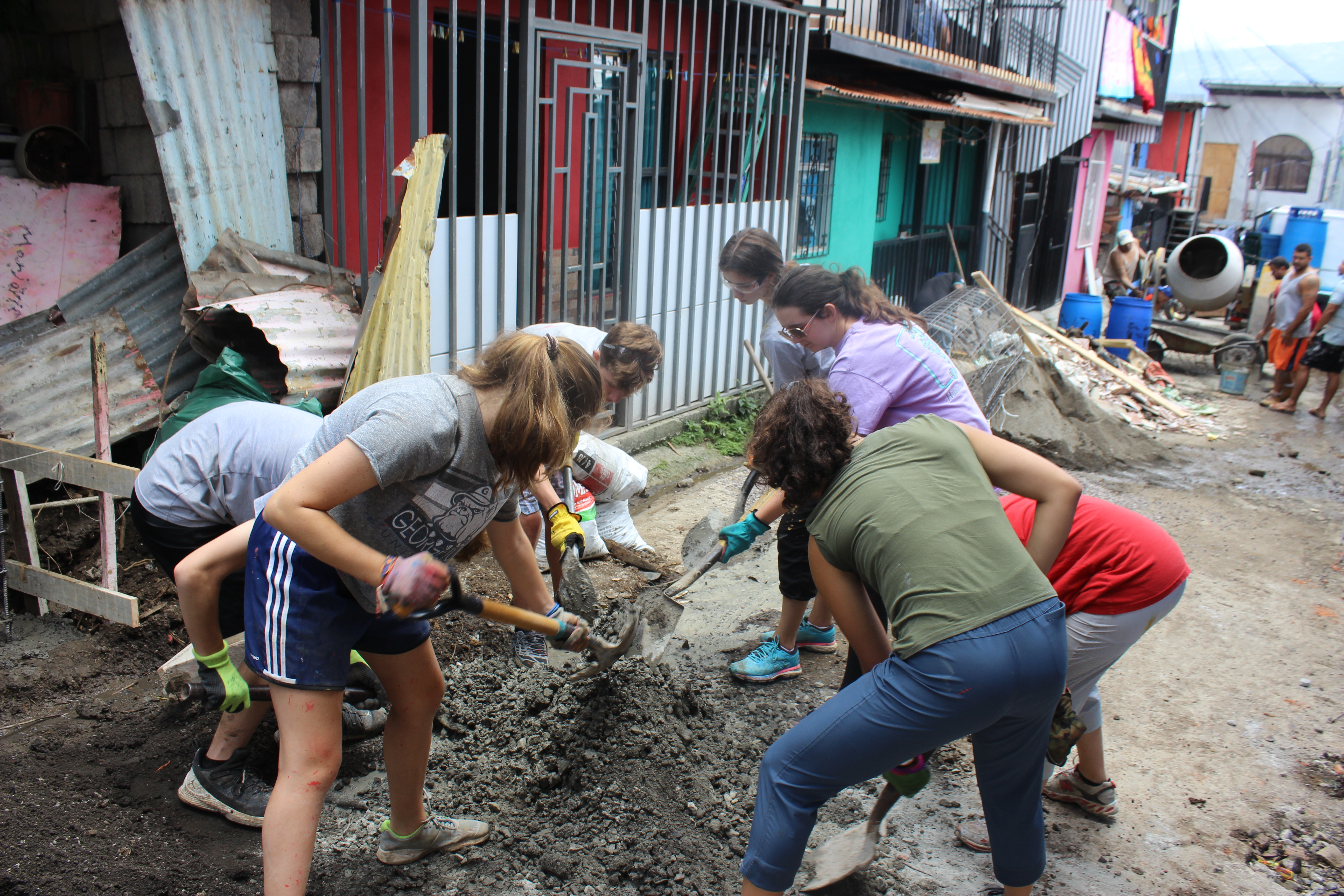 During our service, we also painted houses, lead a parade for the local children and began the construction of a brick wall. The children of the community were so happy and excited to meet and play with our program members. With faces painted, drums banging, and dancing throughout the streets in silly costumes, they kept our spirits high. 
On our second day in La Carpio, we continued with our painting and began to mix cement for the construction of the wall. That afternoon, we were so fortunate to watch a play that the Abuelas of the community put on for us about their unique life challenges. 
From the people of La Carpio, program members learned that through teamwork, creativity, resilience, and laughter, anything is possible! 
That night, we went to the movie theatre to watch the newest Spiderman! Café Britt was our next location where we got to taste different types of coffee and enjoyed an educational tour. We learned how coffee is made right here in Costa Rica! Heli even got selected to go up in front of everyone and show us all the proper way to smell, taste and even slurp your coffee! We ended our night with some bowling. 
The meaningful community service project that concluded our time here is one that we all hold close to our hearts. Partnering with the Costa Rican Humanitarian Foundation once again, we were able to run kids camp programming for two days for the children of La Carpio. This camp was so important for these children as there are no green spaces or public pools in the community. Each one of us paired up with a special buddy for the two days and we were able to offer these experiences to them and show them an amazing day. We swam all together and played on the swings. 
After visiting La Carpio and seeing the conditions the children live in, it was incredible to see how joyful they still are. We felt so lucky to be able to impact their lives in some way. 
To conclude our service experience, we celebrated all of our hard work with some ice cream and karaoke. We sang so many songs but the highlight was definitely when the whole group came together to sing our program's anthem, 'Saturday Sun'. 
On our final day together, we headed out for a whitewater rafting adventure on the Pacuare River! The river was beautiful, with green foliage and waterfalls; it is no question why it has been rated one of the Top 5 Rivers by National Geographic! 
It is time for our familia to say goodbye to one another but we will never forget the memories we have created, the bonds we've shared and what it truly means to live the Pura Vida way. On this trip, we have tried new things, stepped out of our comfort zones and have helped those who needed it most. 
Thank you for following us on this journey! 
The Westcoast Blogger
Does exploring Costa Rica through community service and adventure activities sound like fun? Read more about our various service opportunities in Costa Rica here! To browse all of our programs, click here.