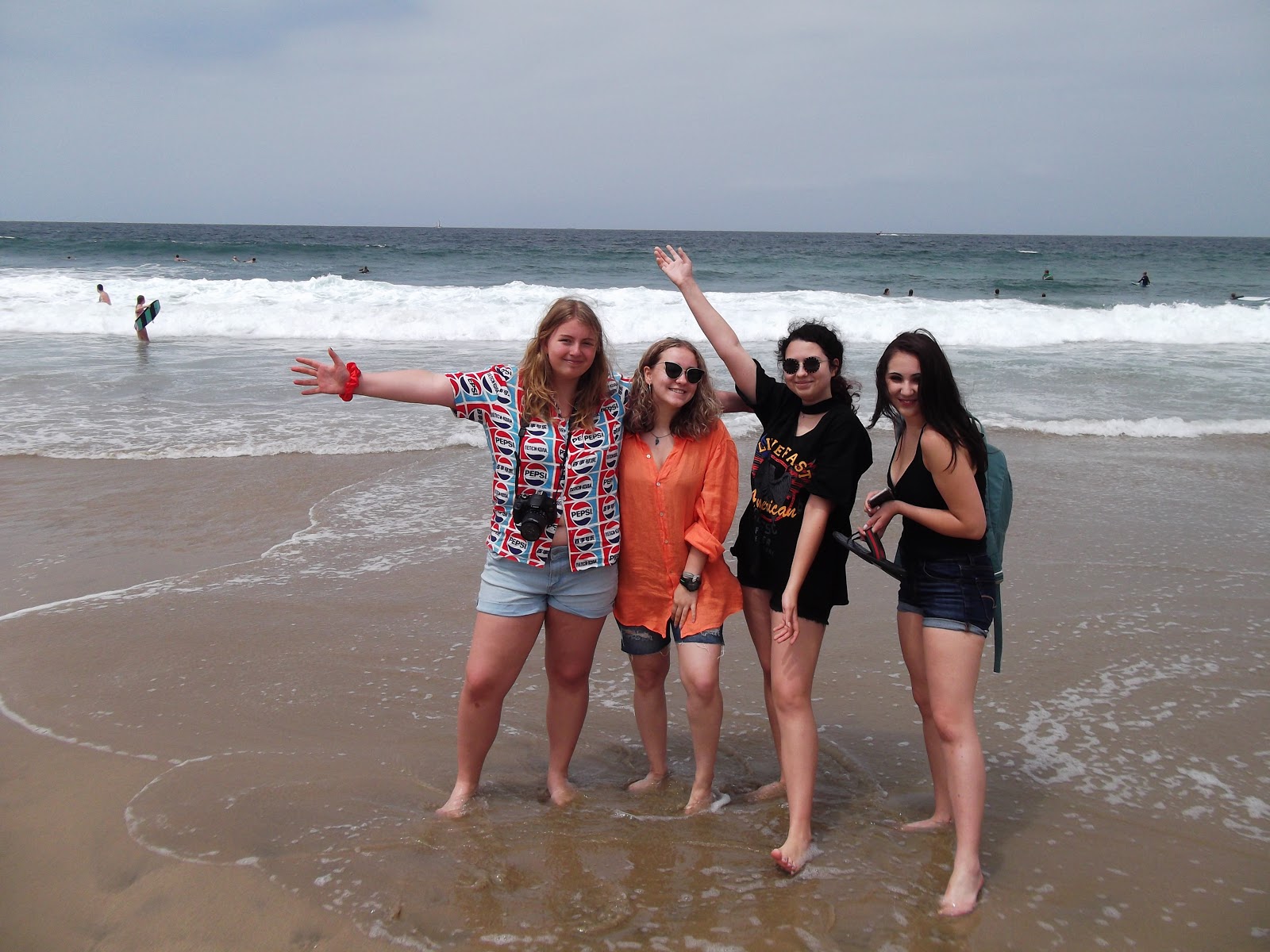 Scene 1: This is Hollywood
After another great day of classes, we split up into two groups and ventured out to discover two new places in L.A. – Santa Monica Pier and Hollywood. 
In Hollywood, we visited the Hollywood & Highland Mall and ate among the (Walk of Fame) stars! Our program members visited the Chinese Theatre and saw the hand and foot prints of many famous artists. A few lucky program members even spotted Beyonce as she was entering the premiere of Lion King. Others saw 90210 actress, Jessica Lowndes! Talk about a star-studded evening! Of course, we also checked off a key item from our wish list: See the Hollywood sign!
In Santa Monica, we walked along Third street promenade and had the chance to listen to many talented street performers cover some of our favorite songs. We also strolled along the pier, enjoyed arcade games and even got to ride the Santa Monica Pier Ferris wheel!
Scene 2: Fourth of July
In honor of the festivities, we had a day off from classes and definitely made the most of it. Our day began at Manhattan Beach. Some had an amazing time in the beach waves, others took the time to relax in the sun, and many program members got active with games of volleyball and football. We also had some time to check out the adorable restaurants and boutiques nearby. Later on in the afternoon, we boarded the bus and headed to the Dodgers Stadium for a night of baseball. The LA Dodgers faced the San Diego Padres and won! It was awesome to be in the heart of the action and feel the fans' energy. To end the night in style, we stayed at the stadium for an amazing fireworks show. It was truly beautiful! 
Beach, baseball and fireworks – July Fourth at its best!
Scene 3: Exploring La La Land
On Saturday morning, our College expert, Shari, gave us a crash course on College Applications. We also had the chance to hear from one of Shari's past students currently completing an amazing internship in California!
Following our College prep session, we hopped on the bus and headed to Universal Studios for a day of fun! Here, we immersed ourselves in the movie world. We learned so much about film production during our studio tour and had tons of fun on all the rides. We were also wowed by awesome special effects and pyrotechnics during the Waterworld show. 
On Sunday, we visited the iconic Venice Beach boardwalk. At the skatepark, the skateboarders' blew us away. We also enjoyed watching some of the basketball games and the art created by graffiti artists. We later walked to Abbot Kinney road and checked out the cute boutiques and cafes in this area. 
We ended our weekend in (80s) style with some roller-skating! We had a blast jamming out to some tunes and spending time with our friends. A lot of us also freaked when we spotted the actress and model Paris Berelc! Needless to say, we had a great weekend and truly made the most of it. Now, it's back to class for some more learning. Read about what we've been up to below.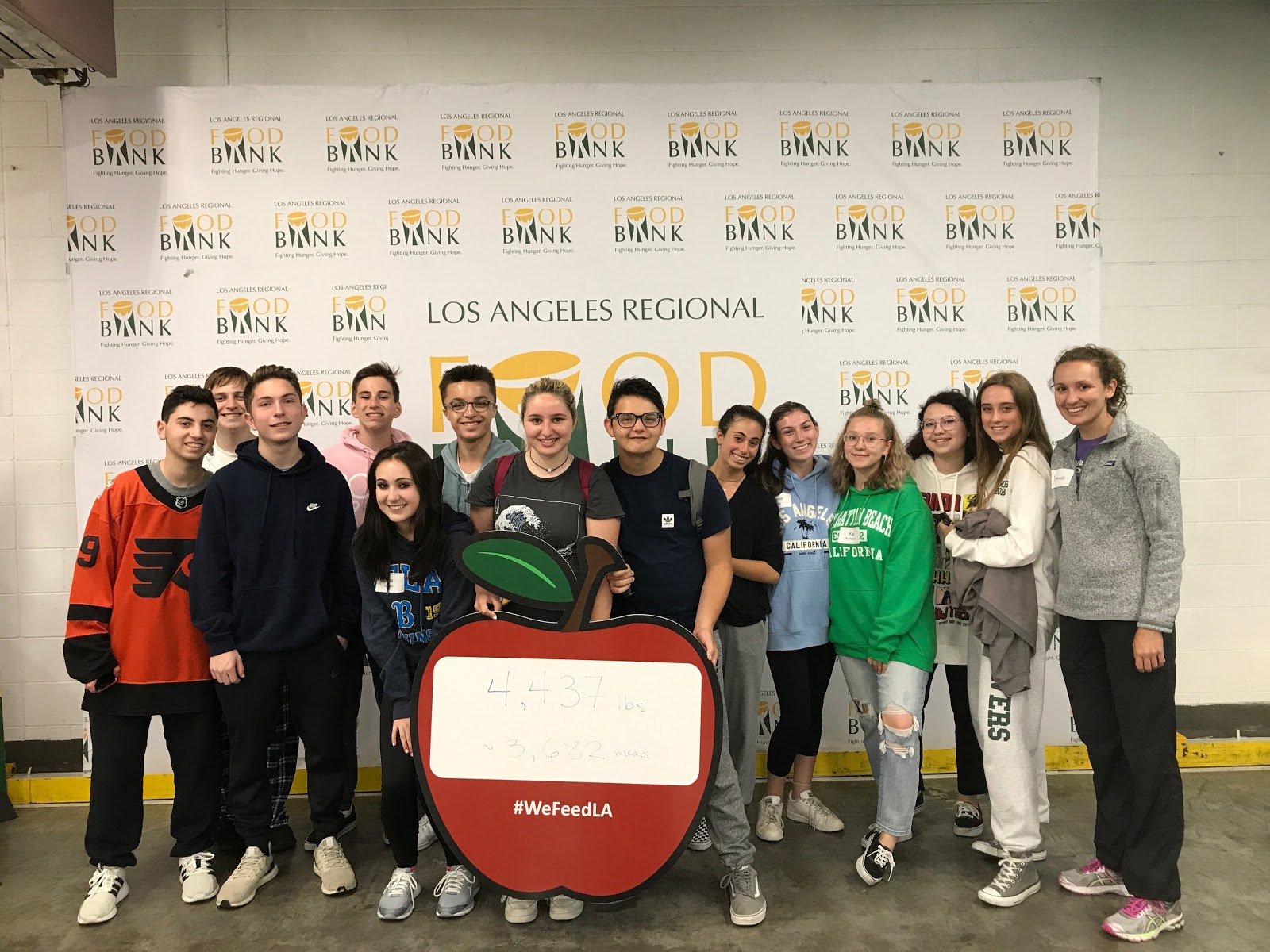 Scene 4: In the classroom!
In Entrepreneurship, students discussed the problem-solution model as the basis for all new ventures. They later identified a problem in their own lives and are in the process of creating their own business to resolve it. Amidst team meetings, SWOT analyses and Entrepreneurship content, our students are also learning some valuable life lessons. 
In Social media marketing, our classes received two guest speakers. Lacey Won shared her experience as a social media manager and showed the students some new tricks to use with Instagram stories. Giannia Mucci, a social producer at ABC, told us about what her job entails and took us through some of her projects.
In psychology, students have been talking about learned behaviors and important theorists including Pavlov. They've also been discussing effective study techniques and why these work better than others.  
Our international business students visited the mayor's office in an attempt to better understand how different cultures and socio-economic statuses affect a city and the global market. 
Our students at FIDM have had the opportunity to hear from many different teachers. In Fashion, they've been practicing drawing techniques and perfecting their use of shading and color. Our visual arts students attended a field trip to the Broad museum and articulated their appreciation of various modern art pieces in class. They also learned how to use Photoshop and Illustrator to enhance their pictures. In Business, FIDM students have been learning about marketing their products, and creating their own logos!
Our surfers have all managed to get up on their surfboards and are having a great time in the waves.
Our cooking students have been busy in the cucina making their own pizza and calzones from scratch. They've also been baking some yummy desserts including churros and brownies. And just in time for July Fourth Weekend, they learned to cook some summer barbeque favorites.
Our sports management students have heard from many incredible guest speakers including retired NFL player Alex Parsons and the Founder of Leopoldus Law. They also heard from the CEO and hosts of Game World News who discussed the future of e-sports with the class. Just recently, the co-founder and CEO of Sports 1 Marketing, Dave Meltzer, spoke to them about what it takes to be successful. 
Our community service participants have been spending quality time with the kids and playing many different games with them. In the last few days, some program members beautified the center by designing a new bulletin board and filling it with inspirational quotes. 
Our students in SAT, TESOL and College Prep have all been hard at work and making great progress.
Bonus Scene: UCLA Basketball Night
On Monday evening, many students attended a fundraising basketball game, the 50k Charity Challenge. Excitement was very high as we cheered on various celebrities, including Floyd Mayweather, Rob Gronkowski, Pac-man Jones, Nick Cannon, Kyle Kuzma and Colton Underwood. Some of our program members even managed to snap some pictures with the celebrity players! It was a night of fun for a good cause as all the funds raised were donated to the winning team's chosen cancer charity.
Bonus Scene: Afternoon fun
After a full week at UCLA, we've really gotten into our college student groove. After full days of classes, our campus is filled with chatter and laughter. In the afternoon and evenings, one can spot students playing catch on the lawn, bathing in the sun by the pool, working out at the gym, socializing with new people, or participating in one of our awesome WCC programs (trivia nights, capture the flag, movie nights, music Scatergories and more!)
Act 3 coming soon to a website near you!
The Westcoast Blogger
Do you want to learn, prepare yourself for college, and have fun at the same time? Check out our 28-day pre-college enrichment programs. To browse all of our programs, click here.