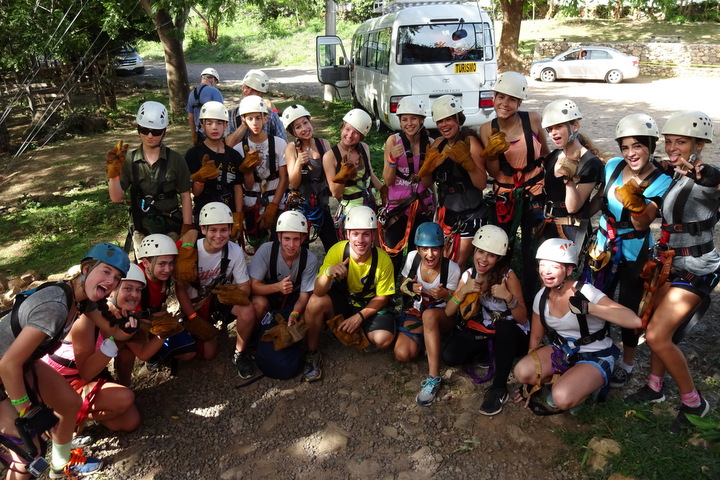 It was a day of hard work and happiness as we wrapped up our first service project. With the foundations laid we had one thing left, to leave our special mark. As a group we held a blessing ceremony: by burying one dollar signed by the entire group, a Canadian loonie and a colone, we together left our best wishes for the families and community we had spent time with. These three currencies stand to represent the three nationalities that came together to build the home. Wishing the family prosperity, happiness and love, presented en español by our very own Josh, Nicole and Kylie.
Before leaving the service site we were surprised by some children we had met at the local soccer field; they had come to see us off knowing that we would be leaving the next day. It was a really special moment that we got to share and though we said goodbye, the memories of this experience will remain.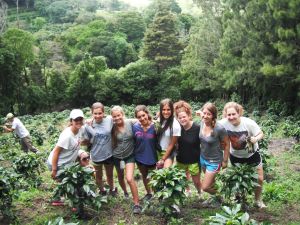 Following a strong start as a group working with these amazing communities, we came to Rincon de la Vieja where we are staying at an amazing hacienda on the edges of the cloud forest. Our time here started with a high intensity activity: zip-lining! There were some shaky nerves but like any good family we pulled together for an incredible experience. You start by climbing the platform, then you get clipped in and, seconds later, you're soaring over the tree line. Continuing through the zipline course you could hear the water flowing below and the birds flying above. We knew we were in for a treat but couldn't predict the amazing views we would see next. Starting with crossing over the ravine, then down into the canyon we continued to challenge ourselves with a site for rappelling, rock climbing and a tarzan swing! We had so much fun! We gave a special thanks to our great instructors who made us comfortable the whole way through. Some trip members were so comfortable that they took zip lines hanging upside down! Talk about a change in perspective. Upside down or not, our next direction is forward.
Pura Vida!
The Westcoast Blogger