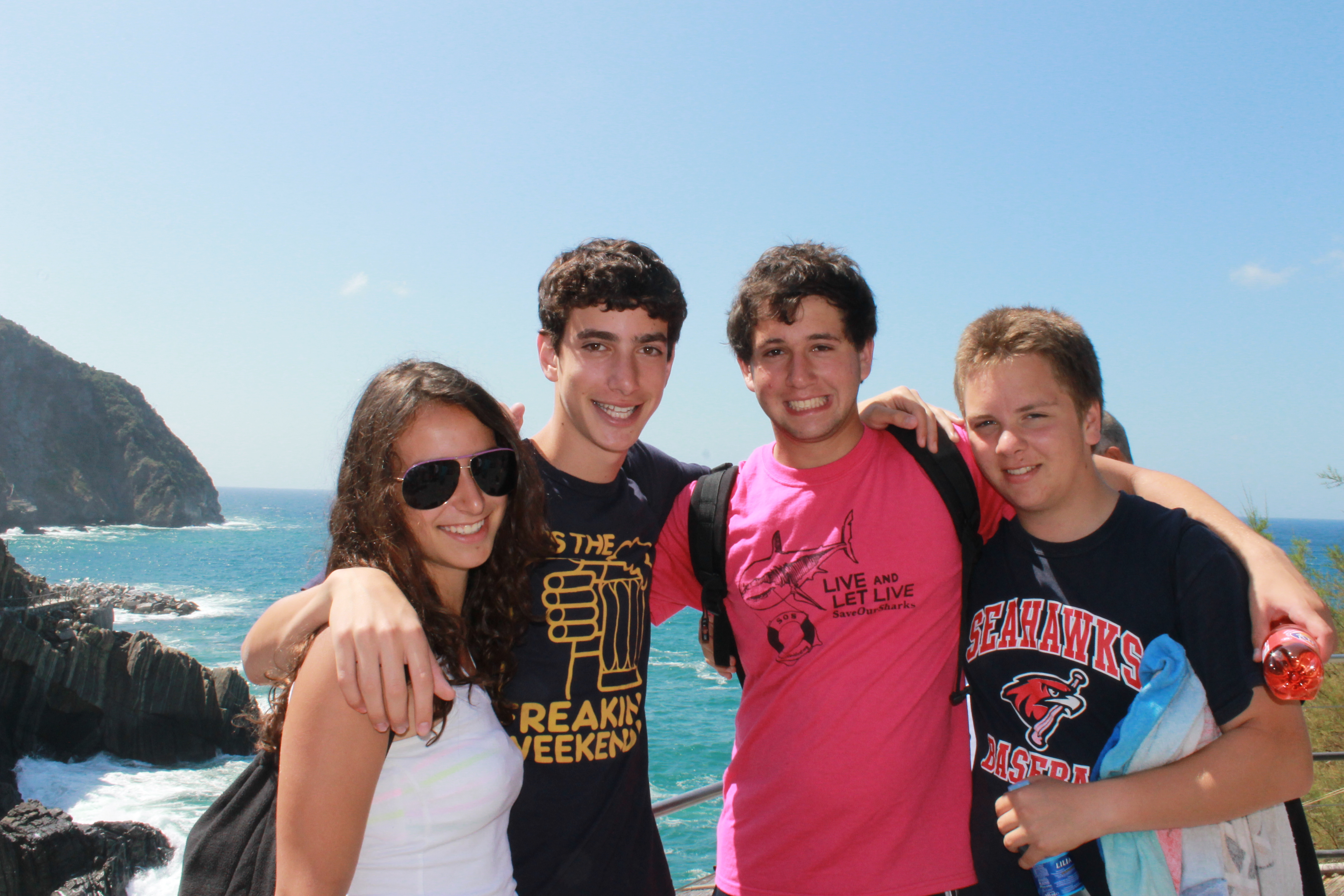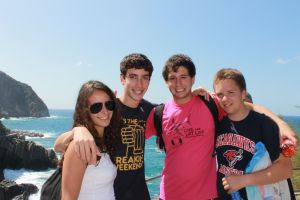 From baguettes and crepes to weinerschnitzel and chocolate fondue, our group has made its way through France and Switzerland and we are currently on a high speed train headed for our first stop in Italy, La Spezia.
Interlaken was great fun. We reached new heights at the indoor ropes course, where Jenny's shrills of joy echoed throughout the entire facility. The high ropes course consited of five routes of obscure challenges like riding a mini bicycle on a tight-rope and scaling rock holds that resembled giant stalagmites – and all five routes were suspended 20-feet off the ground! Jeremy was impressed by the fact that the ropes course offered various challenges and provided a pretty good workout.  Emma also commented that her ropes experience far exceeded her initial expectaions and she really enjoyed all the zip-line components that were offered. The ropes facility was located in the town of Grindelwald, which was a short and very scenic train ride from where we were staying in Interlaken. Trip members had some time to explore Grindelwald and everybody explored all the cute shops that lined this picturesque town.
Our group's waterbabies had their time to shine when we spent the morning at an extensive outdoor aquatic center. Sunny, Sam, and Zach raced in friendly competitions, while Jenny, Mike S., Alex S., Aidan and Alec braved the 10-meter diving platform. The aquatic themed day continued into the afternoon as we set out on the Simme River for an awesome white water rafting adventure. Our rafting guides were very knowledgable and friendly and they commented that we were one of the best groups they had seen all summer! Josh had an amazing time on the water and we all dubbed him Captain Jack Sparrow of our small fleet. The group looked awesome, all "kitted" (as the river guides say) up in helmets and wetsuits, with huge grins in every direction.
Of course, no trip to Switzerland would be complete without sampling some of the finest chocolates in the world. Bennet was very pleased with the chocolatiers in Interlaken and was ok with the fact that his usual evening treat of Nutella crepes was replaced with beautifully decorated chocoalte truffles. Cheese and chocolate fondue were also very much a part of our Swiss experience and everyone had a good laugh when our waiter chose Remi to be the cheese fondue demonstrator at Bebbi's, one of the traditional Swiss restaurants where we dined.
Evenings in Interlaken were spent at the local billiards hangout where Bennet, Aidan, Alec and Mara played several rounds of pool, while Shayna showed us her foosball skills. Special thanks go out to Sam and Jenny for organizing  and running the comical game of the Bachelor/Bachelorette one night. The group is doing well and everyone is enjoying their European adventure. France and Switzerland were awesome and we are eager to see what Italy has in store for us!
Hope all is well back at home!
The Westcoast Blogger