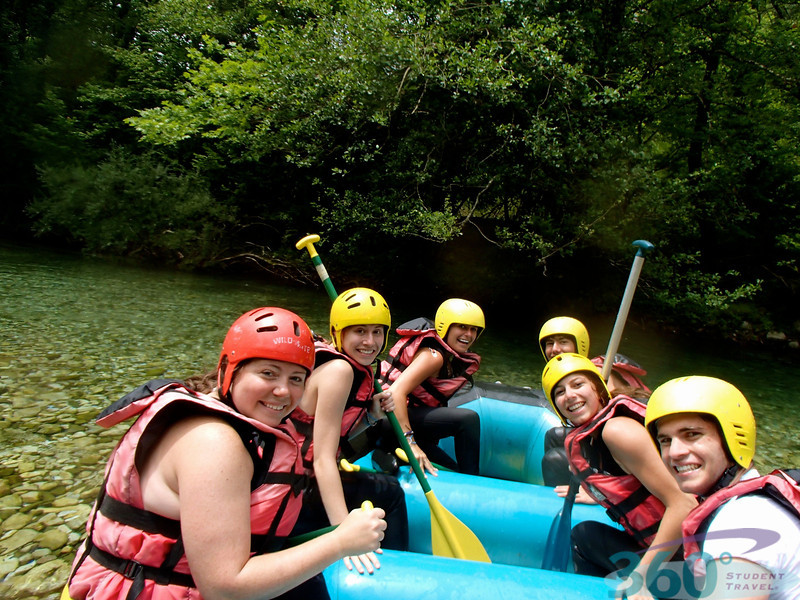 Dear parents,
Yasou from Greece! The ferry arrived and we made our way to the quaint beach town of Sivota. Restaurants with comfy chairs line the harbor and many of us relaxed as we watched the boats coming in and out. We walked to our first beach of the summer to swim in the turquoise waters. That night, trip members had the opportunity to watch the sunset from the docks, and a large group played some beach volleyball that night at the hotel.
The next morning was perfect for a kayak trip to a beach across the water. Eli chose to man a single kayak and went for a quick swim in the sea along the way. At the beach, our guides gave us fresh watermelon to snack on before our return trip while Jack and others skipped the smooth rocks on the shore. Lydia and Rachel paddled with ease and reached the shore first on the way back. Later that afternoon we tried tubing, which was instantly a hit on the sea with the majestic Greek mountains behind us. One tube had room for 4 people, and Dan bravely stood up at one point for a more exhilarating ride. That night we checked out the neighboring town of Parga for a sunset dinner.
Next we were off to the mountains. We stopped in Ionnanna to wander through a fortress and ferry to a nearby island. Sascha, Victoria, Kalee and Renee purchased batches of the local baklava but finished it soon after. In the mountains of Monodendri we visited the enormous and breathtaking Vikros gorge and still-in-use ancient bridges.
The mountains served as a fitting landscape for our first rafting experience. We paddled down the aqua river, hit some rapids, and swam in the waters along the way.  After rafting we found the Popingo lakes. Water cascaded into these natural lakes and some of us went for a swim amidst the waterfalls. Eli, Jack, Casey, Gab, Emily and Dylan climbed rocks around the pools and found a wall of cool, refreshing mud. A mud fight was inevitable, and soon enough, mud was everywhere!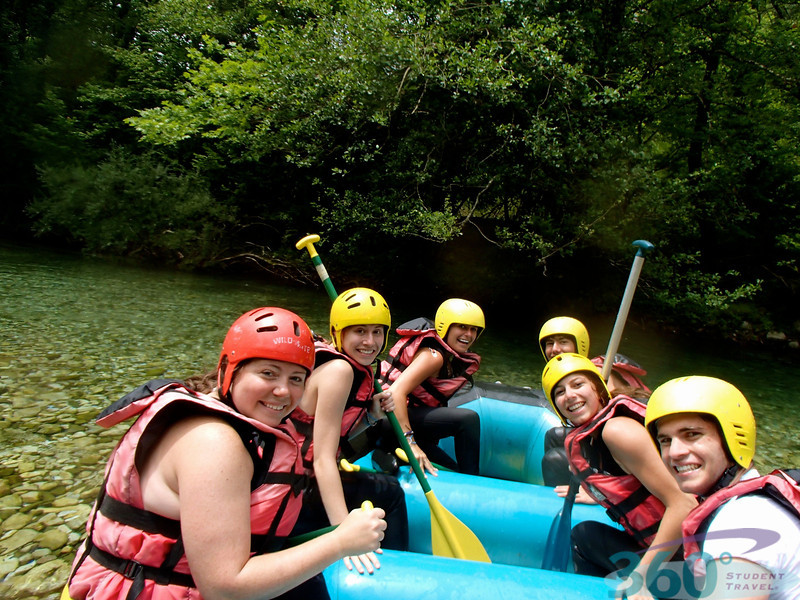 Stay tuned for a forthcoming update on our amazing time exploring the Greek mainland, which has been more mountainous and full of yummy foods and kind people than we ever could have imagined.
Thanks again for letting us get to know your amazing children!
The Westcoast Blogger
If you think this trip sounds like a place, check out our Greece and Italy tour itinerary and plan your own Westcoast Connection experience.
Save