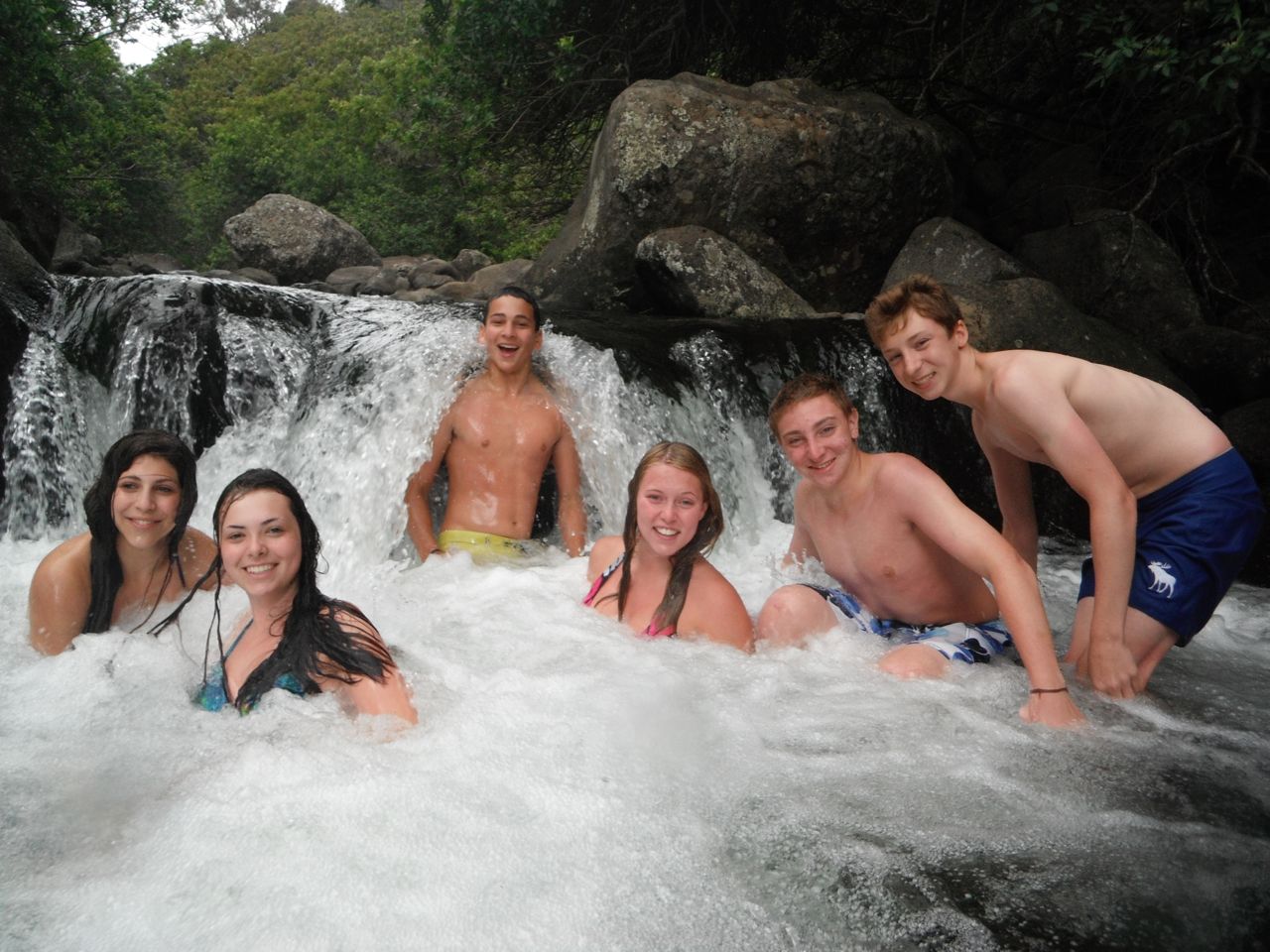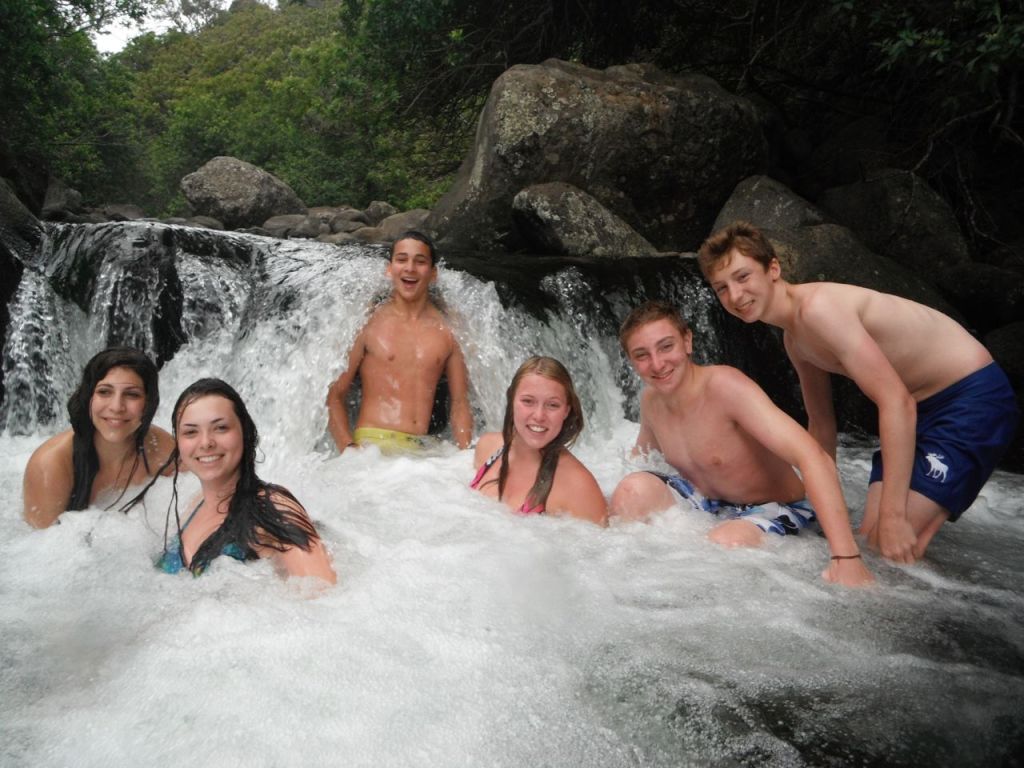 Another update from Hawaii Community Service:
Wowie we love Maui! There is a never a dull moment when it comes to our group. As we boarded the plane to Maui, we met a group of high school wrestlers that were the best in the state of Nebraska. Being the amicable group that we are, we quickly made friends with them on our 25 minute flight and once exiting the plane taught them "the dance move" of the summer. The boys were delighted to help us and we wished them good luck in their tournament as we began our journey here.
After a morning of traveling, trip director, Adam, decided to take us to a local beach, Baldwin, for some rest and relaxation. From the moment we stepped on the sand, all of us agreed that the crystal clear waters of Maui were exactly as they had envisioned them to be. That night, we went into the town of Paia and visited the local Fish Market eatery.
On our first full day in Maui, we were greeted by Nature Jay, who guided us on our first service project here. After a few scenic stops, we made it to one of the rain forests on the island where we were instructed on our task, picking out invasive plants. These plants are not native to Hawaii and harm some of the endangered plants that trying to survive in the rainforest. Jenn, Jamie, and Luciana got into tug of war fights with some roots of the plants while we were working. Even though the job was tough and muddy, we all had a fun time! Afterwards, Nature Jay walked us through the rainforest and explained that we were laulima "working together" to give our mana'o "soul" to the earth and that this concept is one that is taken very seriously with the Hawaiian people. They are extremely serious when it comes to recycling and being "green". While we were at Twin Falls, our group was lucky enough to actually view the twin falls because this only happens when it rains. Sarah, our trip member photographer, took many of the pictures that were uploaded to the website! She is planning on taking the pictures and working with them in her photography course during the school year. Because Nature Jay is so close with the owners of the property, they were kind enough to let us try some pure sugar cane, fresh low acid pineapple, passion fruit, coconut chips, coconut candy, and drink from coconut. Maddie and Carli enjoyed taking the opportunity to try the new and fresh foods and loved it! It was really cool to see the inside of a coconut and watch how the shell of it becomes the spoon as the texture is not something that we expected.
Nature Jay brought us to the Iao rainforest the next day for an education excursion. This rainforest is made up of 4 valleys in a row which are all carved out be erosion from wind and water. It is considered a sacred place because ancestors' bones were buried in caves. As a peace offering, people wrap rocked in tea leaves and place them next to a larger rock. With the guidance of Nature Jay we spent time near a stream near a safe waterfall. Chelsea, Christine, Richard, Jason, and Sam took full advantage of this opportunity and made their way upstream with the trip leaders to sit underneath the waterfall. The rush of water against their skin was refreshing. It was definitely one of the coolest experiences thus far!
To continue with our love for nature, we went snorkeling the next day and we were all able to continue our amazement with mother nature. We visited two snorkel points and both were equally beautiful. At Molokini, our first point, Dani, Victoria, Paige, and Lindsay swam through schools of fish and explored the wonders of the ocean. They spotted yellow fish hiding in the coral and some others playing tag! Our group was lucky enough to also spot some more sea turtles on our way back to port.
Yesterday, we went surfing for our second time and the day turned out to be stunning. Every single member of our group made it into the water and rode at least one wave in! Much to her own surprise, Carli, excelled at the sport. She stood up numerous times and left the ocean with a smile on her face! To prove her athleticism, she and some other trip members bought some pictures from the photographer that was there documenting the occasion! To keep the day going, we visited Lahaina for dinner at night and dressed up the cast from Jersey Shore. We also played glow in the dark mini golf where seven of our trip members received a free ice cream for making a hole in one on the last hole. Once finishing our celebration at Coldstone Creamery, Adam decided to have a sit down chat with the group and SURPRISE, OUR TRIP FINALE COMPETITION BROKE!!! Congratulations to our Generals, Maddie and Sam, and our Lt. Generals Dani and Lindsay!!! We will be sure to keep you updated as we start our time with the Boys and Girls Club.
The Westcoast Blogger