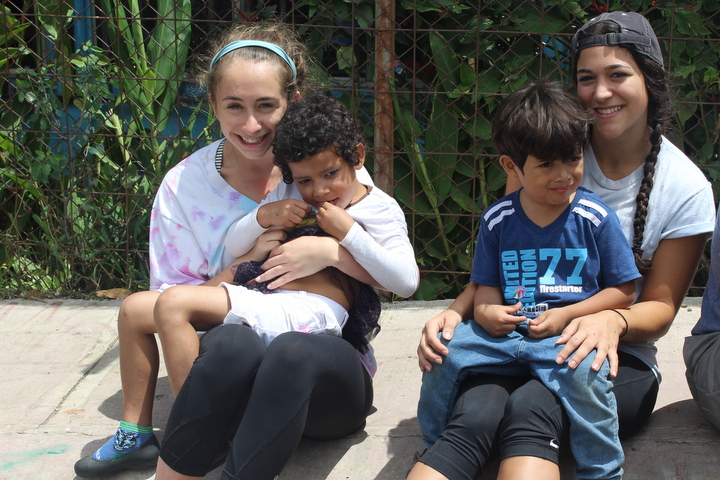 Hemos llegado a Costa Rica! Everyone arrived to aeropuerto Juan Santa Maria where we played different ice breakers as we waited for everyone to join our adventure. Once we had everyone, we headed back to the hotel to play games where we got to know each other a bit more.
On Tuesday we headed off to Volcan Poas. On our way to el volcan we saw a rare two-toed sloth climbing along a telephone line.  Of course we stopped to get some unique pictures of this amazing creature as it made its way slowly past our bus.
Then the group headed to el volcan, where we climbed through the gorgeous primary forests, and just as we got to the top, the clouds moved and we were able to see the emerald lake inside the crater.  It was like something one would see out of a movie looking down through the clouds.
We climbed a little bit more up the mountain, admiring the dense canopy jungle.  Then, we headed back down and had a typical Costa Rican meal at Freddo Fresas. We also enjoyed some delicious strawberries with chocolate syrup and bought some coffee to bring back home.
On Wednesday we started our first day of service where we were introduced to the neighborhood of La Carpio, an area composed of Nicaraguan immigrants outside of Heredia. The founder of the community service organization, Gail, showed us around and then we got down to work.  Half of the crew painted houses in the neighborhood, beautifying the area, and the other half worked with the children of La Carpio in a daycare facility. Every single one of us has a story about this day.  We either made someone smile, we helped someone in need or we learned something about ourselves we did not know before.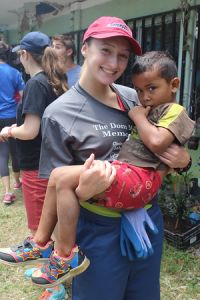 After a touching morning full of first time experiences we headed off to the CPI  escuela for our Spanish test and Spanish classes. CPI is a beautiful school in Heredia. It has basketball courts, a soccer field, many hammocks, and classes with 4-6 students.  While we waited for everyone to complete their tests we played basketball and sat on the hammocks. The tests consisted of an oral and written portion, and the students were placed into their classes to begin studying conversational Spanish. After a long afternoon of learning we had a cooking class. We learned how to make Picadillo de Papa, a typical Costa Rican delicacy made with potatoes, meat, and spices. We had a great time feasting on the delicious food we helped make. Later, we sat together and shared our day's experience and how we felt on this emotional journey.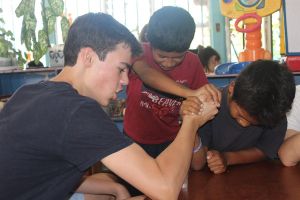 Today we visited La Carpio again, however, this time some of our team members had the chance to help build a road by levelling out an alleyway, while others continued painting the town. We were hard at work shoveling and painting, and were able to talk to the owners who were very thankful. Needless to say we were very excited to have been given the opportunity to work on such an important project. The other half of the team members made a difference with the children of La Carpio by playing limbo, tag, soccer and the common Costa Rican game "la lleva". We helped the students do their homework and practice English while they helped us with our Spanish. We have had some amazing experiences and we are excited to continue our trip through this beautiful country!
The Westcoast Blogger
Have we piqued your interest? Learn more about our Costa Rica language immersion programs and join us on a 21-day teen tour!