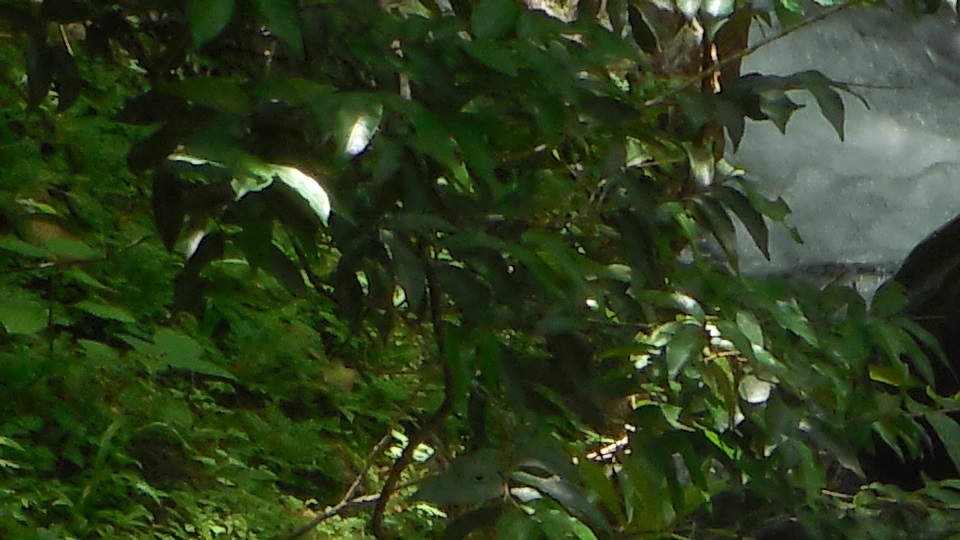 Hi Everyone!
We had so much fun over the weekend. On Friday we went to a beach in Tamarindo. We split into two groups and went surfing. Initially, we had a safety session and  preparation with a surf instructor on land before testing out our surfing skills in the Pacific Ocean.  Gracie and Anna were very brave and were able to get up on the surf board on the first try. Jacob was a pro and was showing the rest of the group when exactly to paddle, so that they too, could get up. Sarah A. had the best posture and caught the most waves. Leah managed to stay up on the surf board for a long time. Rachel, Lauren T and Sarah B had a blast hitting the waves as well. All in all, the kids had an amazing time surfing, and many are hoping to try it out again in the near future!
After dinner, we had a disco night. Simone, Sarah B, Lauren T, Lauren Lee and Zoe hit the dance floor and had the best moves. All the kids expended tonnes of energy, danced up a storm and enjoyed each other's company. On Saturday, we travelled to Rincon de La Vieja and as soon as we checked in we went for a hike to a beautiful waterfall. Maura, Sammie and Samantha took beautiful pictures with the nature and tanned. Chris, Eli and Sam explored around the river and found cool spots to swim (with our lifeguard of course!).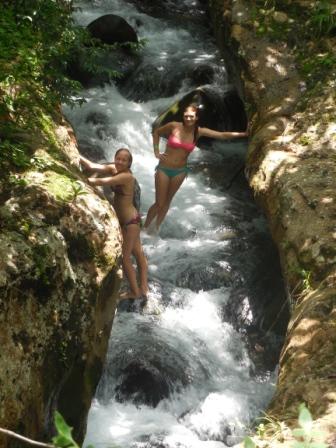 Right before dinner, we went to the hot springs and mud baths. Rori and Leah really enjoyed the sauna while Asher, Noah, Steve and Chris enjoyed their mud bath. After dinner we had "Family time". The kids had split up into groups a few nights before to pick and rehearse a dance, with a song of their choice. It was now time to perform their dances on stage at the hotel! The trip members rocked it! All of the groups had unique songs and completely different dances. One group used a table and their Iphones to do a singing and acting performance. They selected the song "Cups from the movie Pitch Perfect."  Jamie, Samantha, Sonya, Maura, Sammie and Isabelle performed a song by Nsync while sporting matching outfits.
Sadly on Sunday morning, we had to say goodbye to 9 of our trip members. The rest of the group (18 trip members) went on a beautiful horseback riding tour that left from the hotel and led to a nearby waterfall. The trip members were anxious (and a little nervous), as many have only been horseback riding once or twice in their lives. Isabelle did a great job riding on the trail, and was very comfortable on the horse. Eli named his horse Marvin, just like our bus driver. As the horseback riding came to an end, the trip members were happy to have had a chance to ride through the Costa Rican countryside. After horseback riding, the trip members spent some time relaxing by the pool and playing cards. Asher, Eli, Lauren T, and Sarah B. were just a few that played the exciting game of Kemps. In the early evening, the trip members had an eventful scavenger hunt that was planned by staff members Mollee and Alex. The trip members had to find such things as the Costa Rican flag, an American penny from the 90`s and take a picture wearing matching outfits. The trip members finished the scavenger hunt faster than the staff had predicted, but it was a great way to spend our evening in Rincon de La Vieja.
On Monday morning, we left on a road trip to Monteverde. We stopped to pick up some Costa Rican treats along the way. As soon as we got to Monteverde, we were greeted with rolling green hills, clouds covering some of those hills and a quaint community. Everyone was so excited to be in a different location, and ready for the activities that awaited them in Monteverde. Later that afternoon, we went to CPI for our Spanish classes. As with the other two locations for Spanish classes (Heredia and Flamingo), the trip members were welcomed to a lovely Spanish school. There was ping pong, and foosball (for before and after class), but our main objective was to continue to improve our Spanish. The trip members have enjoyed the Spanish classes thus far, and Carrie has come up to the staff a few times to tell them that her Spanish was greatly improving! The classes consist of games such as, bingo, matching, and hangman. These games help the kids stay focused, and get them to actively participate.
So long for now!
Pura vida! Hola !
Este fin de semana nos divertimos mucho. El viernes fuimos en la playa en Tamarindo. Nos separamos en dos grupos y fuimos hacer surfing.  Después de esto, tuvimos la oportunidad de verificar nuestros talentos en surfear en el océano Pacifico. Gracie and Anna fueron muy valientes y estuvieron de pies, encima de sus placas de surf desde la primera vez. Jacob fue un profesionista y mostró al resto del grupo como pedalear y como mantenerse el equilibro sobre la placa.   Sarah A. tuvo la mejor postura y se mantuvo en una posición perfecta. De esta manera Sarah A. atrapó muchas olas. Leah también llegó a mantener su posición derecha por mucho tiempo, sin caerse en el agua. Rachel, Lauren T y Sarah B. también disfrutaron mucho esa actividad y tuvieron la oportunidad de atrapar muchas olas. Para resumir, todos los chicos disfrutaron mucho el surfing y muchos de ellos quieren hacerlo de nuevo muy pronto.
Después de la cena,  fuimos a la discoteca. Simone, Sarah B, Lauren T, Lauren Lee y Zoe (Nuestro PitBull) estuvieron bailando mucho y tuvieron los mejores bailes. Todos los chicos tomaron jugo y disfrutaron de la compañía de sus amigos y amigas. El sábado por la mañana viajamos para el Rincón de la Vieja  y después de chequear en las habitaciones fuimos a caminar a una catarata muy preciosa. Maura, Sammie y Samantha broncearon y tomaron fotos en la naturaleza y con la catarata. Chris, Eli y Sam exploraron alrededor del rio y encontraron lugares preciosos para nadar. Justo antes de la cena fuimos a las aguas termales de Rincón y a los baños de lodo. Rori, Leah y las otras chicas disfrutaron mucho estar en la sauna mientras que Asher, Noah, Steve y Chris disfrutaron más los baños de lodo. Después de la cena disfrutamos un poco de nuestro tiempo en familia. Los chicos se separaron en pequeños grupos hace un par de días y escogieron una canción. También hicieron repeticiones para un baile que iba con la canción. Ahora ya llegó el tiempo para hacer los videos musicales en la escena del hotel. Los chicos hicieron un buen trabajo. Cada grupo tuvo una canción única que mejor los definían. Además, cada grupo tuvieron bailes diferentes. Uno de los grupos usó una mesa y sus IPhone para poder cantar y bailar en el mismo tiempo. Ellos escogieron la canción "Cups from the movie Pitch Perfect". Jamie, Samantha, Sonya, Maura, Sammie e Isabelle escogieron hacer el video para una canción del grupo Nsync. Las chicas fueron muy chistosas y hasta que se vistieron de la misma manera para dar la impresión que son un grupo de verdad.
Desafortunadamente el domingo nos despedimos de 9 de nuestros chicos. El resto del grupo fue montar a caballo en un lugar magnifico. Empezamos en el hotel y fuimos a caballo hasta que llegamos a una preciosa catarata. Los chicos eran entusiasmados (pero también un poco nerviosos) porque para la mayoridad de ellos esa la primera vez o segunda vez en sus vidas que montaron a caballo. Isabelle hizo un buen trabajo y estaba muy confortable montar a caballo. Eli  le puso un nombre a su caballo: Marvin, el nombre de nuestro chofer de autobús. Al final de nuestra caminata con los caballos los chicos eran muy contentos de haber tenido la oportunidad de montar a caballo en la parte montañosa de los campos costarricenses. Después de montar en caballo, los chicos se relajaron en la piscina jugando cartas. Asher, Eli, Lauren T, y Sarah B. fueron unos de los muchos chicos que jugaron Kemps. Por la tarde los chicos jugaron "scavenger" (búsqueda del tesoro) y tuvieron que ir en búsqueda de muchas cosas que Alex y mollee pidieron. Ellas prepararon esta actividad.  Los chicos tuvieron que encontrar objetos como una bandera costarricense, un centavo americano de los años `90 y también tuvieron que tomar fotos con el grupo vestidos en la misma ropa.  Los chicos terminaron el juego mucho maas rápido de que Molle y Alexandra pensaban pero lo pasamos muy bien en Rincón de la Vieja.
El lunes nos fuimos para Monteverde donde pudimos disfrutar de las montañas tan verdes y los nubles que cubrían algunos de las montañas. La comunidad de allí también estaba muy tierna y alegre. Los chicos eran muy contentos de estar en una ciudad diferente y esperaban con entusiasmo ver las actividades que íbamos hacer en Monteverde. Más tarde fuimos al CPI para nuestras clases de español. Igual como en las otras dos ciudades donde los chicos tuvieron clases de español (Heredia y Flamingo), ellos fueron recibidos en una escuela muy linda con muchas facilidades. Había ping pong, foosball, piscinas y jacuzzi para antes y después de las clases. Nos paramos en el camino para comprar unos dulces. Nuestro objetivo principal fue de mejorarse el español. Hasta ahora los chicos disfrutaron mucho las clases de español y Carrie venío un par de veces a decirnos como es contenta que su español se mejora cada día. Las clases consistan en juegos tales como bingo y otros juegos que los chicos conocen muy bien (Matching, Hangman). Estos juegos ayudan los chicos a enfocarse en las palabras aprendidas y los invita a participar y a practicar su español.
¡Nos vemos en un par de días! ¡Ciao!
The Westcoast Blogger