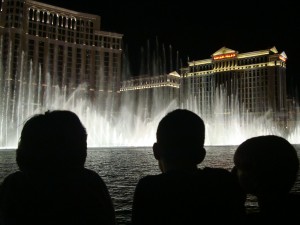 For the first time in six years, the Dancing Fountains of the Bellagio, Las Vegas' number one free attraction, will have some new moves when our western Active Teen Tours visit them this summer.
Some of the new songs include the Beatle's Lucy in the Sky with Diamonds, Michael Jackson's Billie Jean and Glenn Miller's In the Mood.
The fountains are located in an 8.5 acre body of water, illuminated by just over 5,000 white lights (color lights were nixed during the initial installation). There are 798 minishooters, 208 swaying oarsmen who have a full range of spherical motion, 192 super shooters that blast water up to 240' into the air and 16 extreme shooters that blast water up to 460' into the air. A fog system can create an ambiance in the lake.
The whole production is managed daily by a team of 30 including divers who fish out coins and wedding rings frequently. All monies collected are donated to Habitat for Humanity. Once, someone threw in a catfish that was a pain to catch. Boats are also available to rescue anyone who decides to go for a swim.
The show takes place every 30 minutes in the afternoons and evenings, and every 15 minutes from 8 pm to midnight. Before the production, the nozzles break the water surface and the lights illuminating the Bellagio towers turn to a purple hue or red, white and blue.
Don't miss this spectacle on our California Sprint, California & The Canyons, Californian Extravaganza, U.S. Explorer, American Voyageur, Adventurer, California Dreaming, Ultimate California and Hawaiian Spirit programs.
The Westcoast Blogger
Have we piqued your interest? Join us on a 14-day escorted tour of California. It will be the travel experience of a lifetime. Start planning your adventure with Westcoast Connection today!