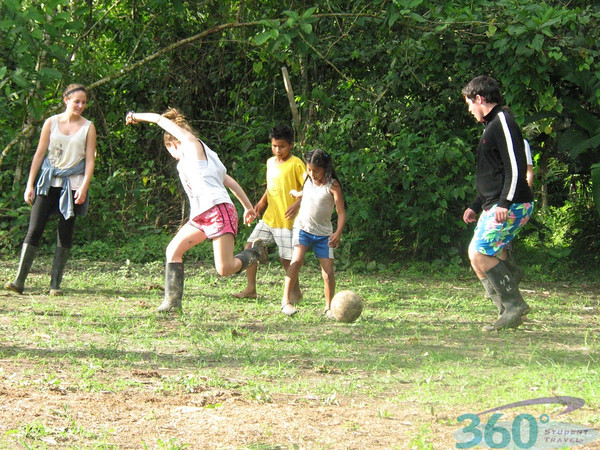 Hello family and friends,
You may have noticed the ton of photos of soccer with our group!  It's been one of the best ways to connect with the locals in a totally different culture, and it's been a lot of fun! We've played pick-up games with the oldest members of the Davis Orphanage, World Cup at our Latacunga hotel (where Maddie scored a really sweet goal) and Ecuadorian 'futebol' with the kids in the Amazon.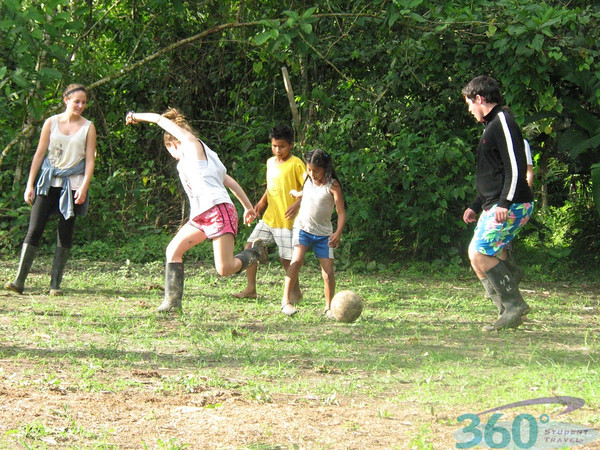 Our first night in the jungle at Liana Lodge they greeted us in their beautiful open lobby with a traditional Amazonian tea.  As electricity is a luxury in the Amazon, we have chosen to have wonderful dinners by candlelight.  The food has been great! We've had delicious comfort food, like spaghetti bolognese, but we also got to try different types of plantains and Ecuadorian spinach soups eaten with popcorn sprinkled on top!  The evenings are spent around the fire, telling stories, playing Extreme Charades and other games.  Gaby and Alex in particular racked up the points whenever it was their turn for Extreme Charades, and Allie helped out our bachelor/bachelorette during The Dating Game while Lizzie and Maddie were the interpreters for the 'contestants'. Matt played some guitar with TD Andrew and our guide Carlos.  Jake led the guys in an exploration trek around our cabins on the first evening to scope everything out, where they discovered some very interesting bugs and a lovely set of swings where we could watch the lake at sunset. Our first night was peaceful, going to sleep with the coos and chirps of the Amazon jungle.
Our service project involved working with volunteers at an animal rescue centre. Volunteers come in from all over the world to help rehabilitate jungle animals, many whom were taken as pets before the owners realized wild animals were meant to be wild. Our crew hauled food for the volunteers and for the animals, which included turtles, birds and spider monkeys.  Lizzie, Alex and Sophia washed off mangoes and papayas while Maddie, Allie and Jake manned the shoveling station.  Adam, Max and Matt were particularly motivated and helped carry a ton of gravel up to the top of the animal rescue, where they were using it to build a patio.  Chloe, Gaby and Sophia later got to dance on that patio to help pound down the gravel and celebrate finishing the patio.
Later, we were able to visit some traditional Quichua homes, learn about their culture and learn a few words in Quichua.  Many of us danced with them in a presentation of local Quichua dance!  We also all got to try shooting a traditional blow gun! The day also included seeing many beautiful exotic animals, including ocealots, macaws and capivaras.
On our last full day in the Amazon, we visited a nearby Quichua island and tried raw cocoa beans straight from the big yellow fruit Jake and Carlos knocked down off the tree. Then, we met up with a bunch of Amazonian kids and played a great game of soccer.  One little boy didn't want to play but was very happy to visit with Max and Kelsey, who gave him a crown of folded palm leaves to make him King of the Jungle. He then made friends with Chloe, Sophia and some of the other girls who welcomed him into their part of the shade.
The Amazon is so different and so beautiful it really is an incredible experience even by itself, and we were so lucky to have our time there.
The Westcoast Blogger