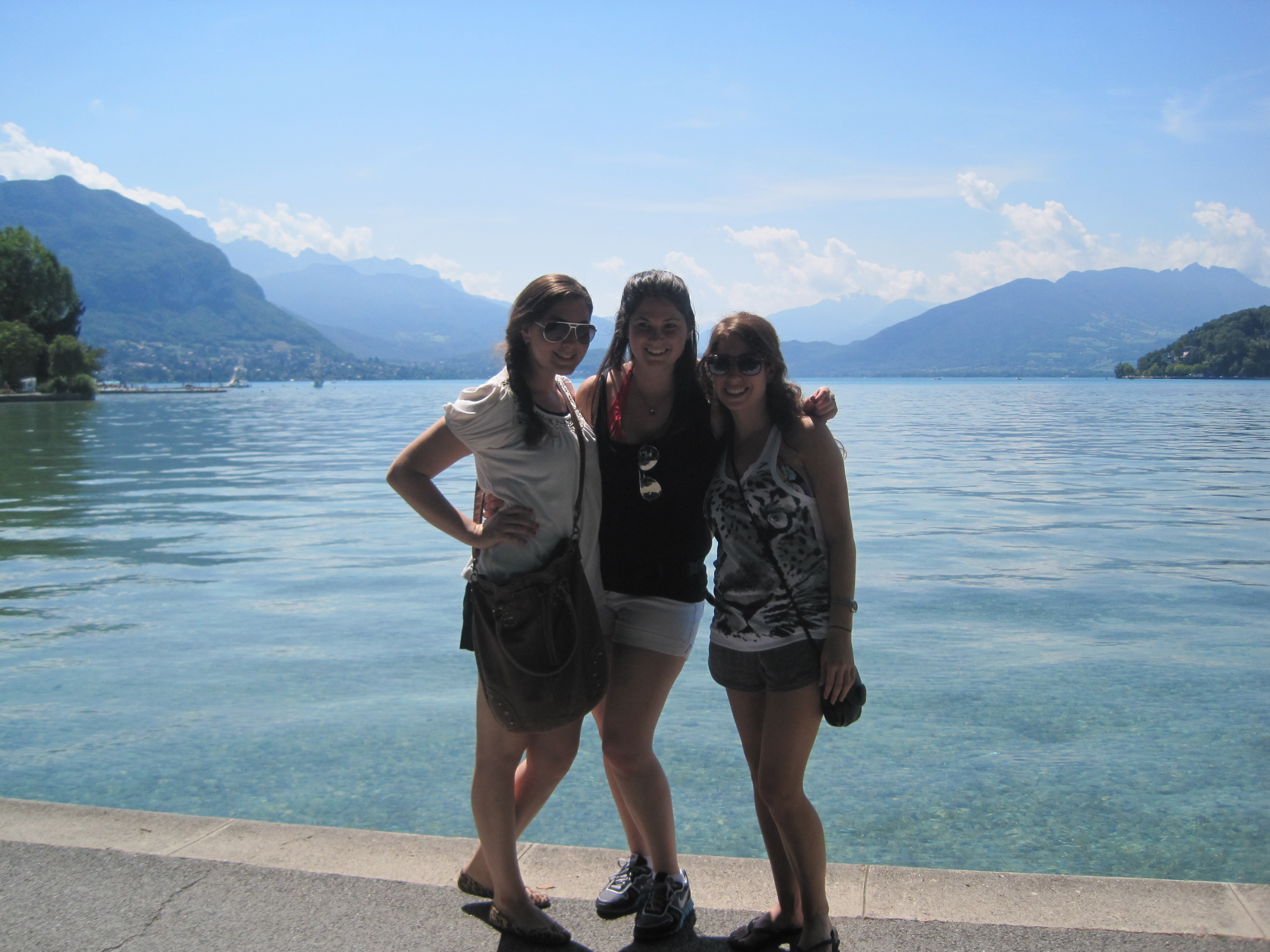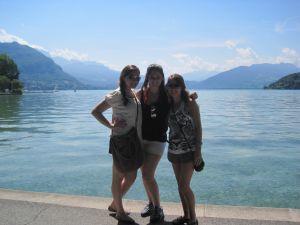 Bienvenue from Switzerland!
Since we talked to you last, the European Discoverers have consumed over 247 nutella-filled crepes, biked the border of the pristine Lake Annecy, and went whitewater rafting in the crystal-clear French Alps.
We arrived in Annecy just in time for dinner and to explore the elegant old city on our way to the restaurant. Trip members were completely enthralled by the authentic cobblestone streets surrounded by small, picturesque canals lined with brightly-colored flower baskets. Liza, Abby and Jen couldn't help but stop to snap pictures, taking in all of the city's immense beauty with extreme awe. At the restaurant, trip members were psyched to learn that they'd be cooking their own dinner fondue style, a tradition amongst locals in Annecy. Stephanie and Raffy were naturals, cooking with total expertise while Whitney and Jillian loved every bite, exclaiming that it was one of the best meals they'd eaten yet. After dinner, we walked over to a large park overlooking the breathtaking mountaintops and shimmering blue waters for a group activity where trip members were asked to come up with a jingle and commercial. Kim, Jacob W, Melanie, Haley F., Stephanie, Michael, Sam F and Lauren B. were the stars of the evening, impressing us all with their extreme talent and creativity.
The next afternoon, we relaxed a bit on the beach. Finally able to envelope ourselves in the crisp blue waters we'd been longing for, Lindsey, Dani, Anthony and Alexis jumped right in, feeling immediately refreshed. Meanwhile, Emily B and Allie chose to enter the water in style, splashing down the water slide with delight. The following day, we rose with the sun to set off for Centron, a river-valley between majestic French Alps to challenge ourselves on class three and four rapids. Rafting was especially thrilling for Ilana and Jesse W. who had never been before, and Dylan, Zach and Jesse B., who loved getting maximum air-time with each wave their raft overtook. After all of our hard work on the rapids, we treated ourselves to deux boules (two scoops) of mouthwatering gelato. Speaking of mouthwatering, we are now in Zermatt, Switzerland where trip members have fallen madly in love with Swiss chocolate. Suffice it to say that the cute little chocolate shops that line the streets of Zermatt may have sold more truffles in the last two days than they have all year. Once the fresh Swiss air lulled us to sleep, we awoke to experience the illustrious Matterhorn. Sam W. and Stephen were fascinated by the seemingly flawless land that floated beneath their gondola and couldn't wait to get their hands on some fluffy white snow at the top. Gondolas in Switzerland today, gondolas in Venice tomorrow.
Talk to you soon!
The Westcoast Blogger
Do you want to start planning your next trip? Get ready for our France and Switzerland tour, including the Eiffel Tower, Swiss Alps & more.