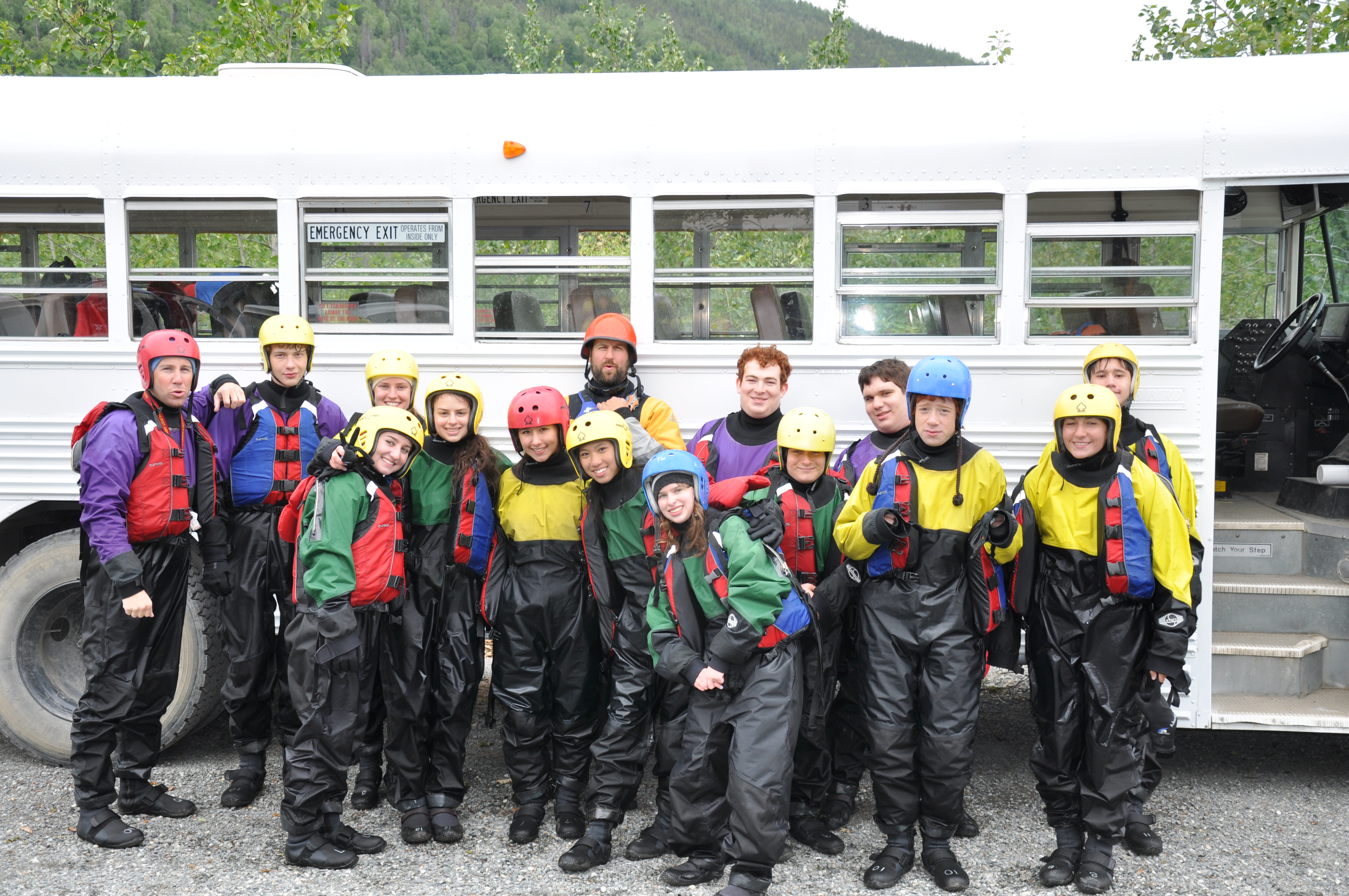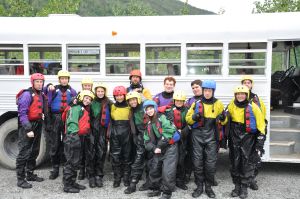 Greetings from Alaska!
Although we all arrived just over a week ago, we've already done and seen so much!  On our first full day together, we donned dry suits and went white water rafting down the Matanuska River.  Ally, Eric and Abby especially enjoyed our adventure and will forever appreciate the meaning of "just two more strokes".  After an exciting ride, we enjoyed lunch and hot chocolate at the lodge before heading back into Anchorage.
On Day 3, we set out to explore downtown Anchorage.  Philipp got to share a piece of home with us when we stumbled across a store called Style of Russia.  We had the opportunity to meet Elgin, the man behind Kids' Kitchen.  We were all very inspired by his story and can't wait to spend some time with him and everyone else there.  Rachel, Rebecca, Zach and Jessi donned their new moose hats as we headed into the Anchorage Farmer's Market.  The busy market held many special surprises, including Alaska's finest Elvis impersonator.  And Daniel is still raving about his reindeer sausage experience.
Day 4 we had our first real community service experience, preparing for the Great Alaskan Bake Sale in support of the Food Bank of Alaska.  We took over the kitchen at Hilltop Chalet, where Rick and Anita greeted us with open arms.  Everyone did a fantastic job.  A big shout out to Andy for single-handedly resurrecting the white chocolate chip cookies!  After a fun morning of baking, Jamie and Rebecca took charge of the assembly line and we got all the baked goods packaged and ready to sell.  A local television station showed up to see what all the excitement was about and we even made the evening news!  Renee was interviewed and represented us well.  Great job Renee!  After a great morning of service, we headed out for a bike ride along the Tony Knowles Coastal Trail.  It was a beautiful, sunny afternoon and we enjoyed numerous stops and photo opportunities along the beautiful Alaskan coast.
The Fourth of July brought the anticipated Great Alaskan Bake Sale.  Three teams took to the streets of downtown Anchorage stocked with boxes full of goodies baked the previous day.  Team Yummy, Team Awesome and White Chocolate had a huge presence in the busy downtown area as they sold baked goods to raise money for the Food Bank of Alaska.  Our friends Rick and Anita from Hilltop Chalet stopped by to see how things were going and made a huge purchase!  Each team did a great job and we made the evening news…again!  After a long day, we enjoyed a delicious dinner at a local restaurant called Gwennies – we had a great time singing and cheering with a group of tourists sitting near us.
On Day 6, we visited the Native Heritage Center, where we learned about Native Alaskan culture and got to see and try some traditional sporting events.  For the record, Jamie has a VERY impressive Kneel Jump!  In the afternoon, we went to the Food Bank of Alaska warehouse where we helped package food into family sized portions for distribution to local food agencies.  Philipp and Eric were in charge of quality control.  They sorted through donations for things that were appropriate to be distributed to families and stocked the shelves in the Food Bank's "grocery store".  Andy was our go-to guy whenever anyone needed help at one of their stations.  We were very excited to get behind the scenes and see what it takes for the Food Bank to run.
For the last two days, we have been volunteering at Kids' Kitchen.  Everyone was really happy to spend time with our new friend Elgin who founded the organization.  We played games in the gym, made bracelets, colored and "hung out" with the kids.  Rebecca started a "spa", where she gave manicures and Rachel's artistic talents were a huge hit!  Renee, Ally and Zach were great at getting kids involved in games in the gym.  Daniel and Abby had a blast in the kitchen!  We made a great connection with Elgin and are all very excited to go back and visit when we return to Anchorage in a few weeks.
Today (as we write this) we celebrated Jessi's Sweet Sixteen!  The entire group had a great time making signs and cards and surprised her this morning at breakfast.  She was very excited when a balloon artist at dinner was able to make her a very impressive Tinkerbell.  Happy Birthday Jessi!
Although we have had a great time in Anchorage, everyone is looking forward to exploring a new part of Alaska as we make our way to Cooper Landing.
We'll be in touch soon!
Pam & Matt
The Westcoast Blogger