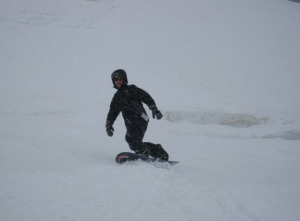 Between rafting, tubing, zip lining, and skiing, the Canadian Mountain Magic checks in.
The Westcoast Blogger
Hello from sunny Penticton British Columbia!
 
We had a great day of picnicking on the beautiful beach at Lake Okanagan and tubing in Penticton! Time flies when we're having fun and it's hard to believe that it's already day 13 of our trip! Here's a note to get you caught up on some recent CM2 events!
 
Our first day of skiing Blackcomb Glacier on July 7th was an exciting adventure! Our nine skiers and one snowboarder rode the glacier and enjoyed hot chocolate by the fire! Stirling and Matt had so much fun that they didn't want to leave at the end of the day!
Day two of skiing and riding attracted our 'hardcore' boys and girl (Sydnie!) who practiced their skills on the slopes and in the park!  Eric modelled some amazing snowboard skills, while Eric Pzena, Alex, Matt and Harley found fresh snow! Meanwhile, in the village Andres and Thomas shared their tennis skills while Andres practiced his serves and Sasha and Rachel displayed their amazing golf skills on the mini golf course! After a round of mini golf the village crew hit the local pool where Jonah mastered the rope swing and everyone enjoyed some R&R in the pool!
Day nine began with a leisurely sleep in with fresh blueberry pancakes cooked by Sasha and Thomas! The rest of the gorgeous sunny day was spent at Alta Lake in Whistler, where Harley and Sydnie braved the glacier-fed lake, and Rachel and Sasha shared some of their yoga and strength training moves with the group! Eric H. and Matt dominated an impromptu game of frisbee golf (check it out on Wikipedia!), while Thomas and Stirling enjoyed the views on the beach!
 
The following day we celebrated Stirling and Alexis' birthdays with a picnic and bike ride around Stanley Park in Vancouver! After the ride we toured downtown Vancouver and enjoyed dinner out in town! Birthday cake was enjoyed by all during some evening activities at our dorm at UBC!
 
On day ten we cruised down to Kits Beach in glorious morning sunshine! The Vancouver weather couldn't have been more perfect! Matt, Joey, Sydnie and Eric H. played some competitive water frisbee while Stirling and Thomas engaged some locals in a game of pickup volleyball. Sasha and Rachel took a dip in the Pacific before we all walked to Granville Island for lunch! Everyone enjoyed the wide variety of healthy food in the market and some live entertainment from "Captain Canada" and a crazy magician.
The next morning we woke up in time for an early breakfast and a short ride to meet our whitewater rafting guides Sophie and Bec! The group suited up in wetsuits and dry jackets to be ready for the glacier-fed waters of the Chilliwack River! Joey especially enjoyed the fit of his suit and he has the photos to show for it! After a few (dozen!) photos of everyone in wetsuits, jackets, helmets, life jackets and paddles we made it to the river! Eric P., Stirling, Thomas and Matt led the way in the bows of our boats! They set a great pace and we flew through the first few sets of rapids! After a delicious lunch stop we hit the serious rapids and we worked together to maneuver the boats! Once we reached calmer water Harley and Joey took turns practicing their guiding skills and learning how to steer the boats with the massive guiding oars! They handled the boats with skill! We might have some future guides among us! Very exciting!
This morning we sang Happy Birthday to Jonah and then shuttled from Chilliwack to Penticton, with everyone enjoying some rest and games in the SUV's. We spent the afternoon tubing down the lazy river, with Rachel excitedly pointing out the many (many!) ducks and ducklings swimming alongside our tubes! Eric H. earned himself a new nickname (Duck Hunter) with his 'Mission-Impossible' style maneuvers.
The day came to a close with a delicious taco and salad supper at our Penticton Campsite, a game of football, and some birthday cake for Jonah! As I write this our Tour Members are tucked into their sleeping bags dreaming of a day at the beach enjoying some boating and water sports tomorrow!
 
The best is yet to come: Banff, Jasper and Calgary await and we're looking forward to it all!
 
We hope this finds you having a great week wherever you are! We're safe, healthy, happy and active in the beautiful Canadian Rockies!
All the best,
 
Alexis and the CM2 Crew!