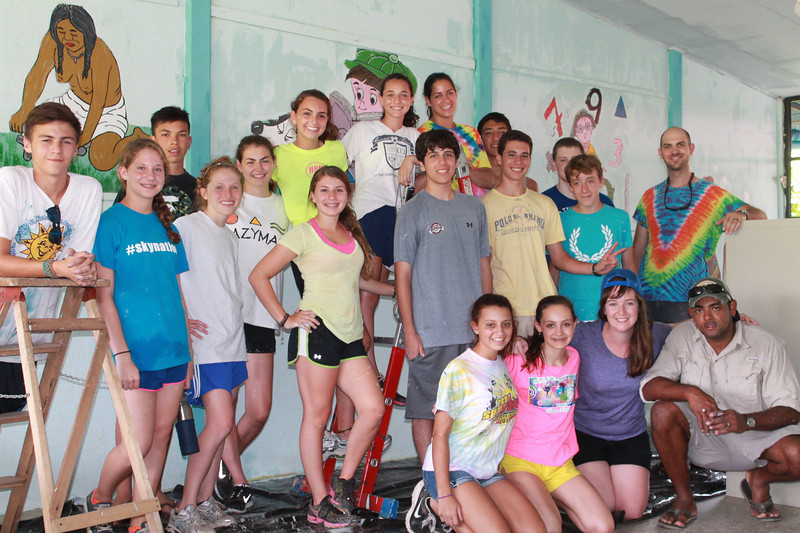 Hola!
Day 5 came with the realization that we were already half way done our trip.  It also marked our final day in La Carpio where Quinn, Seth, Lindsey, Rachel, Alex, Jacob, and Melissa learned how to mix concrete.  We got to see the fruits of our hard work as we poured a foundation wall for the house we started two days prior.  The other trip members were hard at work painting houses.  Ellie, Emily, Jake, Jet, Victoria, Jess, and Gianna almost painted the entire block!  At the end of the day everyone worked on their Spanish as they shared freshly made smoothies with some of the local community members.  An especially powerful moment of the day was when Macho (one of the sons of the woman we were building the house for) told us his personal story of his daily life living in poverty. Afterwards, we had the opportunity to support the community and purchase local crafts made by the women of La Carpio.
We were sad to leave our hotel in the Central Valley, but the next morning we made our way through beautiful scenery on our way to the Pacific Ocean.  We were lucky to spot a group of monkeys on the way to Tamarindo Beach; the site of our surfing lesson. We all enjoyed the warm ocean and beautiful scenery while learning to catch some waves. Everyone did great, but especially Gianna and Jess who were all stars balancing on one leg on their boards! We continued our amazing day at a local Italian restaurant where we surprised our birthday boy Jake with dessert and a happy birthday song (in Spanish of course!).  If that wasn't enough, our tour guide Elliot walked us down to the beach with his telescope where we all had the rare treat of seeing Saturn up close.  He also pointed out constellations unique to this part of the world.  It was amazing!
On Day 7 we made our way to Huacas Elementary School to begin our second service project.  A local administrator and a few high school students explained that due to limited funding for school maintenance, we were there to fix up an entire classroom.  Having the opportunity to put smiles on children's faces never gets old and has been helping us all stay motivated as we complete tasks like sanding and prepping classroom walls for painting. With the music blasting, we worked until lunch and said our goodbyes until tomorrow.  After lunch we made our way to a local beach for some much deserved R&R which included an awesome game of football in the wake.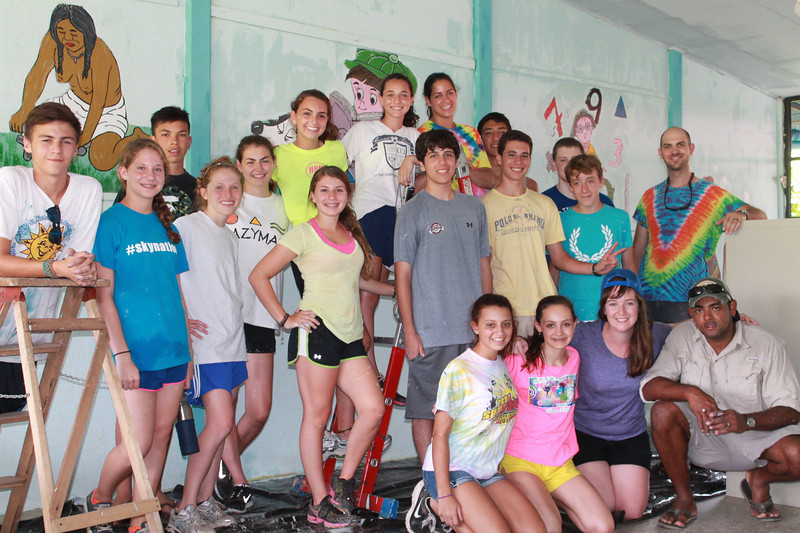 The home stretch of our trip was our stay in Rincon which started with a delicious breakfast buffet overlooking the forest where we would be zip lining.  The next two and half hours were pure bliss! We all geared up and made our way down 7 zip lines!  Lindsey and Jen entertained everyone by riding the lines with great style. After our zip line adventure, we hiked to a local waterfall that was absolutely beautiful. A refreshing swim helped us to cool down from our hike. Just when we thought the day could not get any better, after lunch we traveled to a local spa where we covered ourselves in nutrient-rich mud and enjoyed the hot baths to rinse off and relax afterwards.  It was an amazing day for all.
It is hard to believe that our time together has come to an end. It seems like yesterday when we were all meeting for the first time at the airport. That being said, we have all made friends for a lifetime and are so happy that we had the opportunity to come to beautiful Costa Rica!  Everyone is looking forward to sharing stories and pictures from this amazing adventure!
Pura Vida!
The Westcoast Blogger