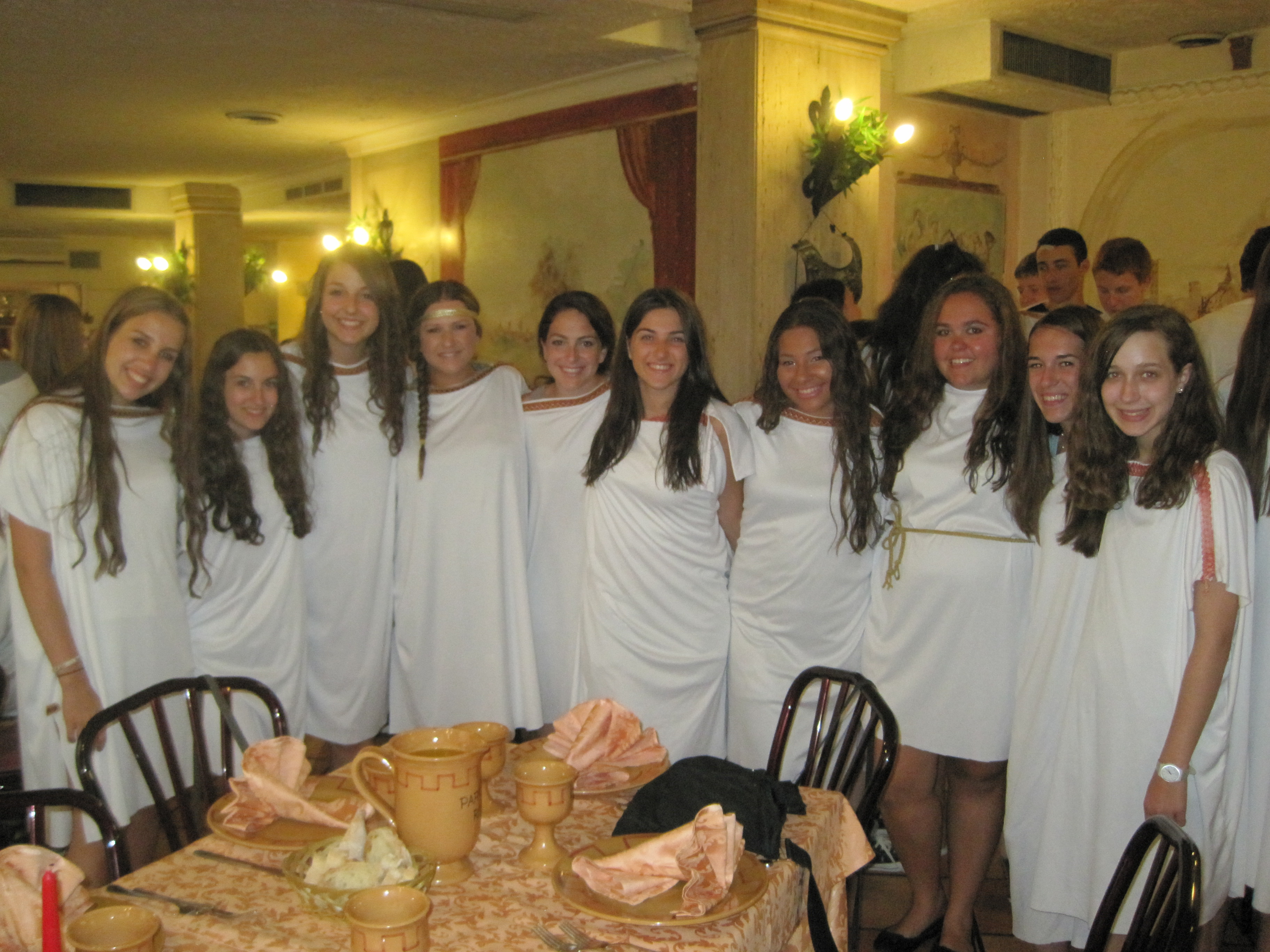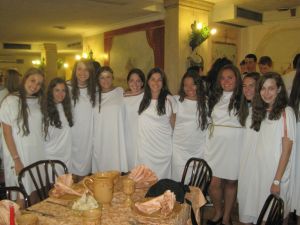 Dearest friends and family!
We drove from Rimini to Rome, anxiously awaiting our first opportunity to utter the words, "When in Rome do as the Romans do"! (Sam W. was the first to set the trend). Our first stop was to a traditional Roman restaurant where trip members experienced a real-life toga party, complete with festive attire for everyone. Emily B. and Allie L. looked like natives in their new togas, while Emily G. and Mel came prepared with braided belts to supplement their outfits. After a few minutes, an Italian opera singer accompanied by a very talented accordion played just for us. Sammy F., Brooke and Josh were rewarded for their enthusiasm with tambourines to play with the band. After an active meal, we proceeded to the Trevi Fountain, famous for making wishes come true based on how many coins you surrender. Marielle, Lindsey, and Stephanie each threw two coins for love while Abby, Liza and Jen threw three, which signified that they'd all return to Rome. First stop in the morning was for a guided tour of the Vatican, where trip members, especially Dani and Alexa, marveled at Michelangelo's intricate paintings on the ceiling of the Sistine Chapel. Although we didn't catch a glimpse of the Pope, we were lucky enough to wander through St. Peter's Basilica in his footsteps. Following the Vatican, we were led through the city by our engaging tour guide who showed us some of Rome's best local restaurants. Soon after, we took a trip to the past when we visited the ancient coliseum. We tried as hard as we could to take in as much of the enormous coliseum as possible. Whitney, Jillian and Gabby allowed their imaginations to take over traveling back in time to when gladiators and animals fought in front of more than 50,0000 people. And this season on The Amazing Race: five teams battle it out in the first leg of Discovery's version of the successful television show. The journey took us from the Spanish Steps to the Trevi Fountain, the first pit stop, where the trip members took a group picture and proceeded to bolt to the Pantheon for another group photo before heading off to the final check point at Piazza Navona. Groups showed their pictures to Trip Director Adam and were ranked for their departure times when the race actually begins. Allison's team consisting of Lauren W., Jake, Ilana, Emily L., Jessie W., Zach, Rachel, Lauren B., and Josh secured first place, naming themselves "Team Roses and Thorns".
After a fun-filled day, we rested up for Pompeii, where the ruins would soon enlighten us all. The tour was remarkably interesting.  Anthony, Dylan and Melanie all described the ruins as one of the most interesting things they have ever seen. Now, off to Sorrento and we can already smell the lemons!
Arriverderci!
All of us on the European Discovery
The Westcoast Blogger